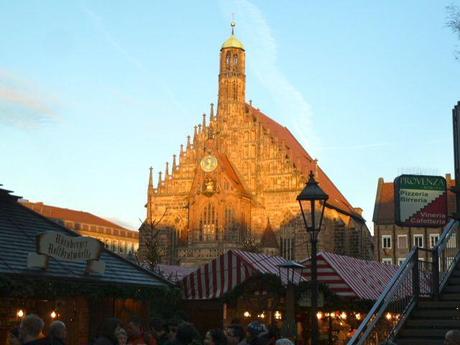 I think the Nuremberg Christmas Market in Germany is overrated.  I know that saying the most famous Christmas Market in Germany that attracts over 2 million people a year is going to likely to get me in trouble, but it's true.  I LOVE the Christmas Markets in Germany.  I love the festive atmosphere, I love meeting friends over a mug of Glühwein, choosing between which kind of potato I'm going to have at the potato stalls and buying more ornaments for my Christmas tree which is already drooping from the weight of the existing ornaments purchased from previous Christmas Markets.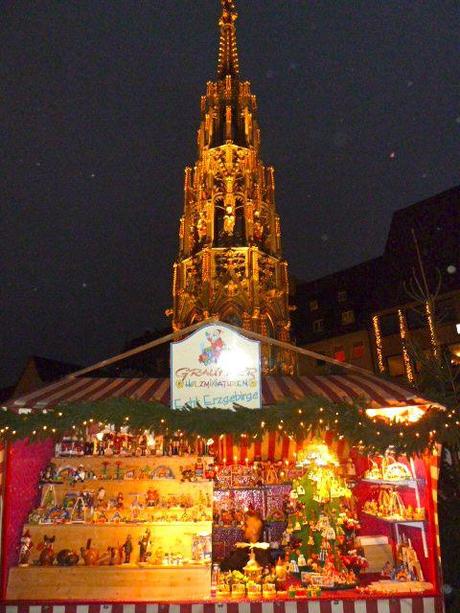 A stall at the Nuremberg Christmas Market.
But I just LIKED the Nuremberg Christmas Market.  The Market Square and the Church of Our Lady provide an impressive enough setting, but most Christmas Markets in Germany are located in a market square with a church.  In Ulm the Christmas Market is surrounded by the highest church steeple in the world.  After visiting the Nuremberg Christmas Market I left perplexed as to why it is the most popular Christmas Market in Germany.  I wasn't the only one.  I went with J.P. (my German husband and a German-American couple) and we all agreed that the Stuttgart Christmas Market with its roof decorating competition was more picturesque and unique.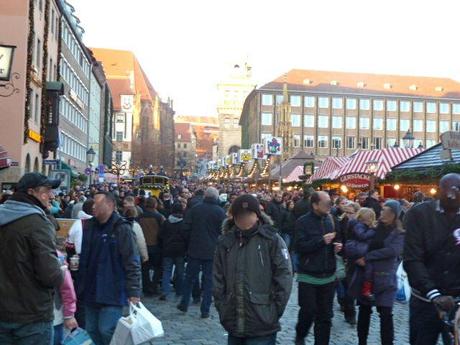 As Germany's most popular Christmas Market, the Marketplatz in Nuremberg was not surprisingly crowded.
To be fair, Nuremberg does have a competition for the most beautiful stall, but this wasn't obvious to me, and I only found out after the fact.  Don't get me wrong the wooden stalls with their red and white striped clothed roofs are cute, but really don't look much different from any other Christmas Market.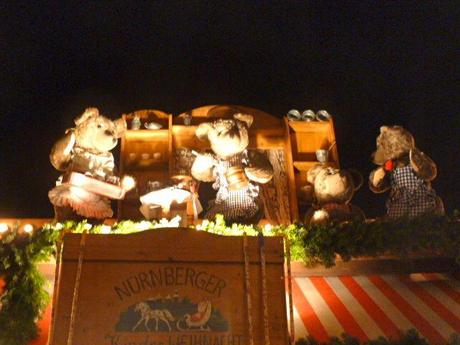 Only the roofs of the children's market were decorated with figurines from popular fairy tales in the Nuremberg Christmas Market, but they were adorable.
As far as I could tell the Nuremberg Christmas Market also didn't have a theme to differentiate itself from the hundreds of other Christmas Markets found throughout Germany.  Two of my favorites are the Ludwigsburg Christmas Market which has a baroque theme and huge light up angels hung throughout the Christmas Market and the Esslingen Medieval Christmas Market in which the vendors dress up in medieval clothing, serve medieval food and even have medieval games that visitors can try their hand at for a couple of euros.  There's also the Frauen Insel Christmas Market, Germany's only island Christmas Market with all locally produced offerings which I plan to visit next year.  What makes these Christmas Markets stand out is that they offer something not seen at a lot of other Christmas Markets, something I didn't see at the Nuremberg Christmas Market.
Our German friend noted that he heard more English being spoken than German, making me wonder if I was on one of those all inclusive holidays to Tenerife.  I hadn't even noticed, but perhaps that explains the few food stalls we found at the Nuremberg Christmas Market.  Eating and drinking Glühwein at Christmas Markets are a huge part of the experience for Germans (you can only see the same offerings so many times before the shopping becomes rather dull).  Unfortunately food stalls were few and far in between and besides the traditional Nuremberg sausage – 3 small sausages in a bun, there wasn't a lot of variety, which you normally find at Christmas markets.  Even the potato stall was only offering potato puffers (to be explained in an upcoming post) instead of the usual three or more choices of potatoes.  While the quality of the food we ate was good, we were all disappointed in the lack of choices.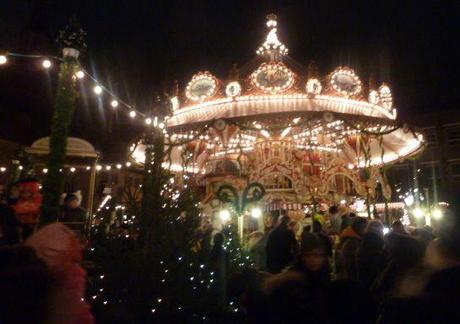 I had never seen a two-story carousel before until I visited the Children's Market.
On a positive note the Children's Market at the Nuremberg Christmas Market was a highlight.  The stall roofs were decorated creatively with various figurines from children's story books and a two-story carousel and ferris wheel offered rides for children.  The Children's Market was my favorite part of the Nuremberg Christmas Market and I think it would be a hit with kids.
If the Nuremberg Christmas Market had been my first Christmas Market in Germany I have no doubt that I would have been impressed, but after visiting so many Christmas Markets I was left perplexed as to why it's the most famous Christmas Market in Germany, given all the strong competition from the others of hundreds of Christmas Markets, many of which are more unique and stand out more in my opinion.  I liked  the Nuremberg Christmas Market well enough, but I do think it's overrated.  I still think  this medieval city deserves another visit – after the Christmas Market is finished.