I have a confession to make. I've always thought the Finns might be crazy. Now I know for sure.
Finns are perhaps best known for their love of the sauna, followed by a dip in a frozen lake. Brrrrr. I'm from Canada and even I think that's crazy!
What is perhaps lesser known is Finns love karaoke. I mean love it. Or perhaps it's all the Terva Snapsi, a liquor made with pine tar – yes pine tar,  that gives them liquid courage to jump on stage and belt out a Journey tune…tone deaf. Hey, no judgment here, I'm about as musically inclined as a hamster! But to love karaoke that much? Admit it, it's a little crazy.
But here's how I know that the Finns are really crazy. The first time I ever went to Finland I went to Iso Syöte, where after a 5-minute lesson, I found myself snowmobiling. Not hanging on the back to someone more experienced, but actually revving the machine myself weaving through a narrow tree-lined path at top speeds of 33km/hour. OK, so I was the slowest one in my group, but still. Letting me drive a snowmobile? Crazy.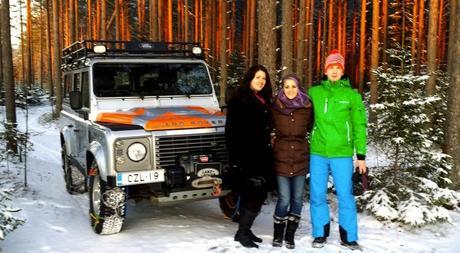 Me hanging out with Nadine and Eugene, fellow travel bloggers and partners in crime.
Then on my most recent trip to Finland, I found myself in Hämeenlinna, the Finnish countryside located just an hour away from Helsinki but worlds apart. And the crazy Finns let me drive….again! But it wasn't a snowmobile this time. Noooo, those are for first timers. It was a HUGE, and I mean HUGE Range Rover on an all terrain-driving course. And it was a stick shift. I resisted at first. Although I've been driving since I was 16, I have never driven a stick shift. In a HUGE Range Rover on icy tree-lined roads didn't seem to be the place to learn. My instructor scoffed at my concerns while giving me a disapproving frown. So being Canadian, we like to please people. That's how I ended up doing this: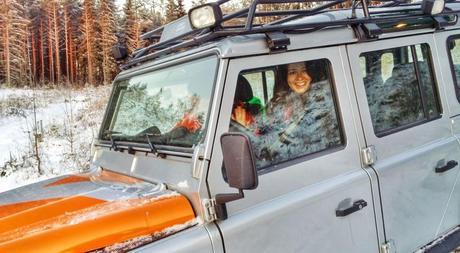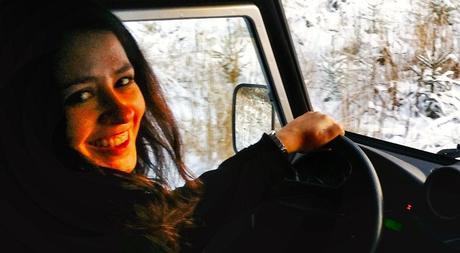 OK, this time I wasn't recklessly weaving my way through the trees, all-terrain driving is all about slow and steady. And that my friend is how I learned to drive a stick shift from a Finn who was crazy enough to think I could do it!  Even crazier?  He was right!
But my adventures weren't just quite over yet. We were just getting warmed up. Next up was a ride in a pimped out rally car with World Champion rally car driver Minna Sillankorva. Hop in a car with her and you'll get all the proof you need that the Finns are crazy, or at least she is….in the best possible way. Fortunately she didn't mention that she hadn't driven in six months until after we were finished, although you never would have known it from the way she expertly attacked each turn and quickly recovered just in time for the next turn. She also wasn't stupid enough to let me drive. Even the Finns aren't that crazy.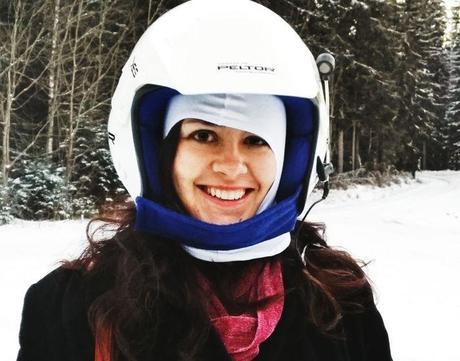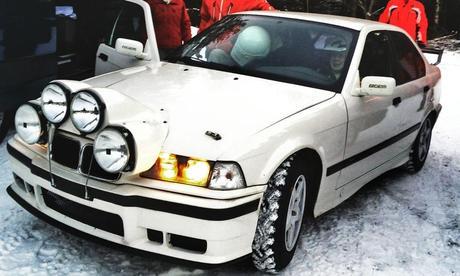 So how do you top a day like that? With more learning of course, but this time it was culinary school with  Oula Hänninen, an award-winning Finnish chef. Admittedly, I was in more of a self-proclaimed supervisory role than an active participant. Hey, learning how to drive is exhausting.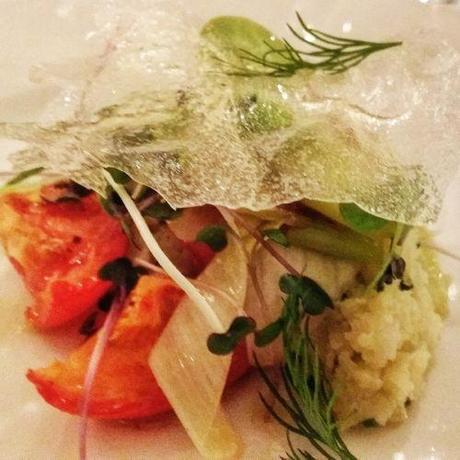 Belly fully, I laid my head at the elegant Katisten Kartano (Katinen Manor). And put the crazy Finns out of my head…until the next day!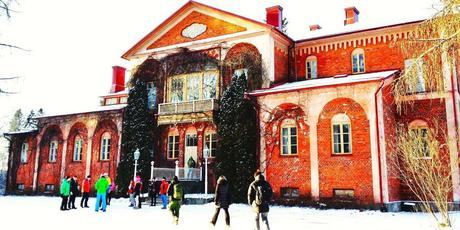 The Finns are probably crazy enough to let you drive too.  Check out the Land Rover Experience for more details.
Note: As not all my readers are English native speakers and writing doesn't always translate well into other languages, this post was written tongue-in-cheek. I quite like Finnish people and don't really think they're crazy…well too crazy anyway.
Thank you to VisitFinland for making my trip to Hämeenlinna possible. As always all opinions expressed are my own.
&locale;&layout;&action;&width;&height;&colorscheme;