NutshellMail  - An Oldie But Goodie for Tracking Twitter Followers, Quitters & More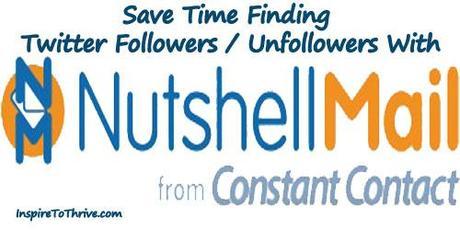 NutshellMail Review – From day 1 of being on Twitter I've used NutshellMail and it's a great oldie but goodie. I've used many Twitter Resources over the years and this one I still use today (since 2009). Many of the Twitter applications and programs either have disappeared or began charging money for their services. NutshellMail remains FREE to this day. It's a great service from Constant Contact. You can set up how often you want to receive the emails from them. I  was getting emails once a day and now increased it to 2x per day. What can you do with NutshellMail?
4 Great Things You Can Do With NutshellMail Today With Twitter 
Find Your New Followers – This is a great way to see who just followed you on a daily basis. You can then decide if you want to follow them back or thank them for following you.
Find Your Latest Quitters- This is my favorite part of the email I receive. If they unfollow me and I've been following them I may decide to unfollow them back. It really depends on who they are and what they tweet about.
Latest Replies and Mentions – I haven't used this feature much but it a good one to watch. They give you a limit of 5 on this feature. You can then reply back right from your email! They make it easy.
List Results for Your Lists – Another great feature I haven't used a lot of but will start to as I love Twitter Lists.  There is also a limit of 5 on this feature.
What Other Social Media Sites Can You Track via NutshellMail?
Facebook - Not only can you track your own Facebook profile but your Facebook pages too! On your profile you can see birthdays, friends requests and your posts.  It shows you how many people liked your post or commented on it. You can also view some wall posts and responses. You can see some of your newsfeed. On your Facebook pages you see your posts, how many likes and comments each received. You can also view who posted on your wall.
LinkedIn - This one was new to me and I just set it up. It will be very helpful to track activity on that social network. You can view 5 profile updates. 5 Group activities can be seen and 5 recently connected accounts. You may also view status updates – up to 20.
Foursquare – Another social network site you can get status checkins on as well as who is requesting to be your friend on Foursquare.
YouTube – You can view your recent comments on your YouTube channel.
Yelp - If you want to see the latest reviews or photos if you have a business on Yelp. This is a great way to track them.
CitySearch – Another website many businesses are on and can track their activity via NutshellMail.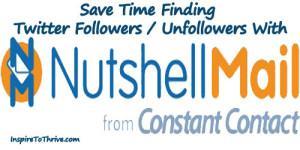 Make sure you view your entire message from NutshellMail  otherwise you will only see your Twitter stats. You must click [Message clipped]  View entire message
Have you been using NutshellMail to track your social networks activities?