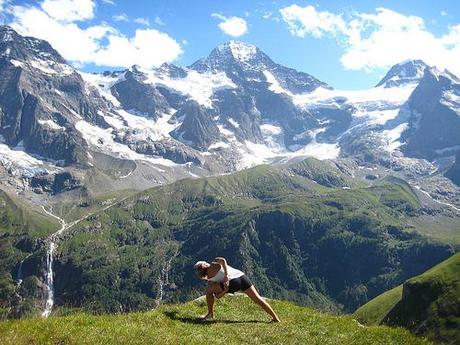 Photo courtesy of lululemon athletica on Flickr
Normally I would look forward to a yoga vacation in Tyrol, Austria especially one that promised "Yoga vacations charge the body, mind and spirit with new energy, give us a positive outlook and let us experience inner peace."  Sounds good right?  And with views of the Alps as I'm doing yoga?  Even better.  I thought so too when I signed up last week, but as the weekend approaches I'm finding myself getting a little more anxious, which I knew I would be, which is exactly why I thought I should do this Yoga Vacation in the first place.  Even though I'm pretty sure the idea is not to stress about your yoga vacation in advance, or scarf down McDonalds in preparation for a weekend of deprivation, but that's besides the point.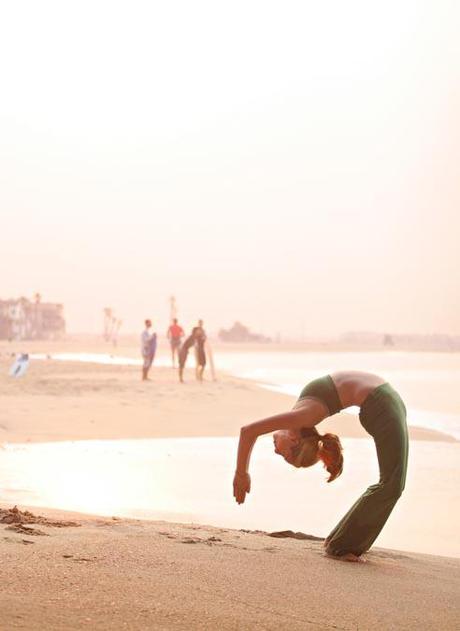 As long as my yoga vacation doesn't involve poses like this one, I should be OK. Photo courtesy of www.susanica.com/photos
I've done yoga on and off for years, but having had knee surgery a couple of months ago,  it's definitely been more of the relaxing kind than the power yoga kind.  Just yesterday in my yoga class, I was outstretched by most of the other 60+  year old participants.  I looked around (I know very un-zen of me) while we were all lying on our backs, legs sticking straight up in the air, at least that was the idea, most of the other participants legs were more or less straight.  Mine?  Not so much.  I know the point of yoga is to not compete with others, do it at your own pace, blah, blah, blah, but let me tell you, getting outstretched by a group of 60+ year olds is not exactly good for the ego, even if the ego isn't supposed to exist in yoga.  Clearly I have a lot to learn, which is exactly why I need a yoga vacation, and to make me a little more, well if not gumby like, then at the very least not so stiff.
It's not just the yoga part that scares me, although 3 hours a day does seem a little intense.  Perhaps what I find most scary is the 3 hours of mandatory mediation per day, starting at the wee hour of 6:00 am.  I have a hard time sitting still for 5 minutes, let alone 90 minutes at a time, twice a day, which is another reason why I need to go on a meditation/yoga vacation.
And it's not just the yoga and meditation part that is scary, it's also the food part of the yoga vacation.  Only vegetarian food is served, which is no problem, but get this, I have to do 90 minutes of meditation, then another 90 minutes of yoga, and then I'm allowed to eat breakfast at 10:00.  That sounds like an awful lot of activity, or non-activity as it may be and all before breakfast.  Then we have to wait 8 hours until we eat again.  That's right, just two meals a day.  Fortunately my friend has already told me she's sneaking food in, just in case of emergency.  Good to know that I'm not the only one with food on the brain.
J.P. (my German fiance) is finding this whole thing hysterical and is mystified why I would even consider doing something like this.  "You can't sit still for 10 minutes, how are you going to do it for 90?  You're not a morning person, how are you going to get up at 5:30?  You're going to be starving" And perhaps best of all "How is any of this fun?"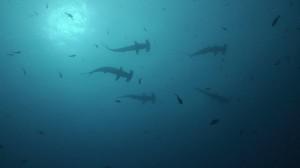 Hammerhead sharks photo from my diving trip to Cocos, Costa Rica. (Taken by the captain, not me).
So why am I exactly doing a Yoga Vacation if I'm so scared?  Precisely because I am scared and it's good to do things that scare you a bit and get you out of your comfort zone every once in a while.  I was also nervous to volunteer on a sailboat for 10 days doing research on whales and dolphins as I had never been on a boat for longer than a couple of hours, and didn't know if I was someone who got sea sick easily.  It turns out I'm not and we visited some of the most remote uninhabited island I have ever been to in my life.   I was beyond petrified to jump in the water in Cocos, Costa Rica, knowing there could be hundreds of hammerhead sharks waiting for me.  But what I soon found out that diving with hammerhead sharks is actually  incredibly relaxing and is such a privilege and it was only the beginning of shark diving holidays.  Now when I dive in, I actually hope there are hundreds of hammerheads waiting for me.   I was also scared to quit my job and move from Canada to Germany to be with J.P., but that's turned out even better than I could have hoped for.
My point is, every once in a while it's good to do something that scares you, that's what helps you grow as a person, keeps you challenged, and in my experience often results in the most memorable experience – even if the idea of being quiet for 90 minutes is scarier than diving with sharks.
What vacation have you taken that scared you?