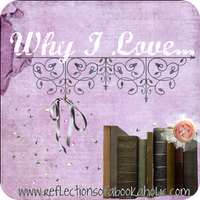 I am returning with my new feature...
Why I love...
which takes place on Wednesdays. Today's proclamation of love concerns
any previous topic you would like.
This week will be a little different.  I'm trying to get organized in preparation for the school year by making sure I'm ready for school and ensure Reflections of a Bookaholic is in a place where I can spend less time online and still avoid getting behind.  Thus, we have today's review post instead of a new topic.
If you want to play along, feel free to grab the image (there is a button on the right sidebar now) and link your post in the linky. Here goes.
LINKY INSTRUCTIONS:
When naming your link, please choose the name of your post. Mine would say "Why I Love...Rhett Butler."
Please link directly to your post and not your blog.
Please participate :)
I want to list the previous Why I Love posts in the hopes that some of you will participate. Choose a topic that you missed, create a post, and link up.  Feel free to grab the image if you like.  
Don't want to write your own post?  Feel free to participate in my comments.  I would like that as well. Feel free to post in the comment section of this post or the comment section of the previous posts.  Thanks in advance!
If you have any ideas for future Why I Love topics, please recommend them. Just comment and let me know.  I know that I said "if" but I really meant...please post Why I Love topic ideas in the comments : )
For those who have participated every week, which topic was your favorite?  Which topic would you like to do again (I know some of us have TONS of favorites).  
All good?  Great!
Previous Why I Love Wednesday Posts:
Why I Love...Rhett Butler
Why I Love...Anne of Green Gables (Anne Shirley)
Why I Love...Mystery Novels
Why I Love...Lady Julia Grey
Why I Love...Reading in the Rain
Why I Love...Rex, Tom, Watson, Hermione, and Ron
Why I Love...Charlotte's Web
Why I Love...Book Blogs
Why I Love...Ereaders
Why I Love...Amazon
Why I Love Wednesdays...Gone with the Wind
Why I Love Wednesdays...Favorite Author
Why I Love Wednesdays...Review Post
Why I Love Wednesdays...WWII Novels
Why I Love Wednesdays...My Reading Chair
Why I Love Wednesdays...The Stephanie Plum Series
Why I Love Wednesdays...Libraries
Why I Love Wednesdays...Imperfect Characters
Why I Love Wednesdays...Historical Fiction