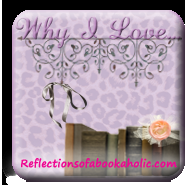 I am returning with my new feature... Why I love which takes place on Wednesdays. Today's proclamation of love concerns our Favorite Heros
Why I Love...The Bad Boy
For some reason, I feel like I should apologize for my choice.  Some people like the Alpha Male but not me.  I seem to like the book heros, that in real life would turn out (likely) to be the loser.  Am I being harsh? Oh well, I have my books.  I love the hero that might have been a bad apple, maybe mistreating the heroine at a younger age.  Maybe he was once a womanizer.  But the key to my bad boy is that he changes and he becomes that man that every girl wants.  But wait!  When he changes, he still has the smooth air that only bad boys have.  Am I sounding delusional?  This is okay because I'm okay with that.  When I think of these bad boys turned sweethearts, I think of Morelli from the Stephanie Plum series (well form the earlier books anyway), Damon from The Vampire Diaries, and Jude from the Rawhide Man.  I like a unrealistic story what can I say?
Which type of hero do you love?  I feel like most people probably prefer Alpha Males.  Am I right?