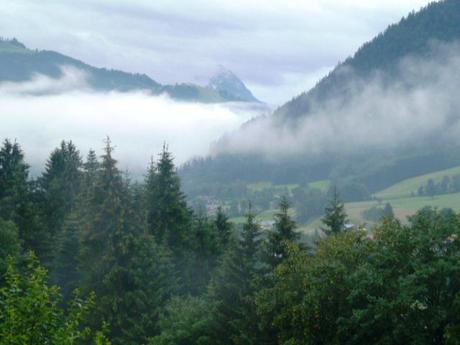 This past weekend I attended a yoga vacation in the beautiful region of Tyrol, Austria.  As mentioned in an earlier post, Why I'm Stressing About My Yoga Vacation I was stressed about it before I went and stuffed my face with McDonalds the day before I left in preparation for only two vegetarian meals a day.  Yes I'm full aware of the irony in this statement.  Many readers left thoughtful comments and reassurance on this post.  I started to feel better and more relaxed.  Then my yoga vacation started and my stress returned just as quickly as it had left.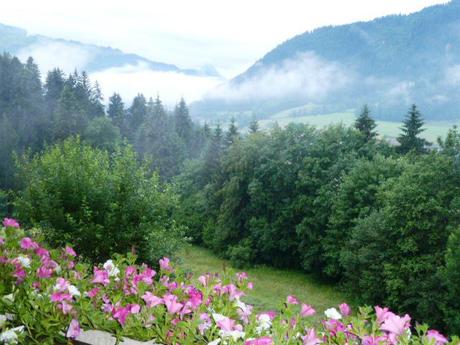 The view from our bio-hotel in Tyrol, Austria on our yoga vacation.
We arrived Friday afternoon and after settling into our cozy eco-hotel headed to our first outdoor yoga session.   I had been previously worried about being outstretched by all the other participants, and while some participants were particularly bendy, I didn't feel out of place and was familiar with most of the poses we did.  I didn't know that I would face another opponent in my yoga class.  FLIES, lots of them.  So many that I began to wonder if they had been brought in  just to test the concentration of all the yogis  since a true yogi would just ignore them, being so concentrated on the poses or so deep in meditation that one might not even notice them.  Fat chance!   A true yogi I am not.  Concentrating on ignoring the flies, was counter productive – it  just made me realize their presence even more.  To my yoga instructor's credit she just raised an eyebrow and smiled at my constant swatting rather  than giving me a lecture.  But it was obvious to both of us that I still have some work to do in the area of deepening my focus.  I'm hoping the other participants were in such a deep meditation that they didn't notice.
Later that night we went to our first 90 minute meditation.  This was the part I was most concerned about, sitting still for 90 minutes.  We were to sit in silence for 30 minutes.  After a few minutes my back became to get sore.  Despite being fly free, I continued to wiggle and readjust to no avail.  My relief when the 30 minutes ended was short lived as I realized we would be chanting and singing mantras for the next 30 minutes.  I've never chanted in my life and chanting in what I believe was Sanskrit  and singing "Hare Krishna."  I was very uncomfortable singing along to something I didn't understand in a room that had been set up as a temple with large pictures of the founders.  So I sat in silence for most of it.  When the mantras were finally finished we were then told a story about Swami Vishnudevananda, the founder of the International Sivananda Yoga Vedanta Centres.  I kept looking at my watch, counting down the minutes.  When 90 minutes finally came I was overcome with excitement about leaving, but we were to be there another 20 minutes as the graduates of the Teacher Training program were given their spiritual names.  On top of that, everyone was wearing white pants, except my friend and I, both in black.  We clearly stood out, but not in a good way.  I worried we were wrecking everyone's "energy" but then the whole idea of this type of yoga was to be forgiving and understanding.  Wasn't it?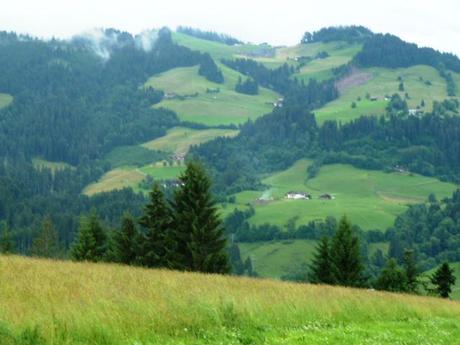 We went on a couple of short walks in our down time, enjoying the beauty of Tyrol, Austria.
The next day, we rose bright and early in time for another 90 minute meditation session starting at 6:00 am.  After a short break, we then headed into another 90 minute yoga session, where I bit my tongue to keep from laughing as I kept hearing people's bellies growl.  If it's not flies, it's belly noises.  This concentration stuff is hard!
I greedily gulped down a delicious vegetarian breakfast, but as my friend noted, we both ate far more than usual, knowing we wouldn't be eating again until 6:00.  Fortunately we had both snuck in food, which we ended up snacking on later in the day.  At this point, I felt more or less content (although I was still not a fan of the chanting), but I really didn't feel like I needed another 3 hours of yoga and meditation that was still to come.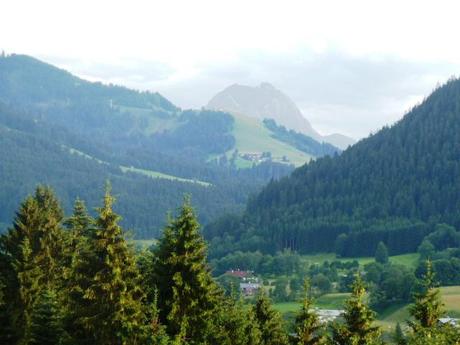 I will definitely be coming back to Tyrol, Austria for some hiking, but will pass on the yoga vacation.
A few hours later I dragged myself to the next yoga session and really struggled with it.  Not with the poses, (although my back was killing me) but with boredom.  Despite having a different instructor each class, we followed the exact same routine and did the exact same poses for the third time in 24 hours.  I decided I didn't have it in me to go to mediation later that night, even though it was a mandatory part of the "vacation."  At this point I was feeling pissed off that the website had not clearly communicated  the spiritual element of  the this "vacation".  Had I known about it, I wouldn't have signed up for it in the first place.  Yes it had laid out the schedule, and the diet, which was already out of my comfort zone, but it hadn't mentioned any of the chanting or mantras in Sanskrit.  I was feeling more and more uncomfortable and while the idea of this yoga vacation was to take me out of my comfort zone, more than anything I wanted to be back in my comfort zone – or at least have it in sight.
The next morning at the unreasonable hour of 5:30 I dragged myself out of bed for meditation.  I couldn't concentrate and gave up trying, instead looking for signs of other distressed yogis.  While most people appeared to chanting their hearts out, I did notice a few who appeared as uncomfortable as I felt and didn't even attempt to chant.  Kindred spirits!  I saw one other participant wearing black pants as well.  Without speaking to her, I liked her immediately.
The day before my friend and I had discussed the option of possibly leaving a day early, but wanted to keep an open mind and see how things progressed Sunday.  I was sure that she would end up staying the full three days as planned and that I would be the one making the getaway.  I just hoped that she wouldn't be upset that I was leaving a day early.  She clearly had not had a good meditation session either and suggested we leave immediately without breakfast.  Although I was starving, I readily agreed and have never packed so quickly in my life.  I was frantic.  I had to escape.  Just the thought of escaping brought me enormous joy.  But our escape was not to be so easy….to be continued.