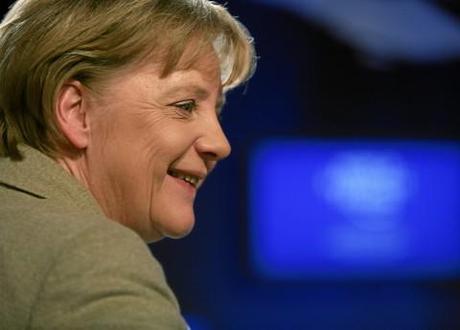 German Chancellor Angela Merkel won't commit to using ESM bailout funds to buy indebted nations' bonds.
As the G20 met in Mexico, word emerged that Germany, the biggest player in the eurozone's financial crisis, may be prepared to back bailout plans that would allow funds to be used to buy up indebted nation's bonds.
Or maybe not.
The plan would release European Stability Mechanism funds totaling around €750 billion (£605 billion) to buy up bonds from struggling nations, allowing some countries to deal with market pressures without the conditions that would be imposed by a full rescue package. It's legal under rescue fund rules, but it hasn't been done yet. On Thursday, German Chancellor Angela Merkel, returning from the meeting in Los Cabos, said that the plan was "not up for debate", Bloomberg reported. When questioned by reporters, Merkel played non-committal in her responses, saying, "I haven't heard about such things."
But with newly minted French President Francoise Hollande backing the idea – and claiming that "virtuous" countries should be given a chance to sell their bonds – and as Spain's borrowing costs reach unsustainable levels, does Germany really have a choice?
Why Germany hesitates
Basically, Germany doesn't want to get stuck with the bill. The Daily Mail, clocking German hesitation on Wednesday, reported that "Merkel has been hugely resistant to moves that would result in her having to persuade German taxpayers that their money should be used to prop up troubled members of the eurozone. And German officials insisted no decisions had been reached on whether to use the eurozone bailout cash to buy up government debts." And the Wall Street Journal noted that the plan "is likely to get an icy reception in Germany if it involves loosening rescue fund rules or tapping resources of the European Central Bank." The Journal further noted, "Any attempt to loosen bailout rules, however, would be staunchly rejected in Germany, which has also long opposed a bigger role for the ECB in resolving the debt problems of individual countries."
So why would Germany support this 'shock and awe' move?
Allowing bailout funds to go towards buying sovereign debt would help drive down Spain's borrowing costs, which have been inching towards an unsustainable 7 percent in recent days, and it would offer the "shock and awe" that the markets need, wrote The Guardian's economics editor, Larry Elliot. But it would also mean playing "fast and loose with the tough conditions that Berlin itself insisted on when the European Financial Stability Facility and its successor were created". Why would Germany do that? "[B]ecause the events of the past few weeks have left Germany with a binary choice: support emergency action to prop up the eurozone's fourth biggest economy or watch monetary union slide into the abyss." This bailout is a gamble, but it may be one that Merkel and crew think they need to take.
Germany between rock and hard place
With Sunday's Greek election result seemingly backing austerity, as well as the G20 summit meeting pressurizing eurozone leaders to get it together, Germany is put in a difficult position, Alen Mettich observed at the Wall Street Journal. "Germany will pay heavily in an attempt to keep the euro zone together, but not enough to achieve the result. This worst of all worlds outcome will leave the country with both a big EU-related bill and all the problems of being seen as the intransigent barrier to a satisfactory outcome."
More on the eurozone

Eurozone agrees to massive bailout for Spanish banks
Fears grow of Greek default
EU elections: End of austerity?