Mehndi designs are taking the world by storm, yet many people in the West (specifically the male part of the population) have no idea what is meant when they see the term in print or hear it from the lips of their excited female friends. Yet it seems that this classic traditional fashion from the Far East is catching on in every corner of the globe, even the social media obsessed West. It's a hot new design, yet it's centuries old in origin. So what is Mehndi design, and what is it all about?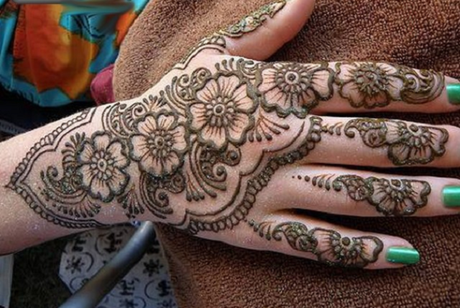 Why Are Women Going Crazy For Traditional Mehndi Designs?
Mehndi design (Sometimes spelled Mehendi design) fashions are cropping up on online stores and fashion outlets thousands of miles removed from their origins in the Far East. This may surprise you at first, until you take a look outside your window. You may just notice quite a few women wearing bright, colorful symmetrical designs on their skirts, tops, and dresses.
Mehndi fashions have managed to penetrate the mainstream culture in ways that are sure to captivate and delight your eyes. For example, you might see women using cell phones that feature Mehndi designs on their covers, or wearing brooches, bracelets, and earrings that incorporate these classic designs. One thing is for sure: If you look for them, you will certainly find them!
What Is The Secret Of Mehndi Fashion Appeal?
Many people are asking themselves just what the secret of the appeal of Mehndi fashion is. As it turns out, there are a number of answers that could be given in response to this question. Perhaps the biggest part of the appeal of Mehndi fashion is its versatility, its long history of tradition, and its ability to look good on nearly anything and anyone.
Mehndi Designs Are Sweeping All Across The Western World
Mehndi designs are sweeping all across the Western world at an astonishing rate of speed. This is one so called "fashion buzz" that is beginning to look like anything but a fashion trend that will be here today and gone tomorrow. Companies all across the world, such as Craftsvilla and many others, are doing their best to crank out Mehndi design themed items for women to snap up. This is a trend that shows every sign of remaining in fashion even after the initial hype and buzz has long worn off.