The paradoxical question…Can an abstract artist actually create a pictorial painting?
A significant number of art aficionados think that if you create abstract art, then you simply cannot paint representationally.
There probably is some truth to this…but only some. I will give you examples of the creme de la creme in the world of abstract painting. These are artists that experimented and in many cases created some much, remembered interpretive art. Eventually finding themselves as truly non-interpretive, or at the very least abstract expressionists. At the top of the list consider Picasso, he could render any scene to the point that it was photo realism. But as we all know he quickly lost interest and went on to explore the creation of non-reality based imagery and the interpretation of that imagery like no other. Jackson Pollock, while working with Thomas Hart Benton created some pretty impressive paintings that not for a second could have foretold the artistic direction that made Pollock a household name in the world of late 40′s & 50′s art. Consider Kandinsky, often credited as being the father of abstract art, although his early work was not pure representational, you certainly knew the subject matter. It wasn't until later in his art career that he went into pure abstraction. Although interestingly he often kept titling his paintings as if they were a true representation of the subject matter. St. George Killing the Dragon was a motif he repeated many times. From representational to straight abstraction.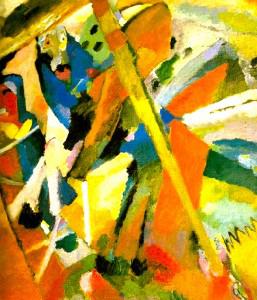 St. George I -Wassily Kandinsky 1911 oil on canvas
There are many examples of artists that have made the transition. It's interesting to search them out, and perhaps even more interesting to discover the catalyst behind their profound change in style. It's also somewhat intriguing to imagine where these artists would have ended up had they not explored the deeper realm of abstract painting.
Abstract painting involves the interpretation of an image in a way that may only partially connect with reality. Realism on the other hand is immediate. Your mind can recognize it immediately even if it's cartoonish, the mind seeks order and will always imprint reality if it can.
It's hardly uncommon for new artists to try and paint what he sees. Rocky to Bullwinkle, "What are you painting?"…Bullwinkle, " I paint what I see."…Rocky, " What do you see?"…Bullwinkle…"This is what I see"
There probably isn't a firm reason why an artist migrates from realism to surrealism and onto complete abstraction. It happens to the best…and fortunately for those who have really learned to embrace this corner of the art world. It's a fascinating and ever-unfolding story.
While developing my own style I made that transition rather quickly. Some of my own early interpretative art was revealing my true direction. I can't wait to see what my future canvases have in store.
My Early Works: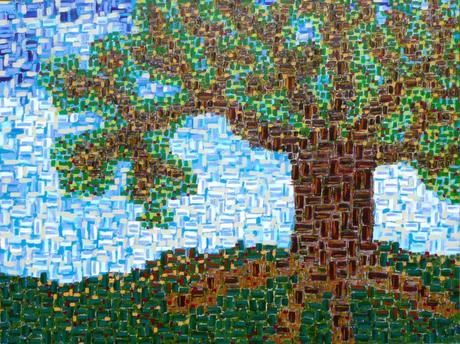 The Tree - Acrylic on Canvas- 36" x 48" - Rod Jones Artist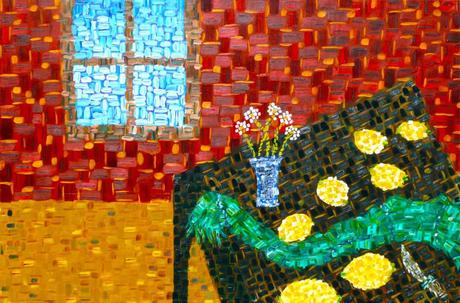 Lemons- oil on canvas- 24"x36"- Rod Jones Artist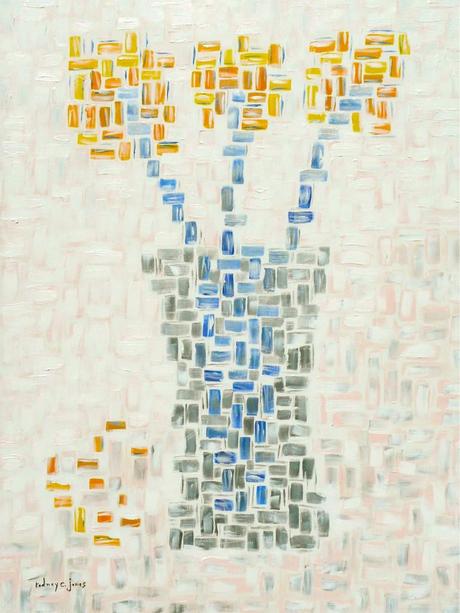 Flower in Vase-Acrylic on canvas- 36x48- Rod Jones Artist
No matter your taste in art, I invite you to plunge fully into abstraction.
Most Recent Work: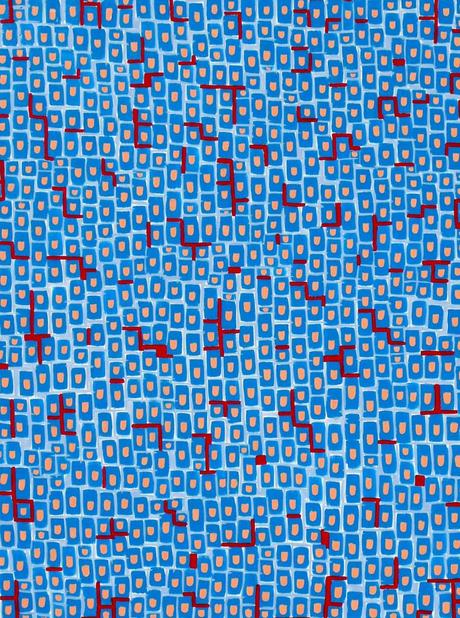 Tears of Allah - Oil on Canvas - 36"x48"- Rod Jones Artist