GR:  Fascinating photos.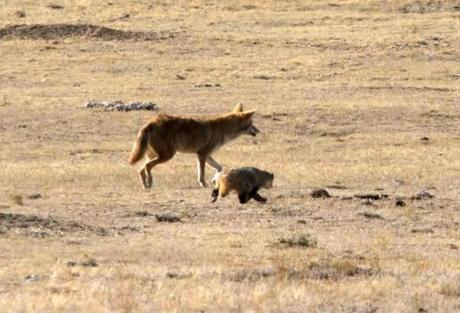 A coyote and badger stalk prey together on the prairie surrounding the National Black-footed Ferret Conservation Center in northern Colorado. (Photo: Kimberly Fraser/U.S. Fish and Wildlife Service)
"Competition and cooperation aren't mutually exclusive. Just ask a coyote or a badger.
"Both are crafty carnivores, and since they often hunt the same prey in the same prairies, it would make sense for them to be enemies, or at least to avoid each other. But while they don't always get along, coyotes and badgers also have an ancient arrangement that illustrates why it can be smart for rivals to work together.
"An example of that partnership recently unfolded on a prairie in northern Colorado, near the National Black-footed Ferret Conservation Center. And it was captured in photos, both by a wildlife camera trap and by sharp-eyed photographers:coyote and badger hunting together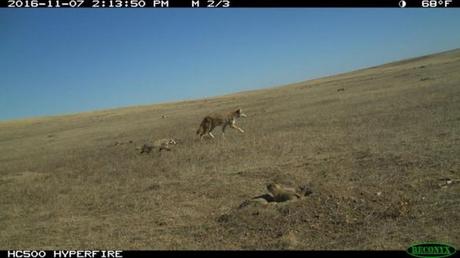 A field camera caught this amazing shot, which shows the coyote and badger trotting across the landscape with a prairie dog looking on in the foreground. (Photo: National Black-footed Ferret Conservation Center/Facebook)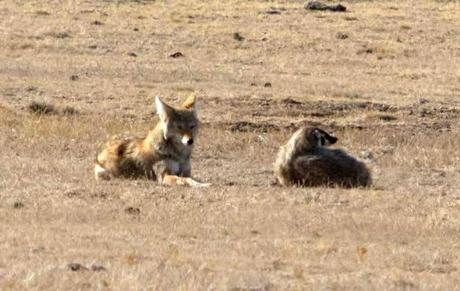 The duo takes a break from pursuing prairie dogs. (Photo: Kimberly Fraser/USFWS)

Story by Russell McLendon. Read more about this ancient partnership here: Why coyotes and badgers hunt together