There is an old saying and I'm not sure of the truth, but here it is " A mattress doubles its weight due to dust mites and their debris in 10 years". Now with that said, I do believe that a mattress not sealed accumulates debris like sweat, urine spills from babies or pets, shed skin and dust mites. Now doesn't it just make  sense to cover the mattress.
So lets say you purchase the mattress for $800 and within the first 3 months that stuff above happens and you know it will. If you had an encasement that was able to eliminate all microscopic toxins, allergens, dust mites, bed bugs and was breathable, lockable and waterproof wouldn't you want it for your comfort?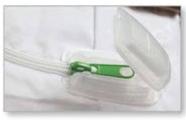 Stop by or call us to get yours today.
480-831- 9328 or 623-414-0176
425 W. Guadalupe Road #110 Gilbert 85233