In 2020, site speed is more important than ever. Slow site speeds tend to frustrate your users, and that hurts your ranking. Think about it, when was the last time you waited for a slow page to load completely?
Maybe you have put a lot of effort into making sure that your site works well. You found the perfect hosting for your blog or website, and if not, try this WordPress hosting, but your page still doesn't rank anywhere near the top three. What could be the problem? Speed.
According to Google, 53% of mobile website visitors will leave a page if the webpage does not load within three seconds. And that kind of bad experience with your site can have a lasting negative effect on your website.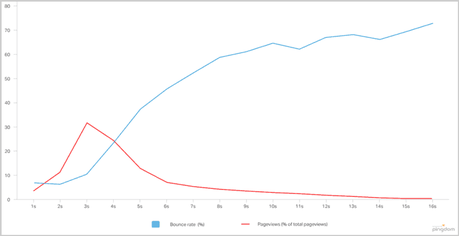 As a result of these findings, in 2010, Google started incorporating speed as a factor in its search ranking algorithms. BBC, a known brand, also reiterated these findings by admitting that the lost an additional 10% of users, for every additional second their website took to load. This is mainly because poor experiences mean that your traffic will go elsewhere, maybe even to competitors with faster sites.
Everyone Wants a Faster Page
If you want a quick answer, Google recommends page load time that is under two seconds. Two seconds is the threshold for many ecommerce websites, but lesser is always better.
Just a reminder, the website page load time is the time a website takes for someone to see all the content after they have landed on your website.
However, your website's loading page is not always clear cut like saying "my website loads in 2 seconds."
Why?
This is because the website's loading speed varies because of two reasons:
Webpages don't load all at once but piece by piece.
Website speed might vary depending on the location of the user, the internet speed they have access to, or their browser.
As you can see, the latter is something you have no control over, but you can work on the website itself to increase the overall speed if all other factors remain constant.
With your website's success on the line, speed cannot be ignored. If you are overwhelmed with low traffic, a smart place to start is by testing the current site's standards.
Try PageSpeed Insights, an online tool provided by Google to identify web performance issues on sites.
Reasons to Speed Up Your Site
According to a study done by Geoff Kenyon, if your website loads in 2.5 seconds, it is faster than over 50% of the web. And although it takes a lot to achieve better page load speeds, there are things you can do, to improve your speed drastically.
If your website loads fast, you have instantly made a good impression. It's a great win for user experience. If the page loads fast, your customers are happy and that means more traffic and better rankings.
On the other hand, a slow website makes people think it is unsafe and untrustworthy. And changing that perspective might be a bit hard. People hardly give second chances.
So to avoid all this you can start by optimizing your website for better speeds.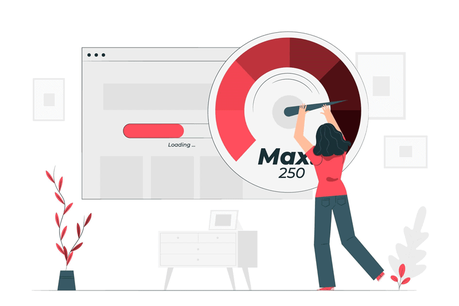 How to Optimize Your Website for Higher Speed
There are many reasons why your website is slow. And as such, there are a lot of ways to speed up your website. However, like many things in life, speed optimization follows the 80/20 rule. This means that a small number of tweaks are going to have the biggest effect on your site loading times.
Here's how:
Optimize Images
The number one reason for slow page load times is having images larger than they need to be. Start by making sure that they are in the right format. PNG images are better for graphics while JPEGs are better for photographs.
According to HTTP Archive, images make up 50% of the average website. Therefore, shrinking the size of images can make an impact on the overall site's file size which leads to better speeds.
Upgrade Your Hosting Plan
Switching a host or upgrading your current package is never fun. But it might be the only way to save you money in lost traffic.
Slow loading speeds might even be a sign that you have outgrown your current host. Although it might be a bit pricier compared to other cheap hosting websites, you are assured of a better performance in your website's speed.
Lightweight Themes are the Way to Go
The theme is the backbone of your website. As a result, it has a significant effect on the website's load speeds.
A theme with many features and too many images might be the reason why your website speed is slower than usual. However, there are many lightweight themes out there that come with page builders that offer flexibility with great designs.
Reduce Plugin Use
Plugins are essential components of your website. They help add special features to a plain website. However, too many plugins might be the reason why your website is so slow.
The number of plugins and their quality can have massive effects on your website's overall speed. If you can, try avoiding plugins that load too much script or generate a lot of database queries.
The best option is to keep only the plugins you require and make sure they are always up to date. Check out article on Must have WordPress plugins recommended by 28 blogging experts.
Use Website Caching
Caching allows you to place some static files of your page on a visitor's browser for later use, which improves loading time, as not all files need to be fetched from the hosting server.
This simple process makes sure that your web page does not render every time for the same user. You don't really need to understand all the complicated processes involved, but long story short, your page loads many times faster for returning and frequent visitors when you use website caching.
Use a Content Delivery Network
Many websites are hosted on single servers. This means that all user requests are sent to the same hardware irrespective of their location. As a result, visitors who are far away from your server are likely to receive slower web page loading speeds.
A content delivery network is a set of servers distributed in different geographical locations. With CDN, user requests are redirected to the server nearest to them. As a result, this is one of the best ways to optimize your load time.
Optimization Is More Than Just Numbers
Optimizing your speed is more than just looking good on those speed tool tests. The best websites don't bind themselves to scores and metrics. What matters is the real world online environment.
As a website owner, you need to understand the users who normally visit your website. Find out who your visitors are, how they access your website, and what they do when they are there.
With this information, you can understand better how to optimize your website in favor of your traffic.