December 2013
A Fun Fact About Honey: 
Honey is a humectant, which means it provides and retains moisture in a variety of dishes and can even extend the shelf life of baked goods.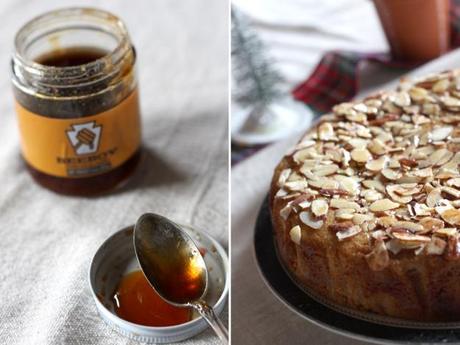 A Fun Fact About This Honey Cake:
This Whole-Wheat Honey Almond Cake won't last long enough to test the shelf-life extending properties of honey, but it does fit well in a Brunch By The Bees.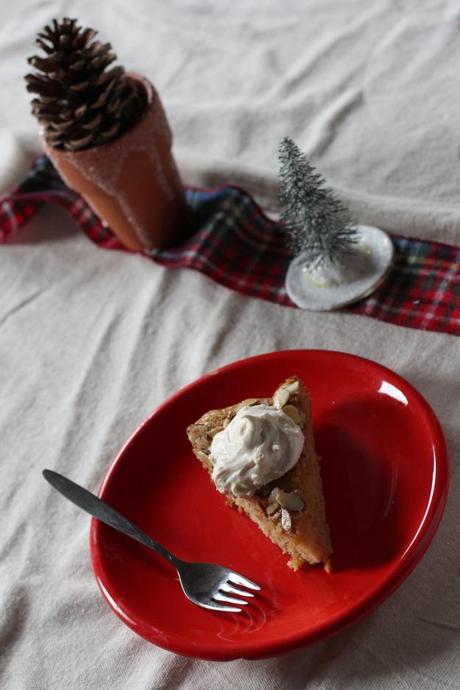 Tempted to title this a honey-drenched cake, I feared "drenched" might give an impression of sogginess. Far from soggy, this wholesome cake absorbs a honey glaze in the final minutes of baking, followed by a toasted almond layer and yet another layer of glaze.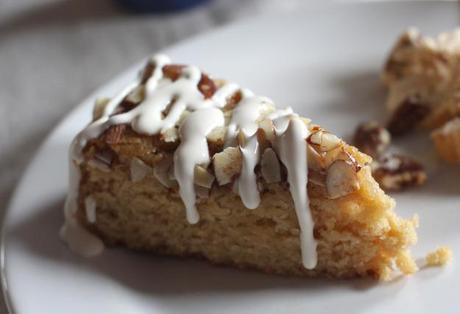 Served with honey-whipped mascarpone, you can easily justify a breakfast slice, but you'll also crave a second slice by dessert. I have faith in the powers of baking with honey, but I also have faith this cake will disappear long before testing any shelf-life theories.
Whole-Wheat Honey Almond Cake
Ingredients
2 1/4 cups whole-wheat pastry flour
2 teaspoons baking powder
1/2 teaspoon salt
1/4 cup plus 2 Tablespoons organic, unsalted butter
3/4 cup organic pure cane sugar
1/3 cup honey
2 Tablespoons pure vanilla extract
2 teaspoons pure almond extract
2 organic eggs
1 organic egg yolk
3/4 cup organic buttermilk
Glaze
1/2 cup honey
1/4 cup firmly packed, organic brown sugar
1/4 cup organic, unsalted butter
1/2 cup of sliced almonds, toasted
Directions
Preheat the oven to 350 degrees. Prepare a 9″x3″ non-stick spring form or cake pan by greasing the pan with butter and lining it with parchment.
Sift the flour, baking powder, and salt together in a bowl and set it aside.
In the Kitchen-Aid mixer, cream the butter and sugar together.
Reduce the mixer speed to low and add the honey, then the vanilla and almond extracts. Gradually increase the mixer speed to high and cream the mixture until fluffy.
Add the eggs and egg yolk one at a time mixing well after each addition.
Reduce the mixer speed to low. Add the flour in three parts, alternating with the buttermilk starting and ending with the dry ingredients. Mix until just incorporated. Do not overmix.
Spread the batter into the pan evenly. Place the pan on a cookie sheet and bake in the center of the oven for 45-50 minutes or until a cake tester will come out of them middle mostly clean but for a few moist crumbs.
About 10 minutes before the cake is done, make the glaze.
Combine the honey, sugar, and butter in a heavy-bottom saucepan over medium heat, whisking to combine and keep it from burning.
When the cake is done remove it from the oven but leave the cake in the pan. With a skewer or slender wooden spoon handle, poke holes in the top of the cake.
Pour 1/2 half of the glaze on the cake, spreading it with a pastry brush to evenly soak the top.
Sprinkle the almonds on top and then pour the last of glaze over the cake.
Bake the cake another five minutes, then let it cool on a wire rack. Gently remove from pan to a serving plate.

Bon Appétit!
-Quelcy