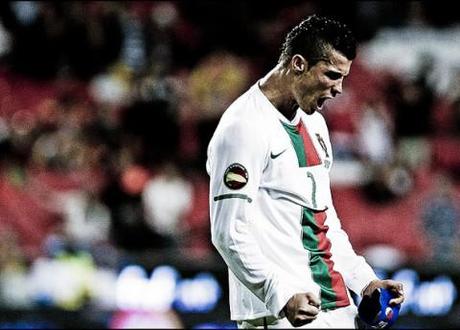 Can Cristiano Ronaldo fire Portugal to Euro 2012 glory? Photo credit: Jose Goulao http://flic.kr/p/8Uf196
The background
With just a day to go until the European Championships kick off, the serious business of predicting a tournament winner has reached fever pitch. Spain, Germany and The Netherlands are the bookmakers' favourites and most in the sports commentariat agree that the turf accountants have got it pretty much spot on. Indeed, of the BBC's 16 top pundits, ten of them said Germany would triumph, five went with defending champions Spain and The Netherlands got one vote as winners but were heavily backed as semi-finalists.
But not everyone is convinced one of the big three will lift the Henri Delaunay Trophy on July 1 in Kiev, Ukraine. Indeed, some highly respected voice in the sports commentariat are talking up the chances of other national sides.
Les Bleus are the dark horses
The Racing Post interrogated the top bookies at the UK's ten leading firms and found all plumping for the top three in the market bar Liam Dearsley of Betfred and Paul Milward of Ladbrokes. They both tipped up France. "Laurent Blanc has revolutionized a troubled squad that has a number of very talented players," said Milward. "They should win their group, have a settled team, a good manager and some decent recent results," reminded Dearsley. Mark Langdon of The Racing Post also fancied France "who are far from perfect but still have the potential to make a mockery of 12-1 quotes."
Portugal too long at 20-1
Leading Racing Post tipsters Dan Childs and Kevin Pullein talked up Portugal's supposedly slim chances of winning Euro 2012. Childs backed them to pull off a Cristiano Ronaldo-inspired "surprise success." Pullein argued that "any of the 16 participants could win" but insisted that the best value lies with 20-1 shots Portugal. Italian football expert Gabrielle Marcotti also rated Portugal's chances. Portugal are long in the betting partly because they must come through by far the tournament's toughest group.
The Sun backs Roy's boys
"WHO says England can't win Euro 2012? Not The Sun," said, you guessed it, The Sun. "A poll suggests only four per cent of us think the team who flew to Poland yesterday can triumph. Being underdogs can help our side, as can boss Roy Hodgson's more relaxed regime where players are trusted and not treated like children. England still have plenty of talent despite the crop of injuries. Roy knows how to win. So go for it, lads." England have drifted to 15-1 shots, the biggest price they have ever been for a major tournament.
Of the 16 BBC pundits only Alan Shearer backed England to reach the semi-finals. And his reasoning wasn't that compelling: "I have picked England to reach the semi-finals because I am English, I am patriotic and I want them to do well – in fact I am desperate for them to do well."
Get real people, Germany or Spain will win
Michael Cox, the man behind acclaimed football analysis website Zonal Marking, suggested that Germany will win the tournament by inching past Spain. "Germany were very close to Spain's level two years ago, " reminded Cox, "and while Spain have lost a couple of key players, Germany have improved. Technically and tactically they might be as good as Spain. They lack that experience of winning, although that could be turned around into a positive – they're still hungry for success, and this time around, having been knocked out by Spain in 2008 and 2010, they might just win the competition."
More on football
Joey Barton: Beyond redemption?
Balotelli: The ultimate maverick
Gary Speed's death an accident?