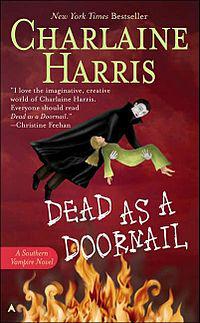 We know that True Blood is casting a character named Claude for Season 5 and that the part is to be a recurring role that continues into Season 6, (if there is one). Who is Claude anyway?
In the books, Claude was the beautiful brother of Claudine, Sookie's Fairy God Mother. Here's the casting call for the part of Claude, as presented by HBO:
[CLAUDE] Early 20s. Very attractive, omni-sexual guy (with and without a shirt). A mysterious young man who speaks with a British accent and catches Jessica's attention and curiosity. Recurring. Must have a British Accent. (41) Possible series regular season 6.
According to the Urban Dictionary, the word "omni-sexual" means: Someone who is highly sexual, often having sex with both genders. They are very sexual, will almost try anything kinky, and will vary sexual orientations.
While we know that True Blood often differs from the books, in the Sookie Stackhouse books, Claude is described as follows:
Claude is one of Niall Brigant's (the faerie prince) grandsons and Claudine's twin brother (they used to have a triplet named Claudette). He is the nephew of Sookie's half-human/half-fairy grandfather, Fintan, and cousin to Sookie's father. His first appearance in the Sookie books is in the fifth novel, Dead as a Doornail, but the character first appears in Charlaine Harris's short story, Fairy Dust. He makes an impact on all women and is described as being absolutely breathtaking, so lovely that his proximity makes Sookie tense as a "high wire." He started out as a stripper at Hooligans, a club in Monroe, which he later becomes owner of, and has branched out to print and runway modeling. He is depicted as being six feet tall with rippling black hair, muscles, and a six-pack. He has a pair of brown, velour-soft eyes, a chiseled jaw, and a sensuous mouth with a pouty bottom lip. Women usually say "wow" when they see him, but his interest is men. His ears have been surgically altered from pointed to rounded to look like human ears. Though his physical appearance is magnificent, he is not polite and has a tiny sense of humor. He seems to like and treat Sookie better once it is revealed to her that she is related to him. In Dead in the Family, he moves in with Sookie out of loneliness after his sister, Claudine, is killed. In Dead Reckoning, it is suggested by Dermot that Claude has ulterior motives, especially when Sookie finds the cluviel dor that was given to Adele by Fintan, via Mr. Cataliades. He is a Sky fairy.
Claude was portrayed by Neil Hopkins in the fourth season of True Blood, so assuming this casting call for Season 5 is the same character; we suppose that Neil Hopkins was unavailable to continue in the part.
Who will HBO choose to play this new fairy? Anyone have any suggestions?  Please leave your comments below.

sources: Wikipedia and Urban Dictionary