Post on behalf of GM
---
Camping is one of life's great pleasures. The sights, smells and sounds of nature can be therapeutic — until a rainstorm passes through and turns your campsite into a mud pit. That doesn't mean you have to pack up and go home, at least not if you have one of the many vehicle tents available on the market now. Basically turning the bed of a truck or roof of almost anything else into a makeshift RV, different companies offer various models to suit every taste. Here is a look at some of the more popular ones.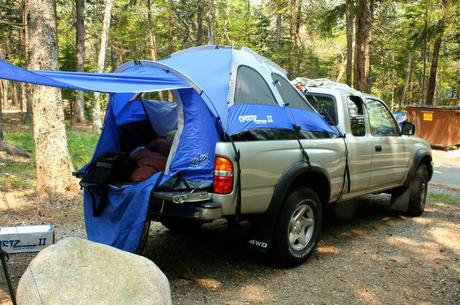 Photo Source: Flickr
Sportz Avalanche Tent
Specifically designed for the Chevrolet Avalanche and the Cadillac Escalade EXT features a sewn-in floor to ensure no other things find their way inside while you're sleeping. The sides of the tent fit over the truck bed to prevent water pooling, and there is over 5.5-feet of headroom. There are also two mesh windows for ventilation and a door that leads to the truck cab for interior access.
Kodiak Canvas Truck Tent
Made from 100% cotton duck canvas with Kodiak's Hydra-Shield, this tent is truly watertight meaning no more rubbing up against a damp wall while you're sleeping. Five windows in total ensure breathability, and the frame is made from steel to withstand strong winds without collapsing. The Kodiak fits full-size trucks with 5.5 to 6.5-foot long beds.
Rightline Gear Truck Bed Tent
Unlike the
Avalanche
, the Rightline Gear tent doesn't have a floor at all so you can set it up with unloading all your camping gear. Outfitted with two gear pockets, a lantern hanging hook and glow-in-the-dark zipper pulls (more useful than you might think!) it also has a roof vent that lets in more light and lets you sleep under the stars. Sleeps two adults and fits both compact and full-size truck beds.
Roost Rooftop Tent
Just because you don't happen to have a truck doesn't mean you can't camp in comfort. Roost makes a tent that is designed with a universal mounting system that fits onto the OEM roof racks of most SUVs. It can fit up to three adults, includes a foam mattress and is available with different length telescoping aluminum ladders so you can climb up to your temporary home with ease. When you're not out in the wilderness, remove the mattress and tent fabric to convert it into a cargo carrier that's perfect for skis or tools.
---
Like BloggerFather on Facebook
Email This
BlogThis!
Share to Twitter
Share to Facebook
Share to Pinterest