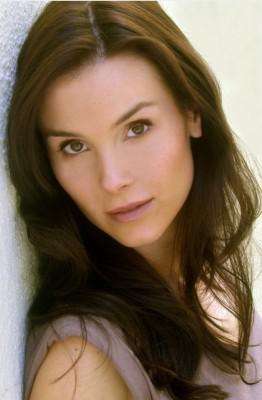 Kristina Anapau
In last night's True Blood we saw Andy Bellefleur get some attention from a fairy named "Maurella." Who is this new True Blood actress? Here's some information we found on the IMDB.
Kristina Anapau played "Galina" in Darren Aronofsky's Black Swan, in which she stared opposite Natalie Portman, Mila Kunis, Winona Ryder, and Barbara Hershey. Kristina recently completed the starring role in the feature film, Sighting, directed by Tedi Sarafian and will be next seen on Alan Ball's HBO series, True Blood.
Born in Hawaii, Kristina Anapau spent her youth studying classical ballet, music and theater. She graduated from high school at the age of 15, and that same year began her studies at The University of Hawaii. With dreams of pursuing a professional dance career, Anapau's life would soon take a fateful turn, as she was cast in Universal Television's, Escape From Atlantis, landing her first professional starring role at the age of 16. Soon after, she relocated to Los Angeles where she continued to work steadily both theatrically and commercially. At age 20, Kristina landed a recording contract with Hollywood Records and spent much of that year recording an album and opening for Destiny's Child on MTV's TRL Tour, but her true love and passion remained performing in film and television.
Last year, Anapau completed the independent films, The Speak, in which she stars opposite Tom Sizemore as well as the paranormal thriller, 5 Souls. She also acted alongside Golden Globe winner Diane Venora and Greg German in ThinkFilm's Independent Feature, Self Medicated, winner of over 35 International film awards. Anapau starred with Christina Ricci and Jesse Eisenberg in the Dimension Films' thriller, Cursed, directed by Wes Craven, and shined as Cassie Merteuil in the Sony Pictures/Newmarket Films release, Cruel Intentions 3. She appeared in the films, Madison, starring Jim Caviezel and Bruce Dern, as well as, the Lions Gate comedy, 100 Girls.
Her television credits are impressive as Kristina has recurred and guest starred in many noteworthy productions, including: True Blood, The Glades, House, Monk, CSI:NY, Without A Trace, Once & Again, General Hospital, and Knight Rider. She also starred opposite popular comedian, Dane Cook, in the Sony Television produced pilot, Cooked.
In her spare time, Kristina enjoys taking ballet classes, traveling, writing, and working with Beyond Shelter, an organization that combats poverty and homelessness among families with children in the LA area. She holds a degree in performing arts from Skidmore College in New York and currently resides in Los Angeles.
Since she vanished like she arrived in a ball of light, we, like Andy have no way of knowing if she will ever return, but anything is possible on True Blood, so it remains to be seen.
source: IMDB