"Well then, who's for gin?" I think I can say with some confidence, that this is one of my favorite questions of all time. Let's be honest, who's not for gin? The particular utterance of this question that I have in mind was a few nights ago, when the subject was raised and a round of Brodie's Bombay Coolers was created.
Rewind back to that morning whilst everyone was sitting eating breakfast and the post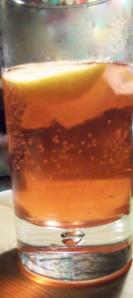 arrived. In it was P&O Cruises next brochure. 'Oh, I wish, but alas no' would be the approximate summary of everyone's feelings, but whilst we were perusing what holidays we weren't going on one of our number struck upon their other magazine and announced "There's one for you in here, Craig. They've created a gin cocktail to mark their 175th anniversary." Now there's my kind of company. Glossing over the fact that my love of gin is now even prevalent (in conversation, at least) at breakfast time, I think it's fair to say that I was quite intrigued. We all were.
Back to the evening and the kitchen, and we were lovingly crafting our drinks in preparation for the bloody battle scenes that were about to happen in the film we were watching. They were simple to make (no cocktail shaker in sight – these are stirred, not shaken) and were cool and refreshing, but with just enough bite to remind you of all the flavours you were drinking. So cheers, P&O, and many happy returns.
Brodie's Bombay Cooler:
50ml Bombay Sapphire
15ml Elderflower cordial
50ml Cranberry juice
2 Lemon wedges
Ice cubes
Tonic
Combine the gin, elderflower and cranberry in a highball glass with one wedge of lemon. Top up the glass with ice and tonic, an another squeeze of lemon and drop the wedge in on top. Stir well. Sit back (gory fight scenes optional) and enjoy liberally.