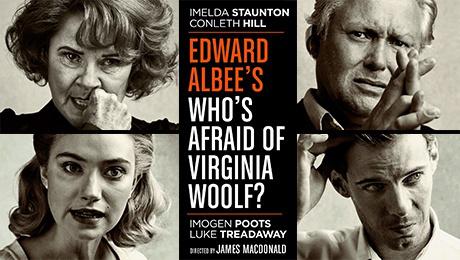 Cast
Imelda Staunton – Martha
Conleth Hill – George
Imogen Poots – Honey
Luke Treadaway – Nick
Venue: Harold Pinter Theatre
Date: Wednesday 1st March (2:30pm)
After being consumed by watching the film adaptation of this play a few years ago I had since wanted to see it on the stage. When it was announced that Imelda Staunton would be starring in it, I bought tickets straight way for a nice day trip down to London. I did travel down twice to see her in Gypsy.
The play is about two married couples who spend hours drinking after attending a faculty party. From 2am the action takes place at Martha and George's house as Nick and Honey really wonder what they have let themselves in for, as the middle-aged couple tear each other apart throughout. As they become consumed by the silly games they are playing.
The play is still in its previews and I was lucky enough to see it in the first week. It was truly powerful and exhausting to watch, as they destroyed it each other with words and how they truly feel about one another. George is an associate professor of History and Martha is the daughter of the college President. Nick is a new professor at the college teaching biology and that is why they were invited by Martha after the party.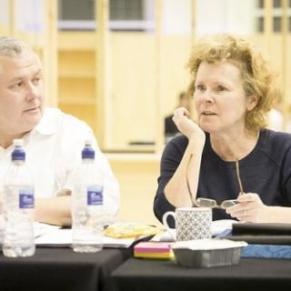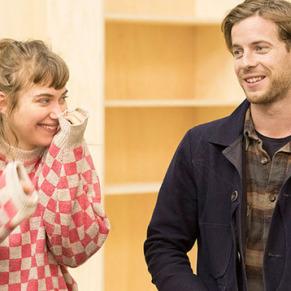 Martha and George hold nothing back when they are emotionally abusing each other and leave nothing unturned as they really try their best to hurt the other. The young couple is uncomfortable and embarrassed by the situation they found themselves in but the drink keeps flowing!
The play is split up into three acts, with a 15 minute interval and then a 5 minute pause – although that certainly lasted longer than that. Another interesting thing about the performance is that food has been banned from the Theatre whilst the actors are on stage. Which was fantastic as it meant no rustling of sweet papers or bags as people struggled to open them! A very welcomed thing at a play, as sometimes you cannot hear what is going on properly.
Now to talk about the performances of the incredible cast that was put together for the play. Imelda Staunton is a powerhouse on stage, she really is something else. I knew she would be incredible as Martha and I was not let down at all, as she shows the downfall of a woman right in front of the audiences eyes in the three hours. Conelth Hill was outstanding, he really was something else as George. So consuming and every time he spoke (which was a lot) you made sure you were listening carefully. You wanted to hear his stories and know which direction he was taking everything in next. Luke Treadaway has an impressive theater CV and starred in a popular film last year (Street Cat Named Bob) and you can certainly see why when you watch him on stage, very impressive performance and more than holding his own on stage throughout the play. Imogen Poots is making her West End/Theatre debut in this play and she really was hilarious as Honey with her random outbursts of laughter when struggling to cope in the situation she was put in.
A truly outstanding, powerful and consuming piece of theater. I have honestly not seen anything like this and imagine the actors must be exhausted after going through so many different emotions and hardcore acting for the over 3 hours. Especially considering this was a matinée and they had less than 2 hours before doing it all over again. I am very pleased to say that I have now seen this very special play on stage, it really is remarkable theater. Considering it was originally released and performed in 1962 many of the themes covered are still more than relevant to this day!
The Harold Pinter Theatre was certainly the perfect choice to stage this play.
The play opened on 22nd February and is running until 27th May 2017. Interested in tickets? Check out the website for more information!
Advertisements