In la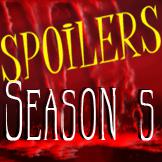 st week's episode we learned the identity of the hate group members with the Obama masks who go around shooting shifters. But who is their leader who goes by the mysterious, yet threatening name Dragon? Dragon is clearly the one pulling the strings, sending Joe Bob to the hospital where Luna is, most likely to finish the job and the hate group members fear and respect him or her.
But who could this Dragon be? Everything happens for a reason on True Blood. It was surprising to see retired sheriff Bud Dearborn again, when Andy visits his house looking for advice about how to handle the killings. Bud is grumpy and absolutely not interested in helping out; he has a male performance enhancement product to try out, a hot tub at exactly the right temperature and a woman who is not his wife to enjoy it all with. We know that Bud is not keen on vampires, so probably he doesn't care for other sups much as well. But did the former sheriff go from lawman to ruthless killer?
There is another character, that we only saw for a very brief moment, that could be the Dragon. The woman who told Bud that the hot tub was ready and he called her "sweetie". A term of endearment I first thought, but a little digging brought up some interesting info. And here a SPOILER ALERT would be appropriate.
Although True Blood and the Sookie Stackhouse books have taken two very different roads, they both have the character Sweetie in common. According to IMDB her full name is Sweetie Des Arts, portrayed by actress Jennifer Hasty. Sweetie first made an appearance in the True Blood pilot as "woman with fries" and so she makes her return in episode 5.07 and again in 5.09 (according to IMDB).
A casting call was sent out for the character for episode 5.07 so it was not premeditated that Hasty would play her again.
[SWEETIE] Female, Caucasian. About 30, she is a large woman who's having a noontime romance with an older married man. RECURRING.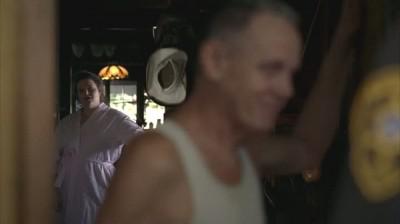 The book fans might remember the name Sweetie Des Arts as she is an important character in Deas As A Doornail. Sweetie was a former stripper and cook at Merlotte's.  This is in short what happens in the book:
Sookie is shot while leaving the library, presumably because she associates with shifters. Ballistics says that her bullet matches the bullets of all the others who were shot, except Sam's. Later, Sookie is in an alley with Sam (in his dog form) trying to find the killer, when Sweetie Des Arts, Merlotte's cook, comes at her with a gun. Sweetie explains that she was bitten by a werewolf, and has become part shifter. As an act of revenge, she now kills any shifter she comes in contact with. Tray Dawson, a werewolf who was sent to protect Sookie by Calvin Norris, is shot in this confrontation, and Sweetie is shot and killed by Andy Bellefleur, when he arrives on the scene.
Since True Blood has deviated so far from the original source material there is no way of predicting what role Sweetie will play on the show or how her story will unfold. All I can say is that we haven't seen the last of Sweetie and I seriously doubt she is a sweetie at all.