Players have started entering Paris and things are set for the second Grand Slam of 2021, the French Open. As always, Spanish tennis star Rafael Nadal is expected to continue his record-setting run on the Roland Garros courts. However, as the years have gone by, there have been new names emerging as possible threats to dethrone the "King of Clay."
From the new generations of players, rising stars like Alexander Zverev and Stefanos Tsitsipas are exciting prospects for the 2021 French Open title. Two-time French Open finalist Dominic Thiem surely has a chance to lift the winning trophy. Then, there are younger players like Andrey Rublev and Jannik Sinner who can also can cause a few upsets.
Stefanos Tsitsipas and Alexander Zverev can go the distance at the French Open 2021
As we are just a few days away from the main draw matches at the 2021 French Open, both Alexander Zverev and Stefanos Tsitsipas are in top form. The German player won the 2021 Madrid Open, whereas the Greek athlete won titles in this year's Monte Carlo and Lyon championships.
Unfortunately, Dominic Thiem has not been in the best of form this season. However, he is a Grand Slam champion and knows what it takes when the matches are of the best of five sets. Russian talent Andrey Rublev will be high on confidence as he defeated Rafa earlier this year in Monte Carlo.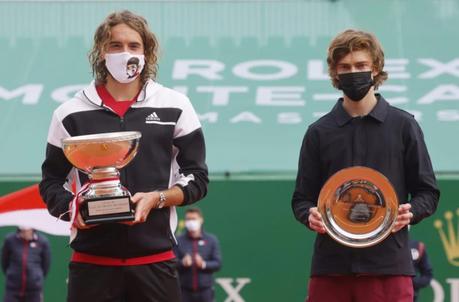 Tennis – ATP Masters 1000 – Monte Carlo Masters – Monte-Carlo Country Club, Roquebrune-Cap-Martin, France – April 18, 2021, Greece's Stefanos Tsitsipas and Russia's Andrey Rublev pose with the winners and runners up trophies. Photo Source: REUTERS/Eric Gaillard
To beat Rafael Nadal at Roland Garros will be the challenge
It is one of the toughest challenges across all sports to beat Nadal on a clay court and Alexander Zverev did that in Madrid earlier this month. Stefanos Tsitsipas played a roller-coaster match against Rafa in the finals at Barcelona, and he did show glimpses of his talent on clay.
Besides, these young guns, World No. 1 Novak Djokovic will be a threat to all players. He is the only player to beat Rafael Nadal seven times on a clay court.
In other developments, Swiss star Roger Federer is expected to be part of the 2021 French Open. It will be interesting to see how these players perform, especially the players belonging to the next generation. Alexander Zverev and Stefanos Tsitsipas have a good chance of defeating the King and winning their first Grand Slam title.
Those are our choices… who is yours? Tell us in the comments below!