Thank you to Author James Ross for this submission to Golf for Beginners blog.
**********
The golf season was around the corner and the grinding professional Tour was about to begin. The weather outside was gloomy. It was way too cloudy and windy to even think about playing. Of course flurries of snow were predicted in the forecast. That was also a discouraging factor.
What's a fellow to do? If you're a golfer the local pro shop and clubhouse is the perfect meeting place. It was no different at Prairie Winds Golf Course high atop the Mississippi river bluffs just east of St. Louis. Fred, the portly one with a baker's dozen of doughnuts, was the first to arrive. His rotund backside had left an impression in the booth nearest the far corner.
J Dub, the nice looking, lanky head pro had a pot of coffee brewing before the night maintenance foreman at the local auto plant had come through the front door. Julie, his chic assistant, was filling the cash register with petty cash. They expected a slow day of golf but plenty of banter from the regulars who considered the clubhouse their home away from home.
Captain Jer, the functional alcoholic, arrived early. He had traveled to the course with two sidekicks. Doc, the elderly veterinarian, and Trot, an old vaudeville comedian, entered behind him. As news of the upcoming golf season flashed across the TV screen the conversation switched to controversy.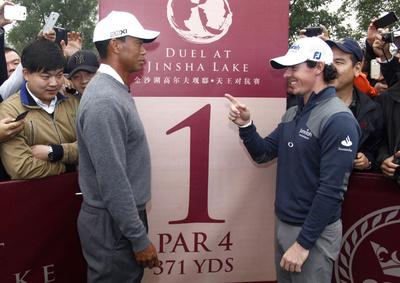 "That kid from Ireland can play," Fred shouted.
"Rory?" Doc questioned.
"Yeah, McIlroy." Fred wiped the back of his oversized hand across his mouth in an attempt to clean the excess cream filling from the doughnut off the side of his mouth.

 "Lots of talent there," Captain Jer agreed, "but I still think that Tiger is the guy to beat." The retired airplane pilot motioned for Julie to bring a cold beer to his table. "When they tee the ball up I guarantee you the rest of the guys in the field are looking out the corner of their eye to see where Tiger is."
"Maybe so," the head pro said as he threw his opinion out, "but Tiger doesn't put the fear in them like he used too. There are a lot of new guys out there that can flat play the game."
"Guys you've never heard of," Trot added. "There are hoards of young kids that rip the ball."
"But that McIlroy kid is the best of the young bunch," Fred argued.
"No question," Doc said, "but you know the way sports are. On any given day…"
"Yeah, yeah, yeah," Captain Jer shot back. "Give me Tiger Woods anytime. He has that uncanny ability to will the ball in the hole. When he's got his putting stroke going there is nobody that can stay with him."
"Granted, but the others know that if he's in the hunt it just might be his tournament to lose."
"I'll still take the new kid on the block."
"He can roll the ball in the hole with the best of them."
"And his ball striking is as good as Tiger's was in his prime."
"Why don't you guys take a break for a while?" Julie butted in. She was no novice when it came to the gentleman's game. "Nobody is going to win this discussion. Was it Jack or Arnie? Or how about Ben Hogan or Sammy Snead? Each era has its own hotshot --- and the opinions will always vary."
The others exchanged glances. They wondered how the lady in the group could be such a golf historian.
"That's why golf is the truest sport out there. The guy that plays the best for four days will win the tournament." Julie placed another beer in front of Captain Jer, delivered a screwdriver to Trot and filled up Fred's coffee mug. "That's the one that deserves the moment. Be glad that we have the opportunity to disagree."
"Yeah, it makes for great viewing on Sunday afternoon!"
"And everybody has their favorite."
James Ross has written five novels from the Prairie Winds Golf Course setting. Visit Amazon online on Wednesday #12_12_12 for a book promo on his latest, Pabby's Score. The story delivers innocence, greed, corruption and Internet dating as well as mysterious intrigue from the cast of recurring characters --- and two newcomers with special needs, Pabby and Shae.

Join James Ross on Twitter as @golfnovels and @JamesRossBooks or on Facebook.

And... as always, voice your opinion on Twitter @Golf4Beginners and on our Facebook page.


Posted via email from stacysolomon's posterous