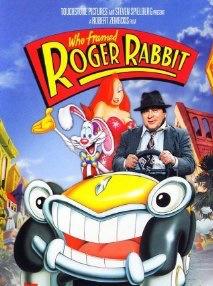 Director: Robert Zemeckis
Writer: Jeffrey Price, Peter S Seaman (Screenplay) Gary K Wolf (Novel)
Starring: Bob Hoskins, Christopher Lloyd, Joanna Cassidy, Charles Fleischer
Plot: A toon hating detective is a cartoon rabbit's only hope to prove his innocence when he is accused of murder.
There may be spoilers the rest of the review
Verdict: Paving the Way for Cartoon Crossovers
Story: Who Framed Roger Rabbit starts with the cartoon of Roger Rabbit who is meant to be babysitting in what is a very Tom & Jerry like cartoon before a real world director calls cut because Roger does the scene wrong. The studio bosses want private detective Eddie Valiant (Hoskins) to watch over Roger's wife Jessica who might be cheating on him.
Eddie quickly finds out that Jessica playing games pushing Roger over the edge. When the man Jessica was playing games was murdered Roger becomes the prime suspect. Eddie decides to investigate as he meets Judge Doom (Lloyd) who wants to rabbit found. Eddie must find the real murderer even if it means working with Roger. As the case continues to unfold Eddie finds himself inside a bigger issue and conspiracy going on in toon town.
Who Framed Roger Rabbit is a film that ends up mixing cartoon and real world making everything seem normal having the two mix with each other. The trying to solve the case is very simple stuff and really manage to push the limits of the odd couple on screen with Roger and Eddie. Another big plus has to be the villain who comes off truly terrifying and could easily be scarier than most horror icons. This has also stood the test of time but deciding to set the action in the 1940's which doesn't ruin the idea of an 80's release. This will always be remembered as a classic that will be remembered by everyone who has seen it. (8/10)
Actor Review
Bob Hoskins: Eddie Valiant is a private detective who get hired to spy on Roger Rabbit's wife only to end up having to defend Roger who get framed for murder. He hates cartoons because one killed his brother but he wants to see the truth released. Bob shows how good of an actor he was with this role having to work without a co-star on screen and nailing everything single spot. (9/10)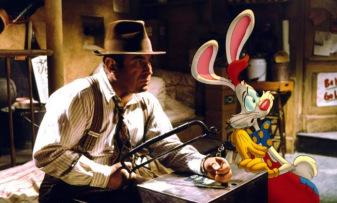 Christopher Lloyd: Judge Doom is the new law in toon town and he is trying to get rid of Roger, he is one of the most psychotic characters I have seen because he will burn any cartoon in acid. Christopher creates one of the most evil villains I have ever seen. (9/10)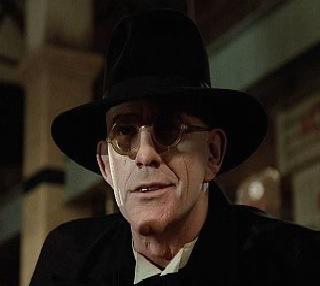 Charles Fleischer (Voice): Roger Rabbit is the leading rabbit who is framed for murder who has to work with Eddie to find out the truth while avoiding the evil Judge Doom. Roger comes off as a good original cartoon character mixed with real ones. (8/10)
Jessica Rabbit: Jessica is Roger' wife who gets set up playing games but is loyal till the end to Roger, she will stand by him and give us the sexist character entrance in film history. Jessica does make everyone stop and look at the screen when she is on. (8/10)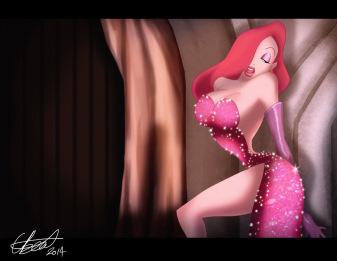 Support Cast: Who Framed Roger Rabbit has a mixture of cartoon characters we all know and love mixed with the real world people who are in the real world.
Director Review: Robert Zemeckis – Robert brings us one of the most unique movies that really works because it pushed the boundaries. (9/10)
Animation: Who Framed Roger Rabbit has almost flawless animation between the real world that works perfectly. (10/10)
Comedy: Who Framed Roger Rabbit has laughs a plenty through the film. (9/10)
Family: Who Framed Roger Rabbit is one for the whole family even if it has one of the darkest scenes in animated film. (9/10)
Fantasy: Who Framed Roger Rabbit brings cartoons into the real world which works to fill the fantasy side of the story. (8/10)
Settings: Who Framed Roger Rabbit uses the idea of Hollywood being the main setting. (9/10)
Special Effects: Who Framed Roger Rabbit uses the brilliant mix of real world and cartoon being put together effortlessly. (9/10)
Suggestion: Who Framed Roger Rabbit is one that really has to be watch at least one in everyone's life time. (Watch)
Best Part: Mix of Cartoon and Real world.
Worst Part: The first melting scene if horrific.
Action Scene Of The Film: Final fight.
Funniest Scene: Handcuff scene.
Favourite Quote: Jessica 'I'm not bad, I'm just drawn that way'.
Believability: No (0/10)
Chances of Tears: No (0/10)
Chances of Sequel: No
Post Credits Scene: No
Oscar Chances: Won 3 Oscars and nominated for another 3 More.
Box Office: $154 Million
Budget: $70 Million
Runtime: 1 Hour 44 Minutes
Tagline: It's the story of a man, a woman, and a rabbit in a triangle of trouble.
Trivia: Bob Hoskins said that, for two weeks after seeing the movie, his young son wouldn't talk to him. When finally asked why, his son said he couldn't believe his father would work with cartoon characters such as Bugs Bunny and not let him meet them.
Overall: Brilliant film that changed how films could be made
Rating