My niece Kourtney Elizabeth turned 1 this past August.  And I figured after hearing the stories about her love of my gift...I should do a product review.  If anyone is wonder what toy a 1 year old child may love--my suggestion to you will be something even my sister and I had as children and loved.  A GLOW WORM.  Dont know what a glow worm is?? Well....here you go....
This is the one my sister and I had as children....
Here is the one I bought Miss Kourtney....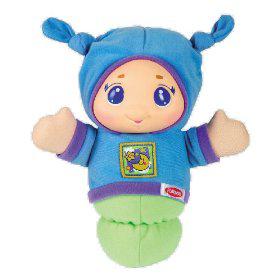 My sister (her mother) has told me this glowing-lullaby-playing adorable little bugger is her most favorite thing out of the spoiled little princess' birthday gifts! She lugs that thing around like there is no tomorrow! and I could not be happier.  Even better? 9.99 at walmart! You can not go wrong! And with a great brand at that!