Whitewashed* Destroying The Graffiti Mecca *
by richie siegel
On November 18, 2013, from midnight until dusk, the owners of 5Pointz, the internationally acclaimed graffiti Mecca, ordered workers to paint over more than a decade of street art. The whitewash effectively put an end to the community's ballooning campaign to stop a plan to build two high-rise luxury condos where 5Pointz currently stands. These are the stories of a handful of artists, locals and tourists who went back to see what was lost.
* * *
Cast of Characters
5Pointz: An outdoor graffiti museum in Long Island City, Queens that is also known as "The Institute of Higher Burnin.'" 5Pointz was founded in 2002, after previously being called the Phun Factory, which was established in the 1990s. Jonathan Cohen (Meres): Co-curator/founder of 5Pointz and graffiti artist. Marie Flageul: Co-Curator of 5Pointz, once called a "street artist bodyguard." Long Island City: The westernmost neighborhood in Queens that's gentrifying rapidly. Jerry Wolkoff: Owner of 5Pointz. Bombers: Graffiti artists who quickly tag walls; quantity is more important than quality. MoMA PS1: The hipster brother of the Museum of Modern Art (MoMA), which is across the street from 5Pointz.
* * *
Local older woman
In the morning! On the news. I get on Facebook, right away, somebody posted it, and I said, "WHAT?" So much has changed. I was here a few months ago. I said I gotta come down and I do photography so I gotta get the newest stuff. So right now, I came to take the pictures of the remnants but I didn't catch it.
I lived here 46 years in Woodside, right nearby; drove by here every day, several times. Always a fan of graffiti and especially this place, and we all knew that it was going to end, right? If the owner was a bit smarter—first of all it looks like vandalism upon vandalism, don't you think? If you look at this, it looks so ugly.
The smartest thing, in my opinion, would have been to take it down as it was and invite everybody and say, "tomorrow we're having this demolition," and you can take a film or a photo of the art coming down. You know it would've had great images. And also for the people, and honor the people who worked here for so many years. To invite everybody instead of doing it in the dark of night, like criminals themselves. They could've made an event, made money from it.
This has developed into a visiting place for many tourists. The last few years they did tours on the weekends, like the guy who was in charge, and they had programs for visitors.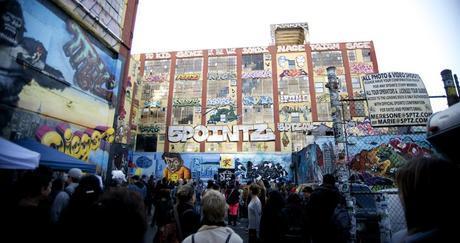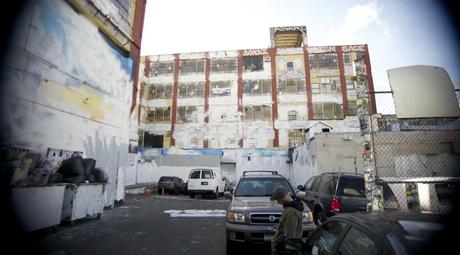 Roll over the photo with your cursor to see the before/after images.
I understand that the owner has to do a radical thing, but he could've done it charmingly, no? I mean, they've been talking about it for months and months now or a year even. I heard about these meetings and the guy who led it was always asking people to come and help out.
If you walk down to the waterfront, Long Island City has become high-rise, non-descript, apartment buildings. Glass houses. I mean, the water-front park they did is pretty nicely done but the buildings are all one after the other—look the same, indistinct, undistinguishable.
Change is change. It's always sad to see something go. But this was particularly weird way to do it.
* * *
Food cart warehouse worker
Ido the morning job. I been here since 2001—that's a long time. We have carts. Push carts. Like coffee carts and lunch trucks. I grew up at Main Street Crossing.
It started this Monday. Everything starts Monday morning. I saw cops start coming this way. I saw another cop car. Next thing you know, painting gone.
They're supposed to have a sign. Like a signpost that says, "This is it, this is the last day, this is the last week." But nobody does that; nobody listens. People say, "I say I do what I gotta do." Believe me, if it was up to me—I'd put in a notice at least a month.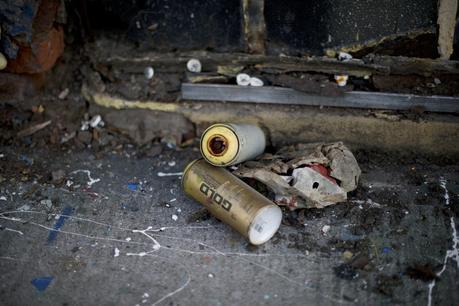 Abandoned spray cans at 5Pointz.
This day, at the end of this month, we are done. All that depends on boss, wherever the boss go. Just follow the boss, big boss. The one who actually runs the shop. I have a different boss. But the one that we work [for] is the big boss that we pay rent too.
I love most of these paint jobs that they do. Amazing. It's almost real. To be honest, it's real. You have to be a comic reader to read this thing.
[Before the whitewash] I used to see people dancing, used to see teenagers dancing, on the left side is crowd and there's no parking space to park. I try to get in and get out, I can't get out. But you know, all these things I'm gonna miss. To be honest with you, I'm gonna miss them.
You know the movie, "Now You Can See Me"? It was shot over here. I remember when they shut down this side. They shut down this side—the only people left was to get in to get out. So they tell us it's okay to get in or it's not okay. And I asked the people, one the guys who was actually running the parking space, "What are you filming?" He said, "Now You See Me." He said magic movies, movies are magic. It's magic, people try to rob the bank.
* * *
French journalist
I've been living in New York for three years. I'm a journalist and I've come here the first time to do a piece about saving 5Pointz. This is where I meet Marie Flageul [and Meres]. Some kind of street artist body guard. Very nice guy. They gave me a tour. I went there with Meres and Marie and took some nice pictures with all four playing like that, playing ghetto. It was fun. It's good memories.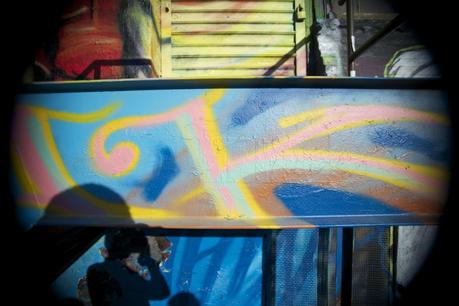 A closeup of 5Pointz art.
I have mixed feelings cause New York is a rough city. And I feel kind of immune with all that shit of tearing things down. It makes me think about my situation, getting pushed over further east every year. Every year I have to find a new place further east. I don't know where I'm living next year but I think I'm going to have to go to Ridgewood or some place like that. This has a connection because they are going to tear it down. They're going to replace it with a tower of glass like any fucking shitty city in any part of the world.
* * *
5Pointz graffiti artist
There is no solution now. People are angry. The statement says he painted over it to save us the heartache, but its double the heartache cuz not only is it coming down but he painted it over white. So I don't know. I think he painted it over cuz he knew we had a chance of winning.
Not just the artists but members of the community, commuters on the train that look at this. It's crazy. This building was just sitting; we made good use of it.
He's saying that there's going to be places for us to paint, but none of us is going to paint, you know, when he rebuilds.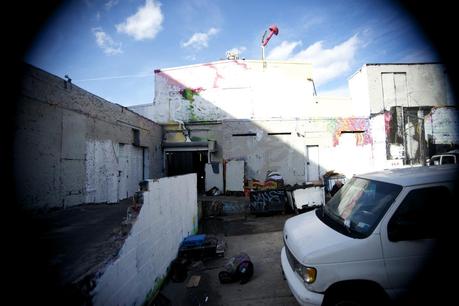 Part of the loading dock after multiple whitewashes.
I wasn't here while they were doing it but I was here the morning after. Somebody called me and then I came. Yeah, it was miserable to see a couple of your friends crying and stuff, you know what I mean? It's horrible.
I honestly don't know what's left. I'm just kicking back and watching it.
* * *
Local amateur photographer
I've lived in Astoria for about two years. This was always a super cool spot to come by and see the new work and whatnot. It was always changing, more rapidly than most museums.
The morning after, right when I woke up I saw a bunch of tweets about it. Pissed off, I mean I knew it was gonna be destroyed. But I was just hoping that it would be done sort of in the way that the Berlin Wall exists in bits and chunks all over the world—that this could be taken down in a way that preserves some of the work and put it in a museum, or something like that.
I know the guy who owns the building was saying that he thought it would be too hard on the artists to see their work destroyed in bits and chunks, but I don't know. I saw some of these big burly street art guys breaking down in tears when I was here that morning.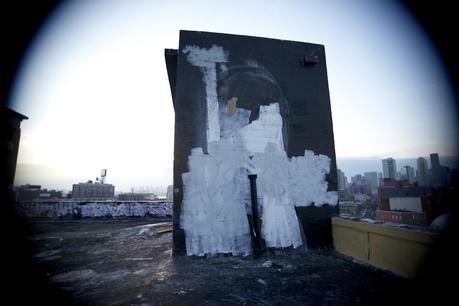 A 5Points mural on the roof that was defaced by the whitewash.
It was cool to just see a big mixture of people come out here in support of the artists when they all sort of heard the news. Because I got here pretty early in the morning and there weren't that many people. Then as the news started to spread out that it had been whitewashed, more people started coming out and seeing it. Some have more of an attachment than others, but it was still neat to see that kind of support from the neighborhood.
They put up a bunch of poster board on the wall so they could tell the security guards, "Hey, we're not painting the building, we're just tagging this poster board that we're putting on the building." The cops came by, told them they couldn't do that. It wasn't that intense for an NYPD interaction, but it was an emotional moment. A lot of people were coming by, a lot of journalists, big networks were out here.
If you look, the whitewashing was specifically targeting the work. There is a bunch of the orange paint that the building is painted in that didn't get touched because it's not artwork. They were specifically targeting the artists' work, which is just painful. I don't think there is any easy way to do this. I think that preserving it probably would have been easier, so I don't know what he was thinking.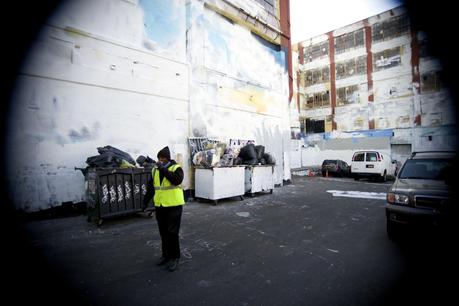 A security guard patrols what is left of 5Pointz.
I'm an amateur photographer so I support the photography of it. But at the same time there is a big difference between going online and seeing a picture of the Mona Lisa, and then going to the museum and seeing the Mona Lisa in person. It's a whole different experience.
I know the new building is supposed to have room for artists to come in and do work, but it's just not the same. Like when you're riding the 7 train, you just see this giant, massive—this in some ways ugly building, but in a lot of ways very beautiful. And it's just a really cool neighborhood thing. It's gonna be gone now, which is sad.
The judge wouldn't issue the injunction to stay the demolition. And it was sad too; the judge was saying, "Hey, I'm a huge fan of the arts, I love this building but nothing in the law lets me issue this injunction." So I think they're pretty much out of options from what I can tell. It's just a shame that they couldn't find a more cooperative demolition process in the sense that they could find a way to preserve some of these works in bits and chunks.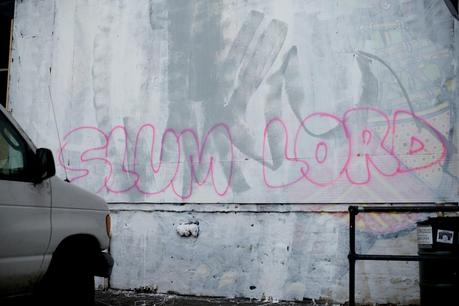 A tagger's view of Jerry Wolkoff, the owner of 5Pointz.
Well, it's actually funny, because there's obviously gentrification. There's obviously a need for new housing in this neighborhood. It's a growing neighborhood, but there are also people that are coming here because it's sort of an "artsy" "cool" neighborhood, right? You had PS1 over across the street. You had this, and this would have attracted a certain kind of person in the neighborhood. It was a drawing force here and now it's gone. There is less. So in a sense it is a product of gentrification, but in another sense it might halt gentrification in some way, or slow it down at least.
* * *
Local twenty-something photographer
Ifound out yesterday. My reaction was very complicated and conflicted, because on the one hand no piece of art should be whitewashed, ever—regardless of your opinion or your point of view. And if it is gonna be whitewashed, the artist should be contacted right away. I think it was disrespectful, I think it was—an abrupt decision. But on the other hand, this building was gonna come down anyway. And to me, 5Pointz represents a stage and the evolution, the history of graffiti. Graffiti comes out of the political atmosphere in the sixties and seventies in which young people, primarily people of color, oppressed people, marginalized people, need a space for expression.
It gets to the subways; it gets to the walls; it gets to the streets and 5Pointz represents a kind of solution to that. Because here it is, a movement, from the streets and from the subways, into an allowed space—a safe space. And, it kind of needed to go. Now we see that street art and graffiti has kind of entered into the mainstream, and now it's been accepted. It's seen as kind of an upward mobility thing. Places like Bushwick are all decorated. It's become kind of studio art, even. So on the one hand, I won't say that I'm going to miss 5Pointz, what it stood for, but I don't like the way they did it.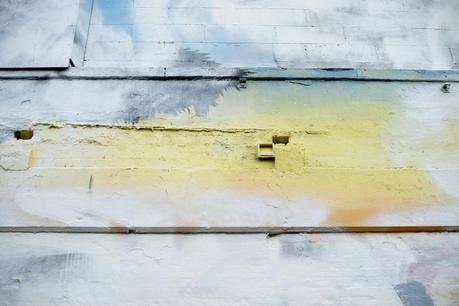 The intersection of the art and the whitewash.
Imagine you cut out the Biggie, you cut the wall out and where's it gonna go? It's art and inherently valuable only if it has monetary purposes, right? It's art and inherently valuable only if you can put it in a space and a museum. I would have liked if they tear the shit down and, like when the Berlin Wall came down—people kept some of those rocks.
Under what standards are we operating? Are we operating under the standards of original graffiti, old school graffiti where that shit got erased quick? Or are we now operating under the standards of mainstream street art, in which you see a Banksy in a museum, or you see a Banksy going up for millions? I think the standards have changed, and in order to answer that question, you kind of have to reframe it. I'm conflicted about it, because I think it can be a powerful movement—it's become a global movement. I love the international aspect of it. It's a way for people to come together.
On the other hand, it does kind of have this feel of a tame tiger. There's a beautiful wall in Bushwick of this beautiful white tiger against this blue background. And there were several tigers here. There was a big tiger in the front; there's been tigers in and out. And I love using that metaphor of a tiger because it is this creature that comes out of the shadows, out of nothing. As in, it has claw and tooth, but I don't know if it has claw and tooth anymore. I don't know if that's a problem.
Look around. Everyone here has a camera. Everyone here is here to document it, whether they know anything about it. I just met two women; they had never been here before. They heard it on the news and they came to check it out. Street art, the question of ephemerality has to be questioned, because now everyone has the potential to archive images, immediately. And so, is street art even ephemeral anymore? In a way, no, because it lives in the Internet.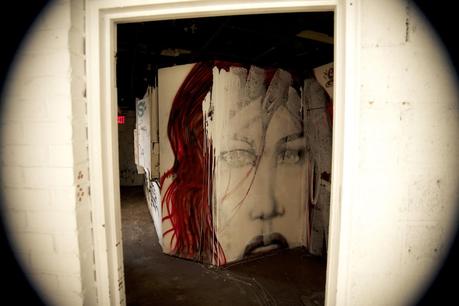 A mural inside 5Pointz after the whitewash.
But, I just don't like whitewashing anything.
I haven't seen anything come out of MoMA PS1. Do they have any responsibility? I always found it interesting that these two places were always in tension, or always glaring at each other. They were always in conflict, and I think that gave this area that kind of vibrancy that attracted people.
[Projecting art onto the building] devises new ways of defying law, defying power, right? Especially in New York, a place so conspicuous for how oppressive space is here. To project something on a wall, and kind of defy the authority that way, that's sick, and you got to understand that any kind of reaction is without lack of reaction. And in a way, this kind of change provokes new ways of being creative, but it didn't have to be this way. And that's the interesting thing about it.
To me this is really important that this is kept in the historical context. You almost can't speak about 5Pointz without speaking about gentrification and those issues, and they've been special issues. Because at the end of the day, this is a building that occupies a fucking city block.
They're going to demolish it. The art came second to that.
I love the expression that the New York Times [journalist] who wrote the piece—and this I think speaks to the tale of two cities going on in New York right now. She used the words glass and steel, and brick and mortar. That shit is so ugly. But that's how it goes.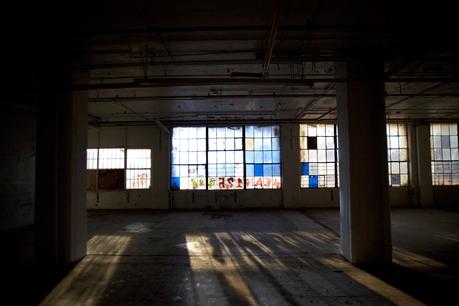 Inside 5Pointz as the sun sets.
* * *
Local documentarian
Ilive a few blocks away from 5Pointz and I've been coming to this building for a couple years now. Everyone in the neighborhood has known that this day was coming, you know? Everyone knew the building had a built in expiration date. The way that this neighborhood's been developing—it's been developing towards high priced luxury condominiums, high rises. A building like 5Pointz, you just knew the writing was on the wall. Unfortunately, I don't think anyone expected Wolkoff to do what he did: whitewash the building. It just seems like a real punch in the gut to the people who have so much emotionally invested in this building. To me it was the beating heart of the neighborhood. And Wolkoff has torn it out bleeding from the neighborhood's chest.
I don't know what the story is with Wolkoff's financial situation. I know that he has owned this building since the late seventies and to his credit—and I think this has kinda gotten swept under the rug in sorta the outrage and dialog about this building—Wolkoff did allow 5Pointz to exist. I mean yes, Jonathan Cohen (Meres) was the curator of the building, but it wouldn't have existed without Wolkoff's blessing. Yes, it would be nice if he had renovated the building to code, and yes it would have been nice if he had done something—anything with it—other than two more high rise condos, which is just the last thing this neighborhood needs. We have such a glut of high-rise, expensive, and vacant apartment buildings. The thought of having two more forty-plus story towers in our neighborhood is really enough to put you off your lunch. Even though I know it was inevitable and I'm not surprised, it still really hurts to see.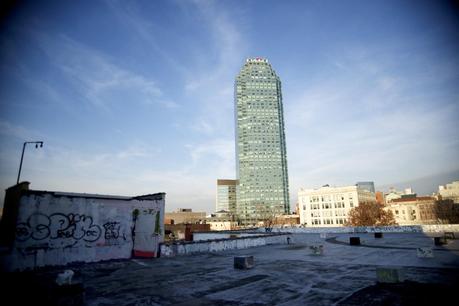 A highrise overlooking 5Pointz.
It's ironic that the building met the fate that it did being painted over. I just think—look I'm not Jerry Wolkoff, I'm not a developer, I'm not a billionaire—this is entirely based on emotion and not experience or intellect, but some of these pieces on the building were really old. As far as I know, some of them were several decades old, and of historical importance for graffiti writers and art connoisseurs worldwide. Surely there is something he could have done in the dismantling process to preserve as much of the art as possible, rather than just painting over it, pretending it never existed.
It's an act that you would have to call symbolic, and probably unintentionally so, that he covered the paintings with white, because that's kinda what's happening to this neighborhood, and I say that as a white male. This neighborhood is really becoming gentrified in what I consider to be a bad way. I'm all for development and betterment of neighborhoods and the introduction of good restaurants and cafes and things that add to the neighborhoods character and quality. But to tear down something that is so internationally recognized and so unique—not to just this neighborhood but to the city of New York—and replace it with something so generic and so soulless—it's just really, really, really hard to take.
This place is definitely going to live on through photography, through video, through hearsay. I'm glad that we live in an age where things like this—the ephemeral quality of this building—is not going to be lost to memory. There will be extensive photographic and video and textual evidence that this happened and I'm glad that this is being documented and being met with the kind of outrage and upset that it is being met. Because I do think, and I'm paraphrasing Jonathan Cohen here when I say this, that this is going to ultimately be Wolkoff's true legacy. No one is going to give a shit about buildings, twenty years—no one's going to even mention anything he did—other than this. They called it one of the great art murders of our time. Murder is a pretty strong word, but I have to agree with it. I think he really soullessly, heartlessly killed the work of a lot of artists.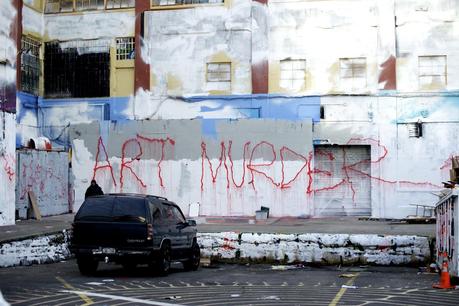 A tagger puts his views on the wall. Made with paint and a fire extinguisher.
This building is pretty hard to replace—given the size of it, and given the location of it in such a central part of the city. I would love for another developer, another property owner to give Jonathan and Marie the rights to create a new graffiti Mecca, maybe somewhere else in Queens or somewhere else in the city—anywhere. But I do think that the particular quality of this place is really irreplaceable. And it can't be duplicated—it will never be duplicated.
Banksy, not to take anything away from him as an artist, is a multimillion dollar selling gallery artist. He's not a bomber; he's not a street bomber in the original sense. I think he's definitely gone a long way towards legitimizing graffiti as an art form in the eyes of the masses. But I don't think that what Banksy does or Shepard Fairey does is really even the same thing. It looks like graffiti, but it's not graffiti.
My definition of graffiti is spray art—art on the side of a building that was done illegally, without permission of the building owner. That's the original, truest definition of graffiti, so I guess then what you see at 5Pointz isn't graffiti in that sense in that it's legal, it's curated, it's done with permission. So, was the art at 5Pointz graffiti in the true sense, no.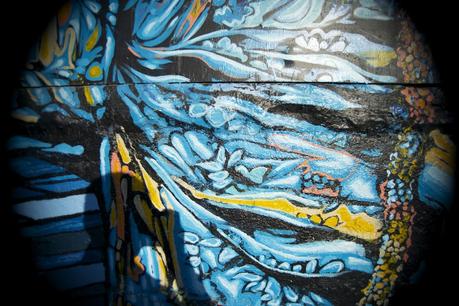 A close up of a 5Pointz mural before the whitewash.
But I think stylistically, it really represents the best of graffiti and street art. I think that without it having been curated and without it having been legal, I just don't think it would have been possible to have the kind of intricate, amazing, really museum quality work that you saw all over the building which has now been so thoughtlessly erased by Mr. Wolkoff.
Even though 5Pointz was a curated building that you couldn't paint on without Jonathan's expressed permission, I do think that what this building was, was something special, and something unique. And we'll never see it again in our lifetime.
* * *
Local young woman
Ilive on the 7 line. My boyfriend passed away and he had a bunch of tattoos on him. He had a tiger, a leopard, and a native American woman, who later on I discovered kind of looked like me. So that's freaky—but when I met him he already had it. He died, we found his body on May 24th. I think three days later the tiger sign on the building came off. That was pretty huge for me. So every time somebody died I'd look at the building, look at the tiger and then I'd see—I think it was a fallen Muslim, and finding out it was going to be torn down was like, "Wow, I'm never gonna see that tiger again."
Then when they whitewashed it, when I saw—I never took pictures or anything. He took pictures on his phone but then he smashed it because he was a 51 year old American white guy who grew up in New York, so that's that. When he got frustrated with something, he'd smash it. And so I'm never going to see to those pictures again, but yeah, it's always been a part of my morning commute.
I try to use the 7 train as much as I can, not go through Queens borough or whatever, just trying to always look at it because it's always changing anyway, which is what art and life is; it always changes. It's just if we just hope that this didn't happen. It didn't need to.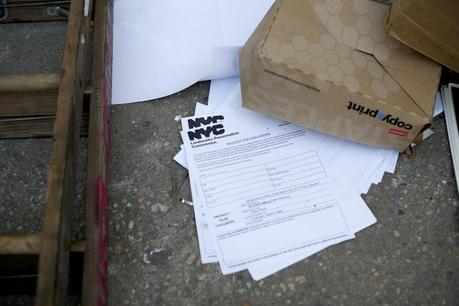 New York City landmark preservation forms left lying around after the whitewash.
If you destroy something like this it's definitely a statement, and what's funny is whatever we are hearing from the owner, he's always protecting himself, always changing his statement. Really, he just has no respect. Has no respect for the art, has no respect for the heart and soul that goes into here. It was just—it's heartless.
I guess for him it was all about the money. That's pretty much it, yeah, just the money.
I'm sure that this is a time for [the 5Pointz community]—you know, they're making discoveries as to who their real friends are. Obviously they've seen the worst of it. It's always the aftermath that's going to be different. But 5Pointz and this building have been very resilient. I mean looking at them right now, I think they're doing great. I think they'll do great.
That's the thing about graffiti. You put it out there, in a very extreme, daring move, and then not only that; you know that it might get painted over the next day. That's really something. It's really daring and bold and I'm sure that they'll bounce back. And whatever they'll be doing, I'm sure everyone who's into this kind of art will be looking to them, and it's history in the making.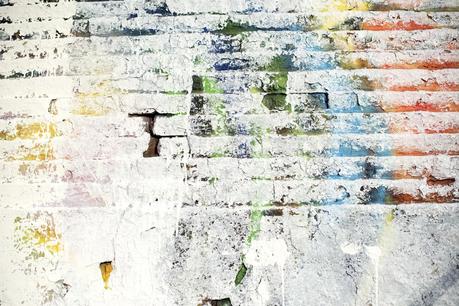 A 5Pointz mural after the whitewash.
I was here one night and they arrested this kid; he tagged himself right above the poster boards. Then he was talking to the police officers, who were obviously undercover and he was like, "I'm sorry, I didn't know…the guy told me it was ok! He worked here. I thought it was ok. I'm sorry!" This kid [was] a 14-year-old, then the police officers said, ok just write a statement to the judge, whatever. And I think his whole family was here with him. Just weird! With a baby and everything. Ridiculous. Obviously things are still happening to the building, art-wise. For better.
Whatever it is, it's probably going to be ugly. And I'm of course having a fantasy that it's not going to sell. Cuz if you think about it, all of the new buildings here, they're all not occupied. I mean there are still signs over buildings saying "For Rent or Lease," and those signs have been there forever. They don't want to take down the signs, or no one's really buying.
It's fast money; they think it's fast money. But who can afford to live in something like that?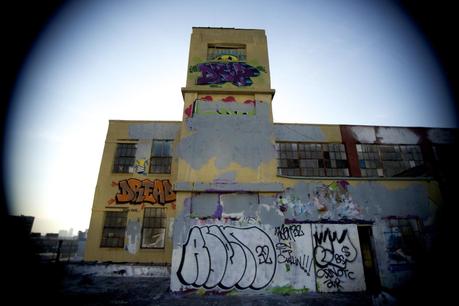 5Pointz art on a lower roof after the whitewash.
* * *
Marie Flageul, 5Pointz Co-Curator
I've been a volunteer at 5Pointz since 2009. I met Meres in 2005. He reached out to me and little by little I started helping with press, community relation and international artists.
Street art, I followed a lot in France. To me it was kind of a treasure hunt, taking a train to go to university. But I was not specifically following one movement or another while I was living in France. I paid more attention obviously in New York.
The highlights [of 5Pointz]? Forty years of hip-hop with DJ Kool Herc, that concert—and DJ Marley Marl—was awesome. Seeing a couple get married in front of Zimad's "Alice in Wonderland" two summers ago. Holding a memorial for a young artist named Drip, who passed away at fifteen by getting hit by a car. His parents wanted his memorial to take place in his favorite place, which was 5Pointz.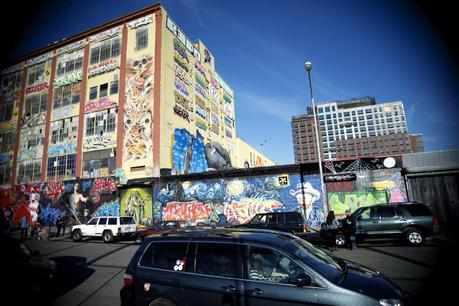 The back of 5Pointz before the whitewash.
A lot of human-based experience with art as a surrounding. As far as painting, I think definitely this winter when the inside got painted, having the luxury of being there in February and March late night with only artists, no tourist, no walkers by, no questions, no photo shoots, just looking at the walls be born. That was definitely one of the highlights.
First time [the feud with Wolkoff started] was an article in the Post back in 2010. That is when the first petition started, "Show your love to 5Pointz." We were not taking him as seriously but were paying attention. Then that died end of 2010. Then started again in the beginning of season in 2011. Then started in beginning of season in 2012.
I think if you talk to the owner—and a lot of journalists have spoken to the owner—he keeps on saying how much he loves the art. Words are cheap, and I think your actions sometimes speak louder. He showed overnight his true appreciation for this art form. 5Pointz was annoying him; 5Pointz was getting in the way of his plan. There was too much press, too much buzz. We had a very successful rally two days prior to him whitewashing the building. That is how Jerry Wolkoff operates when something is in his way. Like [a] mobster kills people and buries them in concrete, Jerry comes in the dark of the night and destroys artwork that is not his to destroy. That is how he does it.
Some people say that it backfired. To me, there was not enough fire to backfire him because he destroyed eleven years of work. Yes, if there was any need to establish stature for this work and for this place, he definitely did it by doing so. Because the international response and press response has been crazy—saying that after two days people would forget, saying it was no big deal. Meanwhile, nobody has forgotten. The press is still talking about it, and we are still getting requests for interviews everyday, which we are kind of turning down right now. But I mean, no matter what he deals, if he ever deals anything, he will be remembered for that.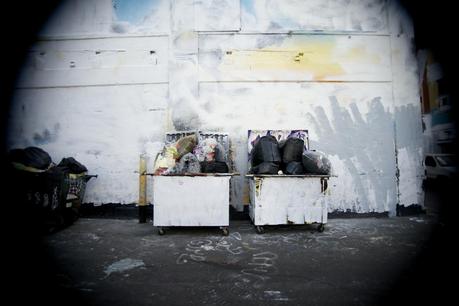 The front of the loading dock after the whitewash.
He capitalized. He capitalized. 5Pointz contributed to increased square footage value of Long Island City. If you Google "best tourist attraction in Queens" 5Pointz is number one with an average of four and a half to five stars. PS1 is in the forth place usually. So he capitalized on this art. He never did it because he loved it. He did it because it made his building look better. I mean, now that it has been white, when you look at it, you see what poor shape it is, because he never maintained it. Now, it was time for him to cash in, and we are getting too much in his way, so he erased it.
Honestly, right now it is kind of a day by day. No offense to you, but it's super annoying, people keep asking, "So what are you doing? Are you getting a new building? When are you starting to paint?" Look at how much went into this place and how much work. This was the biggest slap in the face anyone could have ever gotten. Pretty much for me it is up to Meres. Whatever he wants to do, I will follow and help. What I can tell is we won't work with Jerry Wolkoff. We will make anything possible, anything in our power to make sure that no artists—whether it is street or graffiti artists—contribute to his project, should that project ever happen.
What he needs to understand and what every single developer in New York City needs to understand is if you are going to use street art and graffiti for a marketing tool—whether it is a building or hotel—it is about time to hire and pay the artist for their time.
Then as far as what's next, I don't know. It is up to Meres. We are all tired and burned out. The past couple months has been pretty exhausting. I've put a lot of my business on hold because I was so busy with 5Pointz. We're exploring options; we are getting offers. Just a matter of how we are willing to move forward and what we are willing to do.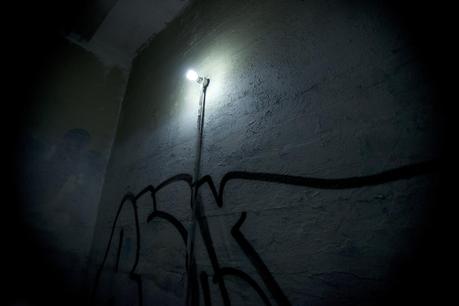 A stairwell inside 5Pointz.
We were harassed everyday; police force was here every day. Vandal Squad was proud to arrest kids with markers. People that painted here—dedicated sometimes two days, sometimes three weeks to a murals—and bombers are two different things. They are part of the same culture but the incentive is very different. Bombers respected this place because they acknowledged the quality of this work. But now they are going to take over this building and restart it. They probably are going to take over the neighborhood—which they didn't do out of respect for Meres and 5Pointz.
We've been holding everyone by a thread and trying to keep everybody peaceful. But again, now they have a security guard who last week was asking me for help during the day because he was freaking out. So the respect was there when 5Pointz was standing. There [is] no more 5Pointz, physical 5Pointz. It is Jerry Wolkoff's property now. So whatever they want to do they can do it's not my concern.
[PS1 was] told not to [speak up] by Jimmy [Van Bramer, the local councilman]. It just got $3 million to get the little red brick building next to an annex this summer. This summer they had artists' colony and I went as a guest speaker and spoke about 5Pointz issue, and there were past organizers of Occupy Wall Street that were in residency of PS1. One artist was assistant to Marina Abramović and they were like, "occupy the building and start a revolution," and all that bullshit that is like non-conducive. Look at where Occupy Wall Street is now—nowhere.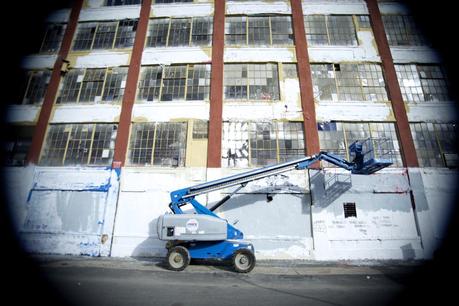 One of the boom lifts the painters used to whitewash 5Pointz.
Look at it this way: this is a cultural institution that gets millions of dollars every year and [besides] authors and Warm Up that place is empty. It's empty during the week and almost empty during weekends. [5Pointz] was packed every weekend. We probably made them look not so good considering we did everything with no funding.
We've always known the community and neighborhood care about this place. They came to the community hearing at PS1. A lot of people didn't come to stand for 5Pointz, just came because they care about their neighborhood. And they were like, "How many more people can we have on the 7 train; how many more condos can we have that people can't afford; how much more glass towers are you going to bring to Long Island City?" The neighborhood cared. We are glad they cared. I feel bad for them because this neighborhood officially sucks.
The [workers] started painting the inside. They painted every inch. They painted tags as old as '96 some as old as the early '90s. Everything is white now, which is the perfect proof when he said, "I don't want the artist to get hurt by seeing it," which is bullshit because we had a permanent collection inside. Out of respect for him, we hardly brought anyone in there because it's time consuming and five floors and so many staircases and god forbid anyone tripping and not wanting to get anyone in trouble.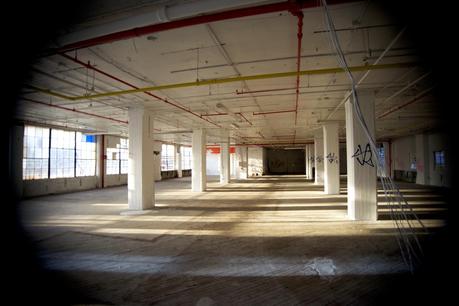 Inside 5Pointz after the whitewash.
We called it "Invasion," and we started the whole process of painting every floor in February this year. Meres handpicked every artist so he would call them, and it was invitation only. Actually, there were rumors; it was like the obsession with the roof. Everybody wanted to see the inside. People knew it existed. But we are responsible people. Two months ago, we spent $550 to change the lock of Crane Street because that door was broken; the sweatshop used it to go in and out. During the summer months, we always had a volunteer by the door on Crane Street so people couldn't go in. But people knew about it. It is kind of like the white whale Moby Dick: people knew about it and didn't see it—but had [a] fantasy.
So it was cool. When you ask me one of my favorite moments, my favorite time was when we did that process from February. And the acoustic was awesome. So we would paint at night and would bring my laptop and boom box. The acoustic is crazy. Just playing loud music and people painting.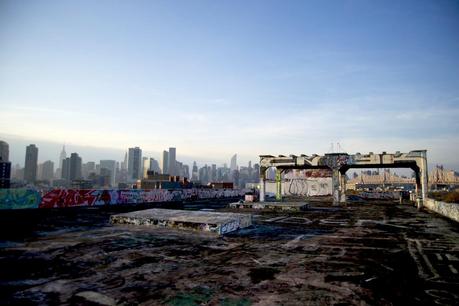 Facing Manhattan on 5Pointz's top roof.
Meres used to paint here when it was Phun Factory. Phun Factory was run by an employee of Jerry Wolkoff, which is also very important to know: Pat DiLillo was paid. He was receiving a paycheck. He started a thing called Graffiti Exterminators. He started a cleanup program because his building was getting bombed. That is how it all got started and decided to get a tax cut to say, "Oh, well we authorize legal graffiti here."
Meres took it over in 2002. He named it 5Pointz because he wanted the five bureaus to come as one in a peaceful, creative environment. As of last year, we were able to say out of five continents, four painted here. Antarctica obviously is not an option. Penguins aren't that good. They could have stenciled. That would have been cute.
It was a home because you know how many legal walls New York has? I can count them. It is even more true because when we had the temporary restraining order and we couldn't paint anymore, we followed what the judge asked. We still had international artists and you know what a headache [it is] to get a guy from Argentina a wall either in the Bronx or Brooklyn. You have Bushwick Collective but he only does street art. He is very picky. Here, anybody could paint. Good or bad, you could paint—you could paint. Old school, new school—you could paint. Meres, being [an] artist, had a way of curating it and assigning more that were longer lasting or temporary. You don't have that many. Then you have good friends of ours has a beautiful block in Brooklyn. But that is his stuff, his walls, his block. He does it twice a year. He invites people to have a BBQ and they paint. But it's not an everyday thing. No one in NY does what we used to do here, so I don't know where they are going to go.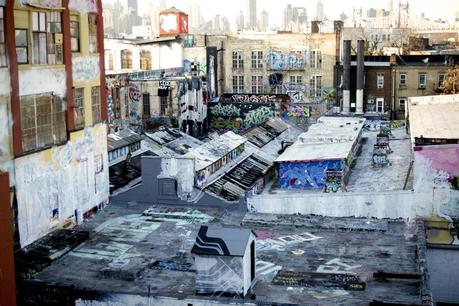 Some artworks survived the whitewash, such as these on a lower roof, which aren't visible from the street.
[The 7 train] was awesome. The old-timers loved it. They could close their eyes and they felt like they were almost back in the tunnels. It gave you that really grind-y, urban feel. It's easy you can just go on YouTube right now and type in "5Pointz whitewashed." You will see hundreds of videos of people saying they are sick to their stomach. I saw you were talking to the young girl who was here earlier. I don't know if she told you her story about her boyfriend and the tiger. She said Tuesday morning she was on the 7 train, she saw the tiger was gone and she saw her boyfriend die all over again. The train was a very organic and elemental. I doubt any condos will enjoy the 7 train.
* * *
Local twenty-something
I've been here a few times. I live in Elmhurst so I always pass this while I'm going to school and whatnot. I've seen it when it was still really popping.
The day it happened, I was photographing one of the artists who was working a wall across the street, so we found out they buffed the walls, and she was really upset and watching all of the other graff artists just be really upset.
The owner was like it'd be hard for him to watch it go down with all the art on it, which I think is total b.s. I think he did it just to spite everyone because they couldn't get it landmarked, and he probably didn't like it at all. This is me assuming, but that's just how it feels. If you really, really didn't mind it being there, you would have just left it alone.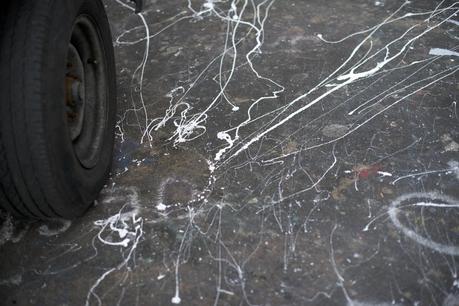 Splattered paint from the aftermath of the whitewash.
Overnight too, not even when like people can see it go down. They just did it overnight and did it sneakily.
I hope the new buildings have really good fire insurance. You're going to be a walking target, just walking through here. The new buildings better have really graffiti proof walls cuz that's the mentality you're fucking with. This is a part of New York that's still—that was still around. And then the guy decides to fuck with it. This is part of New York City, and money comes first, right?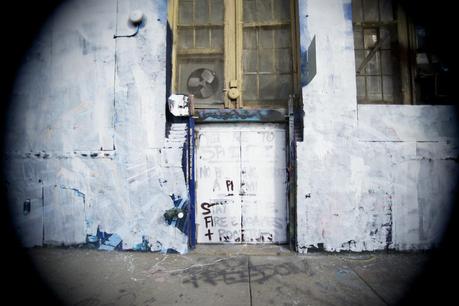 The door with the rules of 5Pointz after the whitewash.
* * *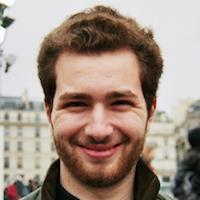 RICHIE SIEGEL
Richie is the Founder and Editor of Seersucker. He is a student at NYU and a graduate of Interlochen Arts Academy. Richie likes art, food, music and Stephen Colbert.* * *
The original goal of this project was to interview New York police officers about their views on street art. There was an inherent tension between their personal lives, since many of them grew up in the same neighborhoods as graffiti artists, and the duties of their everyday job that I wanted to document.
However, after repeated calls and emails to the Deputy Commissioner of Public Information—the person in charge of public affairs for the police department—and getting nothing more than a sentence from officers I talked to on the street, I knew something had to change.
Luckily, we took a class trip to 5Pointz on what we would later find out was the last weekend one could see all of the art at 5Pointz. A few days after our trip, Jerry Wolkoff, the building's owner, ordered workers to cover as much art as they could with white paint, what one of the people I talked to later called an unintentional metaphor for the neighborhood.
With everything going on, I altered my project to documenting the reactions of a handful of artists, locals and on-lookers who I talked to over multiple visits to 5Pointz. Along with my photography and the generosity of Marie, who offered to take me through the inside and onto the roof, I tried to produced a portrait of everything going on at this defining time for the 5Pointz community and Long Island City.
Final Project for Oral History, Cultural Identity and the Arts. Professor Sloan, Gallatin, NYU fall 2013
2013 © SEERSUCKER MEDIA GROUP