We usually have tomato base in our pizza but years ago, I had eaten a white base pizza and love it.
Since I am not going to open a can of pizza sauce for just two small pizza.  So I tried making White sauce mushroom and garlic pizza for the kids.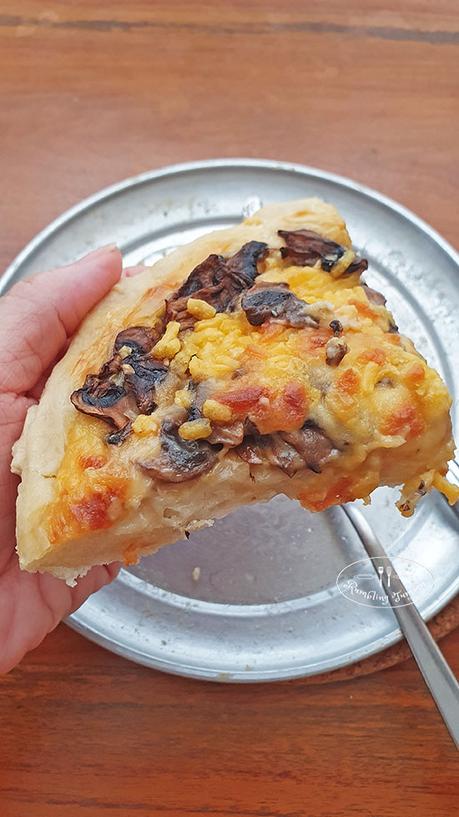 Turned out seriously yummy.
What you need:

3/4 cup lukewarm water1 tsp instant yeast240g plain flour1 tsp salt2 tsp olive oil
Method:
In a mixing bowl, stir yeast and water.  Let it stand until it is foamy.
Add in the plain flour and salt.  Mix until a rough dough is forms.
Using a dough hook, knead until dough is smooth and springy.
Cover the dough for 10 mins.
Divide dough into 2.
Add 1 tsp of oil each into a plastic bag and give it a good rub.
Place dough into the oiled bag.  Sealed and let it rest in the fridge overnight.
White sauce
20g butter
2 tbsp plain flour
½ cup milk
½ cup mozzarella cheese
1/4 cup cheddar cheese (you can add lesser)
200g mushroom
2 tbsp minced garlic
10g butter
5g oil
Method:
Melt the butter in a pot.  Once the butter dissolved.
Add in the plain flour and stir briskly.  Cook for a min.
Slowly add in the milk and keep stirring until lumpfree.
Stir in the cheeses until all dissolved.  Set aside to cool.
In a pan, heat butter and oil, add in the garlic and fry until fragrant.
Add in mushroom and cook until it is soften.  Set aside.
Roll the dough into a disc.
Spread the white sauce over the dough and top with your favorite toppings.
Bake at 190 deg until golden brown.
Enjoy!


If you have enjoyed this post by Rumbling Tummy, be sure to follow her on Facebook, Instagram, Pinterest, Twitter