By Albert Pule
"Pretoria — A male white rhino has been poached in the Kingfisher Section of the Kruger National Park (KNP).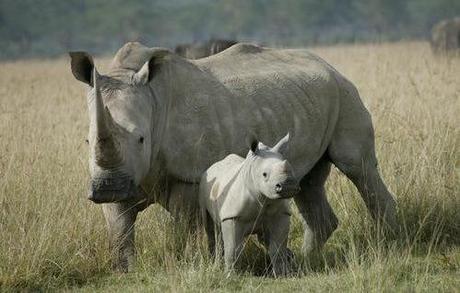 "According to section ranger Richard Sowry, shots were heard by tourists and reported to the authorities.
"Four shots were heard at about 6.05pm by tourists on Sunday from a nearby camp and they alerted us to the incident."
"Sowry said since rhino poaching has become rife, his team is working hard to protect the endangered species and cases of rhino poaching take priority. He said since the beginning of the year, only six arrests have been made in his section.
"Since the beginning of the year, over 380 rhinos have been poached in the KNP.
"Meanwhile, three people were arrested on Tuesday at Tshokwane camp, in the south of KNP, for suspected poaching. "One of the suspects was wounded by rangers and investigations are currently under way," said SANParks' Acting Head of Communication Reynold Thakuli.
"Warrant Officer Linda Luther said a case of poaching will be opened and investigations will commence.
"A water bottle lid was found next to a rhino carcass and Luther said it will be crucial in the investigation. "This will be sent over to the laboratory for DNA analysis to see if we can link the suspects to another case of poaching," she said."
Source:  allAfrica.com