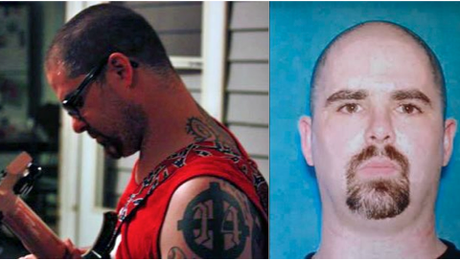 Wade Michael Page, neo-Nazi who opened fire on worshippers at a Sikh temple in Wisconsin, killing six people.
On August 5, Wade Michael Page opened fire on worshippers at a suburban Milwaukee Sikh temple, killing six people and shining a harsh, glaring light on the recent rise of white supremacy and far-right movements in America.
Page walked into the Sikh temple in Oak Creek, Wisconsin, at around 10:15 Sunday morning, as worshippers there gathered to prepare a meal. He was armed with a legally purchased 9mm semi-automatic handgun, and began shooting. He killed six people, five men and one woman, before being shot in the stomach by responding police. He then shot himself in the head. The incident happened only weeks after a lone gunman opened fire on an audience at a midnight screening of The Dark Knight Rises in Aurora, Colorado.
President Barack Obama has called for a period of "soul searching" in America after the incident – though he stopped short of calling for stricter gun regulations – while others are simply asking, "Why?"
Who was Wade Michael Page?
Page, 40, was a heavily tatto0ed skinhead who played in hate rock bands with names like Blue Eyed Devils and Definite Hate, singing songs about killing Jews, Muslims, and gays. In his 20s, he joined the Army and was stationed at Fort Bragg – notorious, The Guardian reported, as a recruiting center for far right movements such as the National Alliance. Page became involved with white supremacy there; at the same time, he began drinking heavily and was reprimanded several times for failing to report for duty. When his contract with the Army was up in 1998, the military did not permit him to re-enlist. While he then bounced through a series of jobs, including truck driver, he continued to play in several white supremacist rock bands. He became active in online far-right forums, encouraging others to extremism and lamenting apathy; people who lived near him found him "creepy". But other neighbours also remember him as a friendly, calm man who they couldn't picture raising his voice, and family recall him as a sensitive child who loved family camping trips, the BBC reported.
This Wade Michael Page tribute page on Facebook has 19 likes so far – while many comments are hatred directed at Page, some are in support of the neo-Nazi.
America needs to see this as an act of terrorism
The FBI has taken over investigating the shooting as an act of domestic terrorism, but Arsalan Iftikhar, an international human rights lawyer and founder of TheMuslimGuy.com, wrote at CNN, the greater American society needs to acknowledge this as the terrorism it was. "If not, we send millions of people of color around America the message that the term 'terrorism' has been co-opted, that it shall apply only when brown bearded men are the shooters and not when they are the tragic victims."
Governments too ignorant of far-right extremism
Page was a known neo-Nazi, not a "crazed loner" – and he represents the growing wave of post-9/11 far-right extremists who are turning to violence, Matthew Goodwin wrote at The Guardian. "The data suggests that American far right groups have grown 'explosively', which is attributed to a potent combination of public anxieties over the financial crisis, the growth of conspiracy theories, the exploitation of fears over non-white immigration and the prospect of Obama securing a second term in office," he reported. Governments in both America and Europe are focusing their attention too tightly on the threat of Islamist terrorism and not enough on home-grown far-right terrorism: "The far right may still pose less of a threat than al-Qaida-inspired groups, say, but our ignorance of this form of extremism is striking."
Page's tattoos included the number 14 over a Celtic cross; 14 refers to the "14 words" central to the neo-Nazi belief: "We must secure the existence of our people and a future for white children."
White power hate rock in focus
Page's involvement with white power rock groups, bands with names like Blue Eyed Devil singing songs like "White Victory", has trained the media glare on the punk-inspired neo-Nazi underground music movement, The Los Angeles Times reported. "There is a whole underworld of racist bands unknown to the public," Mark Potok of the Southern Poverty Law Center, a group that tracks right-wing extremism, told the paper. "Music is their single most important recruiting method, more than any other factor."
More in US shooting rampages

Gun control in focus after Batman shooting
Why were there children at the Dark Knight shooting?
Giffords leads Tuscon remembrance