White Peas and Potato Curry Recipe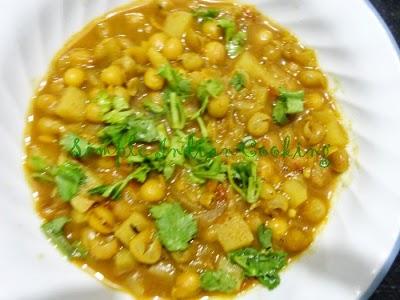 White Peas and Potato Curry
White peas cooked with potatoes is my favorite. You can have it with puffed rice or fried flattened rice flakes as a snack . You can also enjoy it with puries, parathas, rotis and rice. I allways add potatoes inb this curry but you can make it without potatoes also and still it tastes great. This pecipe is very simple and only few ingredients are required.
Preparation time: 8 hrs
Cooking time: 20 minutes
Serves: 4
Ingredients:
1 cup Dry white peas soaked overnight or 8 hrs in water
1 potato cubed (Optional)
2 onion chopped finely
2 tomatoes chopped
2-3 pods garlic
1 tbsp Ginger paste
1 tbsp garlic paste
1 inch stick cinnamon
2 pods cardamom
2 bay leaves
1/4th tsp turmeric powder
1 tsp cumin powder
2 tbsp coriander powder
1 tsp garam masala
1 tsp cumin seeds
1tsp chili powder
a small bunch of coriander leaves
2 tbsp oil
Method
Clean the peas and soak it overnight. Pressure cook it with some salt, cinnamom stick and some water.
In a kadai add oil and crush the garlic pods with the cardamom. Add the bay leaves and cumin seeds and let it crackle then add the crushed garlic and cardamom and fry for 2-3 seconds.
Add the onions and fry till transparent in medium flame, add the ginger and garlic paste and tumeric powder and fry till the raw smell fades.
Add the tomatoes and mix well. Fry till the tomatoes become soft and add cumin powder and coriander powder and fry till the masala it cooked and oil starts to seperate.
Add the cubed potatoes and fry for 2-3 mins and add the cooked peas and mix well in the masala.
Transfer it in the cooker once again, add some water, garam masala and pressure cook it on full flame till 1 whistle and then lower the flame and cook for 5 mins.
Now switch off the flame and wait till the pressure comes down and the lid is realeased.
Enjoy this pead and potato masala with puries, parathas, rotis, rice, puffed rice or fried flattened rice flakes.