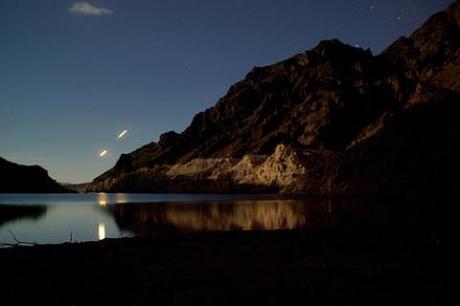 UFO flyby? Photo Credit: Adam Baker http://www.flickr.com/photos/atbaker/1314488707/
There are no X-files. So says the White House, taking the unusual step of denying that it has any evidence or knowledge of extra-terrestrial life.
The response was in answer to a petition posted by the Paradigm Research Group, a political activism group dedicating to forcing full disclosure from the US government on extra-terrestrial life, on the White House's new e-petition forum. Signed by more than 12,000 people, the petition demanded that the US government "formally acknowledge an extraterrestrial presence engaging the human race and immediately release into the public domain all files from all agencies and military services relevant to this phenomenon." Another, similar petition was signed by 5,000 people, meeting the minimum threshold of signatures required by the White House to trigger a response.
Phil Larson, a senior space advisor in the Obama Administration, wrote that though there is no evidence of alien life outside of Earth or of any cover-up, "that doesn't mean the subject of life outside our planet isn't being discussed or explored". Larson went on to outline the various government entities involved in "working toward the goal of understanding if life can or does exist off Earth", including SETI (Search for Extra-Terrestrial Intelligence) and Kelper, NASA's orbiting spacecraft specifically designed to keep an eye out for Earth-like planets.
Now that the White House has responded, expect UFO believers and conspiracy theorists to lay down their arms and call a truce.
Just kidding! Paradigm is already gearing up for another e-petition assault. In a petulant statement released on the group's website, Paradigm sniffed, "As expected it was written by a low level staffer from the Office of Science and Technology Policy – research assistant Phil Larson. The response was unacceptable." The group promised to post a new petition soon demanding again that the government come clean on the alien front, adding, "PRG will continue to keep the Disclosure issue front and center within this attempt at participatory democracy by the Obama administration."
The truth, it seems, is still out there.