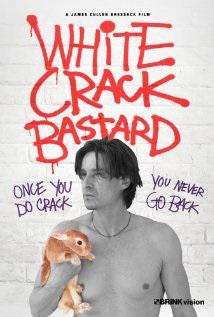 Director: James Cullen Bressack
Writer: Lisa Vachon (Screenplay)
Starring: Rhett Benz, Taja V Simpson, Edmond Chapple, Walter Mendoza, Alexis Dickey, Charley Knapp, Alibe Sledge
Plot: A privileged white man uses the ghetto, sex addiction, and crack cocaine to live up to his full potential and have the life he's always dreamed of
There may be spoilers the rest of the review
Verdict: Crack Filled Redemption
Story: White Crack Bastard starts as we meet Luke Anderson (Benz) who describes his love for crack, the effects it has on him and why he continues to take it. Luke hangs out in the ghetto with Gina (Simpson) and Chubbo (Chapple) who help him get his fix however much he finds it difficult to live with them. He also lives a double life as a respected photographer helping aspiring actors.
When Luke gets involved with one of the aspiring actress Heather (Dickey) he has to accept that he is an addict leaving him facing a reality about his future.
White Crack Bastard is a film that does show the side effects of taking drugs in the right way which is great thing to see especially from my own dislike towards the drug filed world. We get to follow one man who doesn't even need to be stuck in the drug world getting his chance to make it out but it is his choice. We get a mix of character who have different reasons to be inside the drug world who all have different reactions to their drug experiences. This is a good realistic look at how drugs will have a negative effect on people that use them too much.
Actor Review
Rhett Benz: Luke Anderson is the White Crack Bastard that spends his time smoking crack in the ghetto while struggling to keep his career job going. He comes to the crossroads in his life where he has to deal with an idea of quitting the drugs to continue making money or just stay on his drugs resorting to new lows each time. Rhett gives us a good performance in this leading role.
Taja V Simpson: Gina is one of the people that Luke spends time with when he wants to have a fix, she hosts the drug filled sessions for Luke and Chubbo. Taja is good in this supporting role.
Edmond Chapple: Chubbo is the other person Luke spends his time smoking crack with, he almost seems to push Luke into being the one to spend the money. Edmond is good in the supporting role without being a major part of the main story.
Alexis Dickey: Heather is the aspiring actress who has come to town, turning to Luke for a photoshoot they end up in a relationship where Luke's drug addiction gets the upper hand over the two. Heather has to try and convince Luke to give up the drugs to become a better person. Alexis good in this role as the only well-meaning character in the film.
Support Cast: White Crack Bastard has a supporting cast that includes a range of different people involved in the drug filled world.
Director Review: James Cullen Bressack – James does give us a film that shows the side effects of the drug world.
Drama: White Crack Bastard does show us one man's journey through the drug world as we watch to see if he makes it out the otherwise.
Settings: White Crack Bastard use the Ghetto as the setting which shows us just where Luke ends up.
Suggestion: White Crack Bastard is one to try, it does have a good look at how drugs effect people. (Try It)
Best Part: Gritty locations all feel real.
Worst Part: Drug usage is sometimes over used.
Believability: Could easily happen to people involved with drugs.
Chances of Tears: No
Chances of Sequel: No
Post Credits Scene: No
Oscar Chances: No
Runtime: 1 Hour 20 Minutes
Overall: Realistic look at how drugs can bring anybody's life down.
Rating