This post may contain affiliate links. As an Amazon Associate, I earn from qualifying purchases. Please read my disclosure.
Sweet white chocolate and fresh raw hazelnuts make this homemade white chocolate hazelnut spread deep, rich, and decadent. Creamy white nutella is guaranteed to satisfy your sweet tooth and is the perfect treat when you're craving something indulgent. All you need is just 3 ingredients to make it!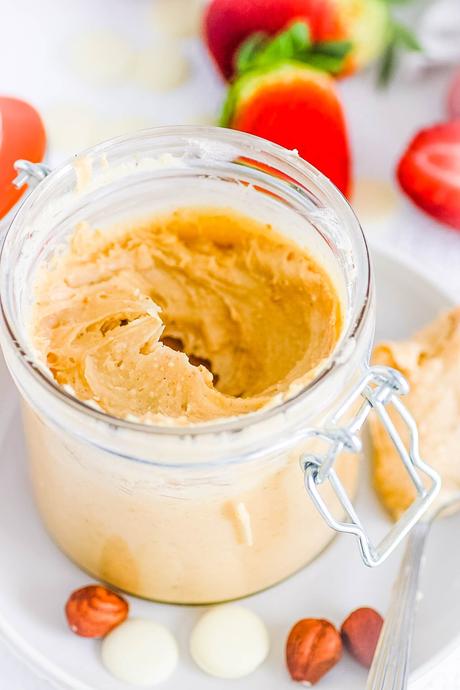 Nutella is one of my favorite chocolate spreads. It's so versatile, I love making my own vegan nutella at home, and using it on desserts like this nutella pizza or these adorable nutella donut acorns.
Typically, nutella is made with milk chocolate or dark chocolate, but sometimes I like to switch things up and make a white chocolate hazelnut spread using white chocolate chips!
This white chocolate chip spread is great as a dip for your favorite snack foods like fruit or pretzels, but it's so versatile - you can use it in all kinds of different recipes!
Try it as a spread on toast in one of these breakfast toast ideas, or drizzle it over a smoothie bowl like on this strawberry smoothie bowl or banana smoothie bowl, add it as a topping to this vegan french toast casserole or vegan baked oatmeal, or use it instead of (or in addition to) maple syrup to top these sourdough discard pancakes or almond milk pancakes!
You can easily mke it vegan just by grabbing vegan white chocolate chips instead of regular ones. No one will be able to tell the difference! This white hazelnut spread will be a hit if you need to bring a treat to a party. If you love white chocolate nutella, you'll love this homemade diy hazelnut spread with white chocolate.
👩🏽‍🍳 Why This Recipe Works
Vegan friendly and gluten-free
Healthier alternative to store-bought spreads
Smooth, creamy and spreadable
Super simple ingredients
Low in sugar
A fun twist on regular Nutella
No artificial flavors
Versatile - use it in a variety of recipes!
Decadent treat for your sweet cravings
Best homemade white nutella spread ever!
Latest Recipe Video!
🥘 Ingredients
This 3 ingredient white chocolate hazelnut spread is so easy to make! Here's what you need: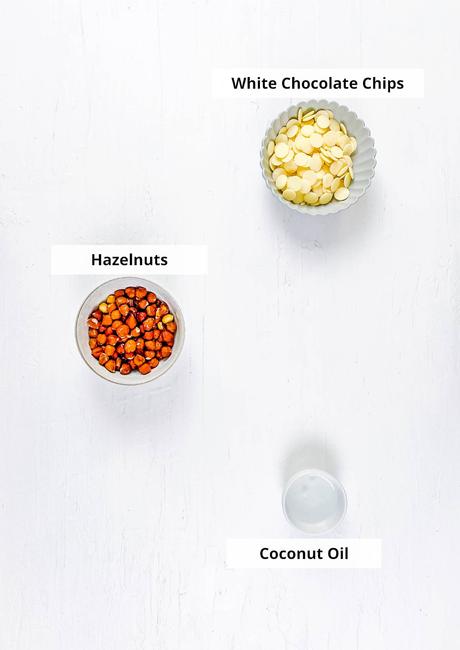 Hazelnuts: Because it's not nutella without that classic hazelnut flavor! I recommend using raw, fresh hazelnuts for the best flavor. You can use other nuts in this creamy spread, but if you're looking for that Nutella-like flavor, go with the hazelnuts.
White Chocolate Chips: You won't need melted chocolate for this recipe, you'll be adding the whole chips straight into the food processor. Traditional white chocolate is just a mixture of sugar, milk and cocoa butter, which makes it not vegan friendly. Be sure to get vegan white chocolate chips if you want this recipe to be vegan.
Coconut Oil: The coconut oil will make this recipe creamy and spreadable. It also makes it shelf-stable so it doesn't have to be stored in the refrigerator. You can use vegetable oils like palm oil for this, but it's not as healthy.
🔪 Instructions
Here's how to make this white chocolate hazelnut spread recipe:
Preheat Oven, Prep Hazelnuts: Set the oven to 350 degrees F / 180 C. Line a baking sheet with parchment paper, set aside. Spread the hazelnuts in an even layer over the prepared baking sheet.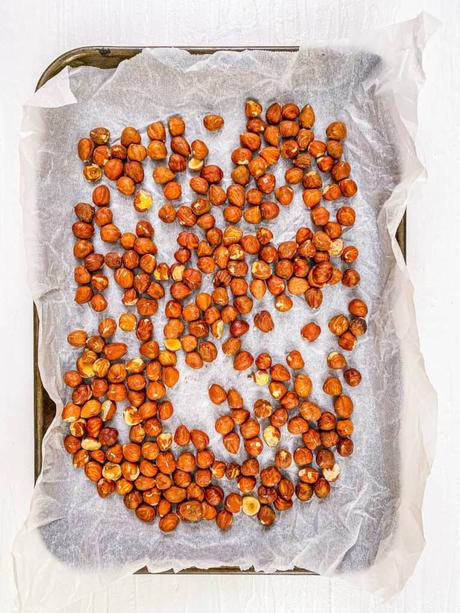 Roast Hazelnuts, Remove Skin: Roast in the oven for 10 minutes or until the hazelnuts become fragrant and the skins begin to split. Remove and place the roasted hazelnuts into a clean kitchen towel or paper towels and rub to remove the skins.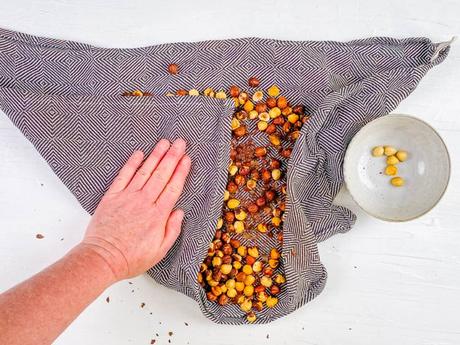 Add To Food Processor: Discard the skins and place the peeled hazelnuts into a high speed food processor. Blend until it forms a smooth paste. This may take up to 5 minutes, stopping throughout to scrape down the edges.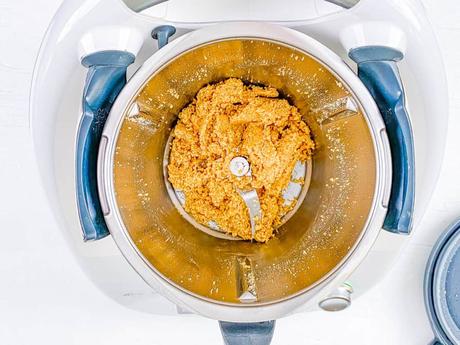 Add Remaining Ingredients: Add all remaining ingredients to the food processor.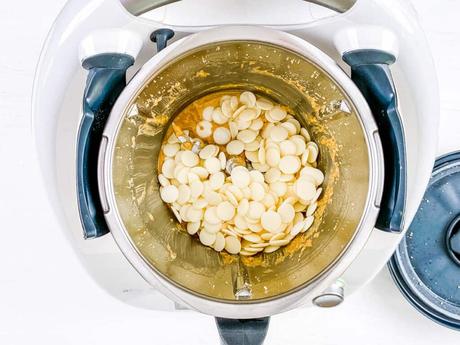 Blend: Continue to blend for 5 minutes or until smooth and no lumps are remaining.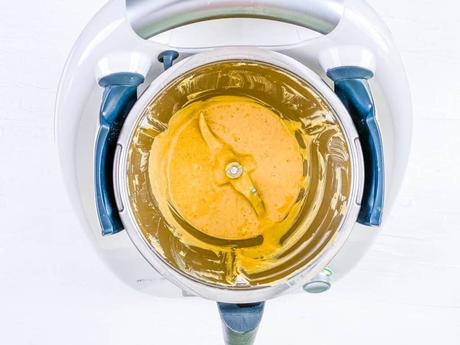 Store Or Serve: Remove and store this nutella white chocolate spread in a jar in a cool dry place.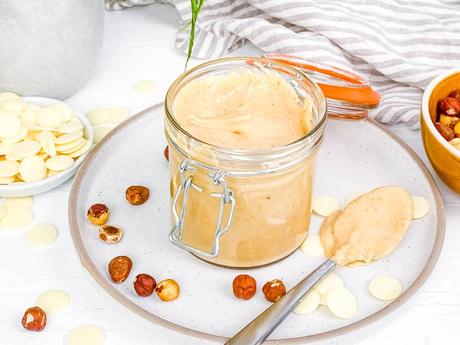 💭 Expert Tips
Do not store in the fridge as this will make your white nutella set firmly and won't spread easily. Storing the finished product at room temperature, out of the sun, is the best option for the perfect consistency when serving.
If your white nutella feels a little thin, don't worry! It will be on the thinner and runnier side when first made, but will thicken up over time to form a spreading consistency.
Remove all hazelnut skins (don't skip this step!) - the skins can be quite bitter if left on.
Do not heat hazelnut spread in the microwave. Excessive heat can be bad news for this white chocolate hazelnut butter because it will cause a loss of flavor and may encourage the oil to separate from the rest of the ingredients. If you want to heat your spread, put it in a saucepan on low to medium heat.
If your food processor has difficulty processing the hazelnuts to a smooth paste, divide the mixture and work on half of the hazelnuts at a time. You can also melt the chocolate before adding it to the hazelnuts to prevent lumps. Always use a food processor and not a blender as a blender won't work well.
📖 Variations
White Chocolate Almond Spread: If you aren't a fan or hazelnut or just prefer almonds, make this an almond white chocolate spread just by swapping out the nuts. If you prefer peanuts, you could even experiment with peanut butter rather than whole peanuts.
Dark Chocolate Hazelnut Spread: This can easily be made with dark chocolate chips or regular milk chocolate chips if you prefer.
Sugar Free Version: You can use keto white chocolate chips sweetened with monk fruit extract to make this recipe 100% sugar free.
Mint Chocolate Hazelnut Spread: Add a subtle mint flavor just by using mint white chocolate chips. It might be harder to find vegan mint-flavored white chocolate chips. If you can't find them, just add mint extract to the recipe with vegan white chocolate chips.
Vanilla White Chocolate Nutella: Give this spread an even deeper natural vanilla flavor flavor by adding a dash of vanilla extract.
❓Recipe FAQs
DO THEY HAVE WHITE CHOCOLATE NUTELLA IN STORES? WHERE CAN YOU BUY IT?
White chocolate Nutella does exist, but it's not that easy to find in the US. It seems to be popular in the UK, so you'll have to order it online. Or, for an easier and budget friendly option, you can just make this simple homemade white chocolate and hazelnut spread recipe!
IS NUTELLA A HEALTHY SNACK?
No, store bought Nutella is packed with added sugars and preservatives, making it more like an occasional treat than a healthy snack. Homemade Nutella is definitely a healthier option since you can control the ingredients and how much sugar you add to it.
This homemade hazelnut white chocolate spread recipe is on the healthier side, as one serving has under 100 calories and 4 grams of sugar. But you should still enjoy it in moderation, since this treat is still relatively high in fat.
HOW DO YOU STORE HOMEMADE HAZELNUT AND WHITE CHOCOLATE SPREAD?
Because of the coconut oil, this white choc hazelnut spread should not be stored in the refrigerator. This will make the oil cool into a solid and you won't be able to spread the mixture. The coconut oil makes it shelf stable, so you should store it in an airtight container, out of the sun, in a cool place in your pantry. It should keep for up to 4 weeks.
If you would rather keep your spread in the refrigerator, and it gets too thick for spreading after being stored, submerge your sealed container in hot water for 30 seconds to 1 minute. This will soften the coconut oil and make it more spreadable.
HOW DO YOU SERVE THIS HAZELNUT CHOCOLATE SPREAD RECIPE?
This white chocolate nutella recipe is versatile and can be used as a dip or a spread. It's delicious on toast or on croissants, cinnamon raisin bread, or even drizzled over pancakes or ice cream. Use it as a dip for pretzels, graham crackers, your favorite fruits, or even with chocolate chip cookies and a glass of milk on the side!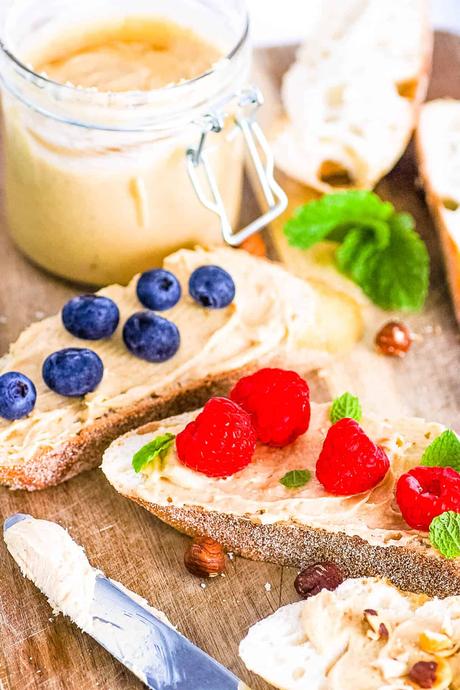 🍫 More Tasty Chocolate Recipes!
📋 Recipe Card