This post may contain affiliate links. Please read my disclosure.
This hearty and delicious White Bean and Kale Soup with Parmesan Cheese is perfect for a winter's evening. Great for a side, but filling enough to be a healthy main dish as well. Vegetarian, gluten-free and can easily be made vegan too!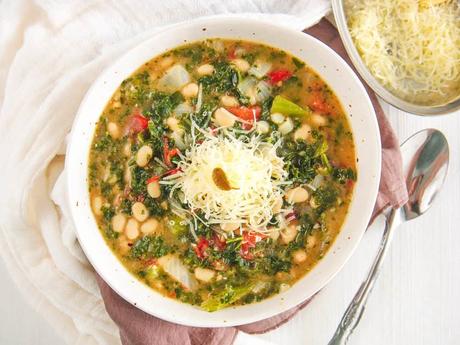 Kale is a classic winter green vegetable, and when paired with white beans it makes for a satisfying, filling main meal! My husband used to be a kale skeptic before he met me. Pretty much all green veggies were foreign to him. But a couple years after we got married I made him this soup and completely converted him!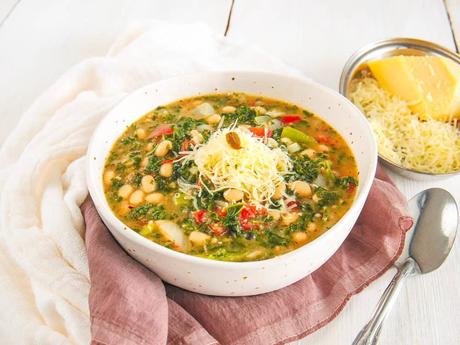 This recipe is perfect as an easy weeknight dinner, served with some crusty bread, or as a side dish when you're feeding a crowd. It's naturally gluten-free and vegetarian, and can be made vegan simply by omitting the cheese on top. It's easy to make in the Instant Pot as well, if you need a "set and forget" type of recipe!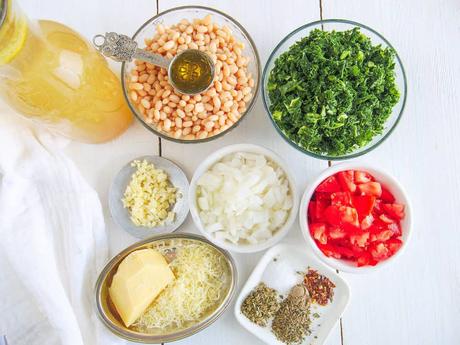 Tools and Equipment You'll Need for This Recipe
How To Make White Bean and Kale Soup - Step by Step
Step 1: Chop all your veggies. In a large pot, heat olive oil over medium heat. Add garlic and onion; sauté until soft.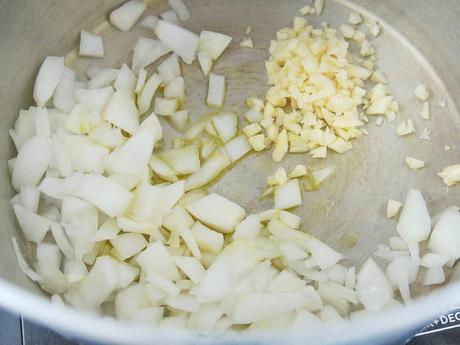 Step 2: Add kale and sauté, stirring, until wilted.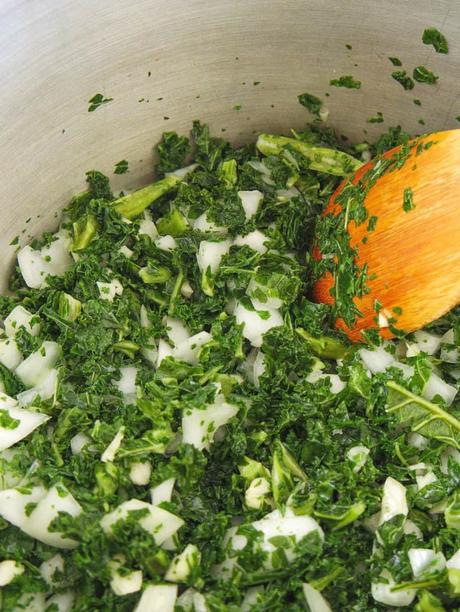 Step 3: Add 3 cups of broth, 2 cups of beans, and all of the tomato, herbs, salt and pepper (crushed red pepper + black pepper). Simmer 5 minutes.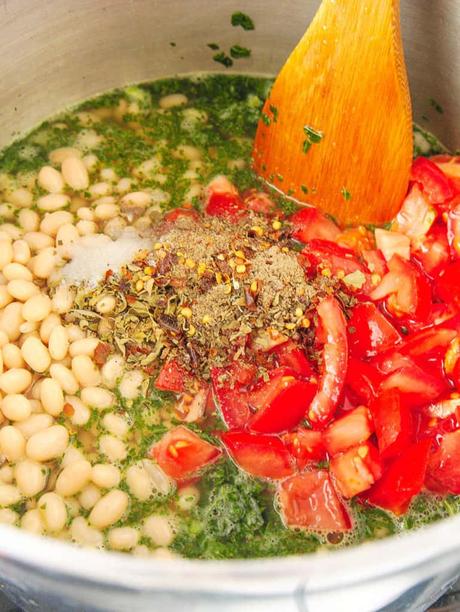 Step 4: In a blender or food processor, mix the remaining beans and broth until smooth. You can also just mashed the beans in the broth with a potato masher (I did this and it worked great). Stir into soup to thicken.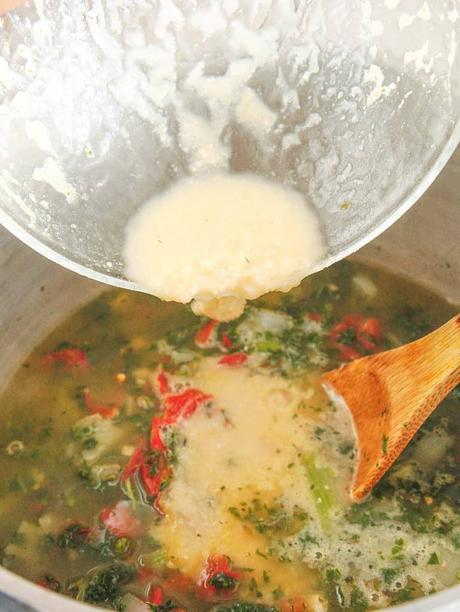 Step 5: Simmer at least 15-30 minutes - until the kale has cooked to the texture you like.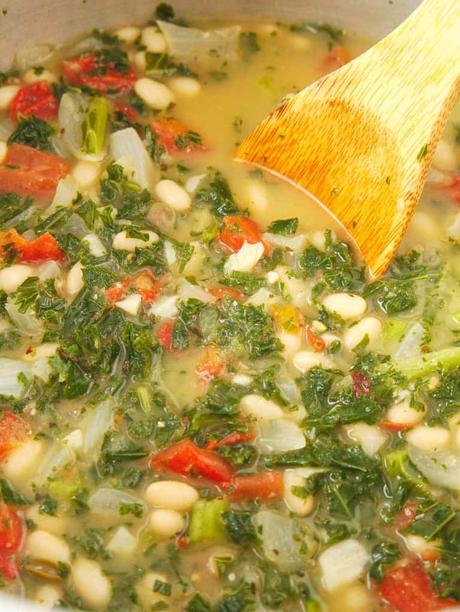 Step 6: Ladle into bowls; sprinkle with parmesan cheese.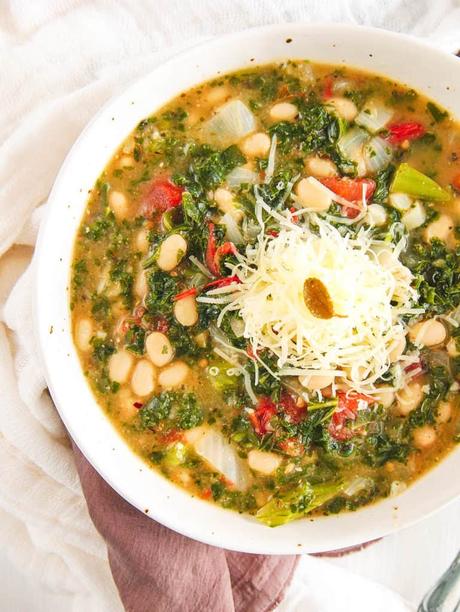 What makes this White Bean and Kale Soup healthy?
Kale is Rich in Vitamins and Nutrients: Kale is considered a superfood! It's high in nutrients, and low in calories. It's high in antioxidants, vitamin C, iron, calcium, and vitamin K. These nutrients help contribute to blood sugar control, lower risk of cancer, and reduce blood pressure. It's also known to support skin, hair, and bone health.
High in Protein: This recipe is high in plant-protein thanks to the white beans and kale in this soup. Yes, kale has protein too! One serving of this soup has 17 grams of protein!
High in Fiber: Both kale and white beans are in fiber which aids in digestions and satiety. One serving of this soup has nearly 11 grams of fiber, that's about 40% of your daily recommended fiber intake.
Low in Fat and Calories: If you're looking for a heart healthy low calorie and low fat meal that's filling and satisfying, you've found it!. This soup has only 300 calories and less than 5 grams of fat.
Will kids enjoy White Bean and Kale Soup?
This soup has a beautiful creamy flavor with the mashed beans, as well as nice added texture with the kale. If your kids aren't big fans of kale, simply leave out the kale when you ladle their serving. You can also chop the kale super fine and let it cook down even more while the soup is simmering, so that it "melts' into the broth and picky kids are less likely to detect it. You could also replace the kale with baby spinach, which is easier and milder for kids to chew and palate.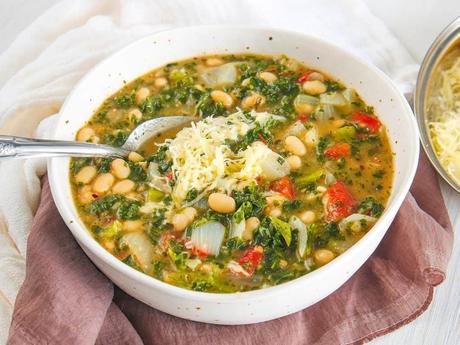 What type of beans are considered white beans?
There are four main types of white beans. You may choose whichever type you prefer to prepare this soup.
Navy Beans: A small oval shaped bean that cooks quickly. When cooked and mashed it creates a creamy consistency, becomes creamy which is why it's perfect for soups when mashed.
Great Northern Beans: A medium size bean, larger than Navy Beans but smaller than Cannellini beans, they retain their shape and texture and take on the flavoring of dishes well, also making them a good choice for soups and stews.
Cannellini Beans: The largest bean, it's often used in Italian cooking. They also keep their shape and texture. They're often found in Minestrone soup recipes.
Butterbeans or Baby Lima Beans: Small and creamy with a buttery like flavor. They are delicious in soups and stews and are often served simply with herbs and butter.
How do you make White Bean and Kale Soup in the Instant Pot?
Step 1: Add garlic and onions to your instant pot and press sauté. When onions become translucent add kale and sauté, stirring, until wilted. Stop the sauté process by pressing cancel.
Step 2: Add 3 cups of broth, 2 cups of whole beans, mashed beans with broth, and all of the tomatoes, herbs, salt and pepper to the instant pot.
Step 3: Set to Manual High Pressure for 2 minutes. Do not touch for 10 minutes. Allow to slowly release.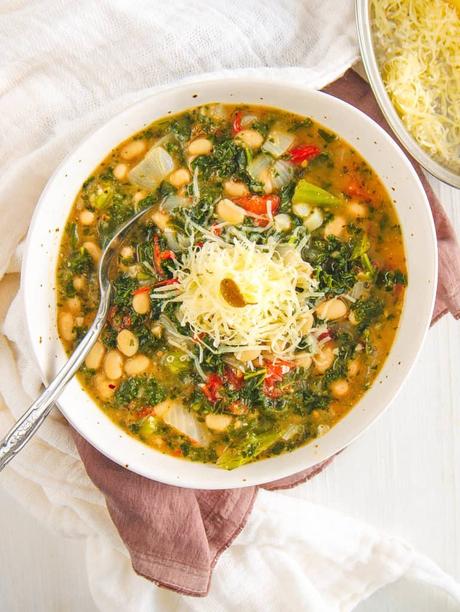 What do you serve with White Bean and Kale Soup?
Polenta "rounds" crisped in the oven
Crusty Whole Wheat Bread or Garlic bread - to scoop up all the goodness around your soup bowl.
Light green salad with balsamic vinaigrette - for a lighter, more refreshing addition to round out this meal
Top Tips For Making White Bean and Kale Soup
If you don't have kale you can use baby spinach
You can use any white bean in this soup! Choose from navy, cannelini, butterbeans or great northern beans.
To save time, follow the Instant Pot instructions in the recipe!
You can use dried beans instead of canned. One 15 ounce can of beans equals ¾ cup dried beans, which means you will need 1 ½ cups of dried beans for this recipe.
If you don't have a food processor, you can mash the beans in the broth with a potato masher.
Allow enough time for the soup to simmer on the stove to meld all the flavors together.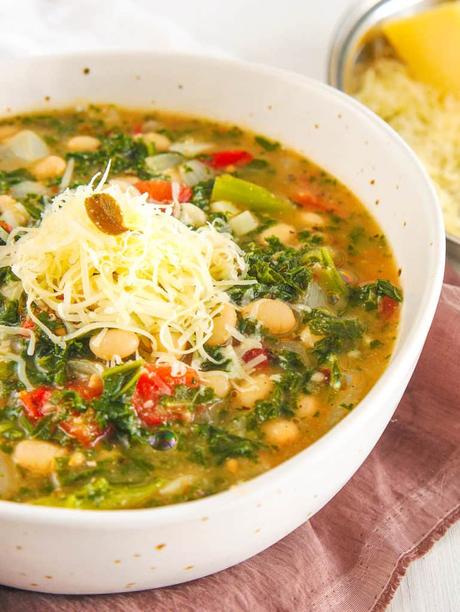 If you have tried this Vegetarian White Bean Soup with Kale, or any other recipe on my blog, then please rate it and let me know how it turned out in the comments below! You can also FOLLOW ME on
FACEBOOK
,
TWITTER
, INSTAGRAM and
PINTEREST
to see more delicious, healthy, family friendly food!
Check Out These Other Delicious Soup Recipes!
White Bean and Kale Soup with Parmesan Cheese