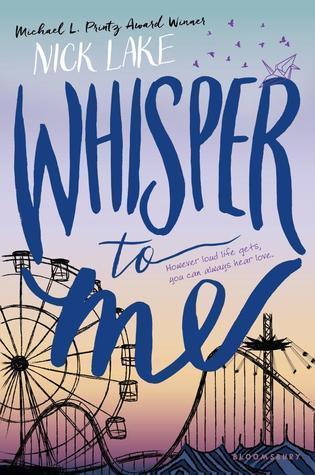 Whisper To Me by Nick Lake
Published by Bloomsbury
Paperback
Published 5 May 2016
530 pages
Library book
Connect with the author
I knew I had to read this book when I read the great review by Cait on Paper Fury. Thanks Cait for bringing this incredible book into my life.
WHAT'S IT'S ABOUT
A remarkable story of strange beauty and self-discovery from Printz Award winner Nick Lake.
Cassie is writing a letter to the boy whose heart she broke. She's trying to explain why. Why she pushed him away. Why her father got so angry when he saw them together. Why she disappears some nights. Why she won't let herself remember what happened that long-ago night on the boardwalk. Why she fell apart so completely.
Desperate for his forgiveness, she's telling the whole story of the summer she nearly lost herself. She's hoping he'll understand as well as she now does how love-love for your family, love for that person who makes your heart beat faster, and love for yourself-can save you after all.
EXTRACT
These are the things that you need to know:
I hear voices
I miss you.
I wish I could take back what I did to you.
What they said on the news, what they said I did. It's not true. You don't have to worry about that.
I'm going to write it all down, all about Paris and why I broke your heart, and then I'm going to email it to you. It will take you, I don't know, a couple of days to read. So I will be waiting for you at 5:00pm, Friday by the windmill hole of Pirate Golf on Pier One, where we played that one time.
WHAT I THOUGHT
Whisper To Me is in the running for my read of the year. This is one of the best books I've read in ages. Quite simply put - this incredible novel is one of the reasons I'm a total book-worm; every now and again you find a book that knocks you for six and makes you feel glad you're alive to be able to read it. Whisper To Me to incredible, just incredible. Cassie's story triggered all my emotions and I was howling like a baby reading the last 50 pages or so. I need a hug and a hot blanket and some kind of stuffed toy, maybe even a puppy. This book broke my heart over and over and I don't know when I'll finish knitting it back together with black thread. The stitching looks nice though. I thought Cassie was a great heroine. She made my heart weep. Her struggle to cope with hearing a voice in her head, a cruel voice that threatens her, says awful things about her and makes her punish herself is very well written. The whole novel is written as an extended email to a boy whose heart Cassie broke because she was embarrassed to tell him about the voice and her meds and her trips to psychiatrists. This structure works really well and I imagined the boy reading her confession. I enjoyed reading about how Cassie learns to live with the voice and control it so it becomes less of a threat, mostly because she works out what triggered it and lays ghosts from the past to rest. Whisper To Me is unlike anything I've read in ages. I loved it so much. I couldn't recommend this book more.
RATING


I'm thirty-five years old and live in Glasgow in the UK with my partner of ten years. I work in a support team for a call centre. I like reading especially Joyce Carol Oates and Stephen King. I write fiction and poetry. I enjoy watching TV (Grimm, Torchwood, Doctor Who, Lip Service, The L Word etc). I like to play video games and am a fan of survival horror especially the Silent Hill franchise. I like to watch movies especially horror and anything where someone dies. View all posts by pamelascott30