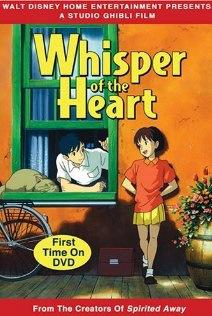 Director: Yoshifumi Kondo
Writer: Hayao Miyazaki (Screenplay) Aoi Hiiragi (Comic)
Starring: (Voices Talents Japanese) Youko Honna, Issei Takahashi, Takashi Tachibana, Shirgeru Muroi, Shigeru Tsuyuhuchi, Keiju Kobayashi, Yorie Yamashita (Voices Talents English) David Gallagher, James Sikking, Jean Smart, Harold Gould, Courtney Thorne-Smith, Martin Spanjers, Mika Boorem, Abigail Mavity, Cary Elwes, Brittany Snow, Ashley Tisdale
Plot: A love story between a girl who loves reading books, and the boy who has previously checked out all of the library books she chooses.
There may be spoilers the rest of the review
Verdict: Beautiful Story of Young Love and Dreams
Story: Whisper of the Heart starts by introducing to young girl Shizuku who lives a normal life with her family. Shizuku is reaching junior school graduation and along with her best friend Yuko Harada are starting to change their outlook on life. Shizuku loves to read and checking books out of the library but she soon starts discovering that she is checking out all the books a mysterious man Seiji has been reading before her. Shizuku ends up following a cat around while on the way to delivering her father's lunch where she ends up in an antique shop where she meets the owner who tells the most beautiful love story for Shizuku about the King of the Elves who was in love with an Angel but they could never be together.
Shizuku feeling inspired wants to meet this Seiji and find out who has been donating the books where she might meet her true love all while she steps into love for the first time in her young life. When Shizuku finally gets to meet Seiji she finds out it is a mystery guy who keeps turning up in her life. We watch how potential love story happens between the two as they both try to figure out what to do with their lives. With Seiji away Shizuku starts looking into a mysterious love story revolving around a statue called The Baron. Shizuku finds herself in the fairy tale guided by The Baron as she tries to find his lost partner a statue called Louise.
Whisper of the Heart manages to mix two very difficult times teenage school children face, the first love and figuring out what they want to do in life. we see how even if things are not going well or to plan giving up isn't the best option is it is something you truly want to do. We get to see how not understanding what love is first time around can be confusing, but most importantly it shows us just how to achieve through sacrifice your dreams. My only negative about this film is that you get a feel that there will be a large fantasy element but in the end all you get is a small dream like sequence as Shizuku inspires herself with to write. This is a good story that tackles real issues without having to put them into an over the top fantasy element. (9/10)
Character Review
Shizuku: Shizuku is a young school girl who loves to read and write her own lyrics. We see how her love for books drives her towards a mystery man who has been checking the books out before her. We watch how she has to deal with her first love and learning how to deal with not knowing what she wants from her future. Shizuku is a good strong character that shows you just what it takes to achieve. (9/10)
Seiji: Seiji is the mystery boy who has been checking out the books and turning up in Shizuku's life, he dreams of becoming a violinist and will sacrifice everything for a chance even if it means giving up on first love with Shizuku. Seiji is a good character that shows what a ready driven character would want from life before something changes his dreams. (8/10)
Support Characters: Whisper of the Heart has a large supporting character list that includes Shizuku's family that all think differently about what she wants to do, we have the school friends who go through the first loves with our characters. We also have the mysterious Baron character that is only in Shizuku's mind but his story is one that inspires her.
Director Review: Yoshifumi Kondo – Yoshifumi does a good job directing this very thought provoking drama about growing up. (8/10)
Animation: Whisper of the Heart is good quality animation that is even 20 years old this year and still looks good. (9/10)
Family: Whisper of the Heart could be one for all the family but I don't think it has enough for the whole family to enjoy. (6/10)
Romance: Whisper of the Heart plays out a nice love story that shows how real love could go if you believe in it. (9/10)
Settings: Whisper of the Heart uses real settings for everyday life. (8/10)
Suggestion: Whisper of the Heart is one for all the fans of Studio Ghibili fans to enjoy because it will fit everything they are famous for. (Ghibili Fans Watch)
Best Part: Tackling first love very well.
Worst Part: It looks like it will have high fantasy but doesn't deliver.
Romantic Moment: The Baron's story.
Believability: It does tackle real life issues. (7/10)
Chances of Tears: No (0/10)
Chances of Sequel: No
Post Credits Scene: No
Oscar Chances: No
Runtime: 1 Hour 51 Minutes
Overall: Whisper of the Heart is a very good drama that tackles real life issues in a coming of age story.
Rating