Germany's Martin Kaymer returns to the UAE in January as the first of the new generation of golf stars to have both a Major title and a World Golf Championship trophy to his name. Having won last year's renewal of the Abu Dhabi HSBC Golf Championship and November's HSBC Champions he is also on the verge of an unprecedented treble. As Tim Maitland reports, there's a good reason why he has such a remarkable record in Abu Dhabi.
Only ten players have ever won both a Major Championship and a WGC trophy. Since the World Golf Championships series was introduced in 1999, that tiny exclusive club has slowly grown, the founding member being Tiger Woods. Next in was Ernie Els in 2001. Surprisingly late arrivers were the two main challengers to Tiger at his brilliant best: Vijay Singh only claimed his first WGC in 2008, while Phil Mickelson's 2009 WGC-HSBC Champions victory in Shanghai got him into the group.
Last November in Shanghai, Martin Kaymer, at twenty-six years of age, added the WGC-HSBC Champions to his 2010 PGA Championship.
Given how long we've been focused on emerging wunderkinds like Rory McIlroy, Rickie Fowler and Matteo Manassero, you'd be forgiven if you don't immediately grasp how precocious the German's talent is.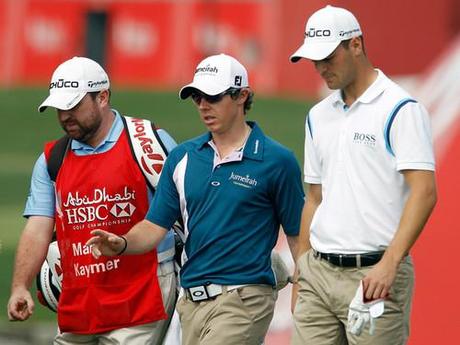 Rory McIlroy with Martin Kaymer Round 4 Abu Dhabi HSBC
This simple fact proves it: Kaymer is seven and a half years younger than the previous "baby" of the elite ten, Geoff Ogilvy, and just two days short of nine years junior to the next youngest in the list... Tiger Woods himself.
Just how far Kaymer is ahead of the rest of his generation is felt nowhere more strongly than in Abu Dhabi, where he is aiming for a unique sponsor's treble. While the rest of the world can claim to have seen a trajectory to the young Dusseldorf native's career, in Abu Dhabi, but for a missed cut right at the very start of his European Tour career, he has just been consistently brilliant.
It's hard to believe, now that at the age of twenty, Kaymer was an amateur when he won his first event on the third-tier German-based EPD (European Professional Development) Tour in 2005. He turned professional that year, won the EPD's 2006 Order of Merit and the chance to play on the Challenge Tour, winning his first event and again, a month later, sealing his European Tour card in just eight tournaments.
The outsider can see a logical development in his career from then on: from five top-ten finishes in his rookie season through to winning his first Major – the PGA Championship at Whistling Straits – and the Race to Dubai in 2010, and claiming the status of the world's number one player in 2011.
The spectator whose one taste of tournament golf is the Abu Dhabi HSBC Golf Championship each year would be forgiven for thinking Kaymer just emerged from the pram that good: in four years he was won the event three times and, in an 'off year' in 2009, finished second.
But just as that fan would struggle to understand that Kaymer's career has actually been one of progressive improvement, so Kaymer would have problems communicating why he now owns three trophies and has played 80-under-par over the past four years.
"It's tough to explain, but it's a combination of a lot of things, why I play well there. It's just the whole package, I believe: I come from five or six weeks' break, so first of all I'm very motivated to play golf again and to play a tournament again. Then we always stay at an unbelievable hotel at the Emirates Palace. I really like the people there; when I come to the clubhouse – I've known them four or five years now – we always recognize each other, we talk a little bit. It's a very nice environment there. It's a nice atmosphere and the way HSBC runs the tournament [with the ADTA], it's very comfortable for us players," says Kaymer, whose comfort levels must soar once he steps out onto the first tee.
"Every year you get to know the golf course better and better, but I think I know how to play that golf course in the easy way for me; that might be my advantage. I feel comfortable on every tee box I stand on; I really can feel the tee shot, I know where I can miss the tee shot in order to still have a shot towards the green, and another big advantage is that I can read those greens very well," he continues, seemingly trying very hard not to use the 'fits-my-eye' phrase that can only really be understood by those who spend 25 weeks or more each year playing a different layout each week.
"If we compare Abu Dhabi to Augusta, for example, almost every tee shot in Abu Dhabi I stand on the tee box and can hit a little cut into the fairway or I can use a short cut over some bunkers; I just feel very comfortable. Even if I were to miss a shot, I'm still OK. My misses are fine. At Augusta I don't feel very comfortable on a lot of the tee boxes when I stand there. The look of the hole in Abu Dhabi is very different," he reveals.
That most temperamental of mistresses – the shortest stick in the bag – has also always behaved like an angel for Kaymer in Abu Dhabi, which probably goes without saying considering he has averaged five-under-par per round over his last four visits.
"I've always putted well there. I can read the greens well. I feel comfortable. I can still remember a lot of the putts that I've made in the past and that helped me a couple of times last year when I won again. Sometimes you have golf courses where you struggle to read the greens and sometimes you have golf courses where you go there every year and you know you're going to putt well. It's just one of those events where I know I will putt well."
Though Kaymer wouldn't say it feels like the course was made for him, given the chance, he would make it for himself.
"If I could build my own golf course it would be very close to the golf course in Abu Dhabi for sure. I just play very good golf on that golf course."
Perfect Practice
There are plenty of theories, most of them proposed in jest, among the tour players as to why Kaymer has been so dominant at the Abu Dhabi Golf Club. Spain's Pablo Martin, with tongue firmly in cheek, tested a few of those suggesting the German has no fun during the winter holiday.
"Everyone just competes for second place because Martin must not have any Christmas; he just practices. That's why he wins by twenty-five shots! Everyone else is at home drinking and eating," kids the two-time winner of South Africa's Alfred Dunhill Championship, ignoring the fact that for that theory to stand up Kaymer would also have to fastidiously ignore his birthday, which falls three days later.
In joking around, Pablo inadvertently comes up with an explanation that even Kaymer doesn't seem to have considered that much. As well as Kaymer, England's Paul Casey has a ridiculous record in Abu Dhabi, winning in 2007 and 2009. Yes, both are long, straight hitters who can putt, but both share the same winter home, too.
"Paul and Martin both live in Arizona; either there is something in the water in Arizona or it doesn't feel like Christmas in Arizona because it's too hot!" Pablo Martin adds.
"I really should get myself to Arizona next Christmas!" he laughs.
He should.
Specifically, if Pablo wants to win the Abu Dhabi HSBC Golf Championship, he should probably get himself to the Whisper Rock Golf Club, because the more Kaymer thinks about it, the more he realises the weeks he spends preparing for the season at his winter home is the perfect preparation for the tournament.
"It has nothing to with the water! Paul and I, when we practice in Arizona, we have very similar conditions and facilities [to the course in Abu Dhabi]. It's a very similar golf course that we play in Scottsdale," says Kaymer of the course, which is reported to have over 30 Tour professionals as members, including the designer Phil Mickelson, Fred Couples, Geoff Ogilvy and Aaron Baddely.
Among the winners of the annual club championship there are PGA Tour regulars Kevin Streelman (a former Whisper Rock caddie), Todd Demsey, Chez Reavie and Billy Mayfair, which instantly tells you the course is set up as close to tournament standards as you can get week-in and week-out.
The similarities are endless. The Upper Course at Whisper Rock even has exactly the same yardage from the back tees as the Abu Dhabi Golf Club will have for the 2012 tournament: 7,600 yards. Right down to the desert air, Kaymer couldn't have picked a better place to practice.
"That's what Arizona is about; it's got a lot of desert. It has very similar bunkers and the sand in the bunkers is very similar. The greens are a little grainy, but not too much. Everything is very similar. The ball goes a similar distance. The weather is very similar; it's 20 to 25 degrees [Celsius] when we practice there and when we go to Abu Dhabi it's the same. So there's no adjustment necessary when we come from the break," Kaymer explains.
In a nutshell, in spending his winter preparing to challenge the world's best for the next season, Kaymer is inadvertently yet very specifically preparing to excel in Abu Dhabi in the first week of his season. 
Champions' Boost
By his own reckoning this winter's preparations were energised by finishing the 2011 campaign with a World Golf Championship record-setting comeback at the WGC-HSBC Champions in Shanghai.
"To win such a big event, the HSBC in Shanghai, a World Golf Championship event with the best players in the world participating, it definitely gives you a boost. All of a sudden you want to practice even harder, you want to win more tournaments; it gives you a little bit more motivation for the next year. I can't wait to tee it up in Arizona when we play the next one [the WGC-Accenture Match Play Championship] and when we play Doral, another World Golf Championship event, and going towards the Masters," says Kaymer, whose nine-under-par 63 was the lowest final round by a winner in the history of the WGC stroke-play events.
"Before the win in Shanghai it was not a great season, but if you win such a big event – the year before, I won a major; last year I won a World Golf Championship – in Asia! I've won a few tournaments in Europe already, I won a Major in America and now I've won in Asia: in all three continents, I've done something very special. The win proved myself again. It proved …that hard work will pay off! I worked really hard in the summer time and the fall; I was practicing very hard on my game and I was working out really hard in the gym and I really wanted to achieve something. I was running out of tournaments, so was really happy that it still happened and for it to be such a big event. I wouldn't say it saved my season, but it definitely made it more satisfying."
That season certainly had not lived up to the anticipation created by the way he opened the year. Much to his own amazement, Kaymer's winning in Abu Dhabi had lifted him above Tiger Woods in the world rankings. Reaching the final of the WGC-Accenture Match Play Championship, where he lost 3 & 1 to Luke Donald, took him to the top spot for the first time. What followed – including missed cuts at the Masters Tournament and the US PGA Championship, and only five other top-ten finishes between his personal HSBC double – was, by the standards of his seemingly inexorable rise, a relative disappointment.
Kaymer has repeatedly said it was down to the unexpected aspects of topping the Official Golf World Rankings. The golf world, including many players, has talked about Kaymer altering his game with an eye on the Masters, something he emphatically denies.
"Everybody says I changed my swing for Augusta, which is not true. I'm not changing my swing for one golf course! With my golf swing I've become number one in the world; there's no reason why I should change it! The only reason why I wanted to adjust my golf swing was because I saw room for improvement. That improvement, if I could get there, would help me in Augusta and maybe that's why people might say 'He changed his swing for Augusta', but it's not true," he explains patiently.
What is true is that Kaymer did work hard last winter to try and improve his ability to shape the ball right-to-left to complement his natural fade. He views it as adding another weapon to his arsenal, but asserts that the fact that other people don't interpret that way doesn't bother him.
"To be able to hit the draw – if you can add another option to your ball flight it will definitely make you into a better player. I would have more possibilities for golf shots on different golf courses – of course in Augusta – and I think that would make me more comfortable in Augusta if I could add a couple of things to my golf.
"I know what I need to do and I know what I do, and I talk to my coach about it and that is the most important thing. What people make out of it in the end is not in my hands. If people ask me, I will tell them the truth and what I feel about it; what they write and say after that is out of my hands. It doesn't bother me and it doesn't disturb me."
Being #1
What he does admit disturbed him was the reaction to his becoming world number one. Compared to the sport's traditional heartlands, a successful German golfer lives in relative anonymity. That changed when his Abu Dhabi HSBC Golf Championship win and runner-up finish at the WGC-Accenture Match Play Championship thrust him above first Tiger and then Lee Westwood.
Looking back at that period immediately after his WGC-HSBC Champions win in November, Kaymer told a packed press conference why it was a struggle.
"It was a tough stretch of months, because it's not normal that at my age you become No. 1 in the world.  All of a sudden, you have more attention: Doesn't matter really where you go. In my own country, I became the German golf face. In America, a lot of people recognised me because obviously golf is a little bit bigger in America than in Germany. But it has been, you know, a little awkward situation sometimes, because I was just not used to be that much in the spotlight," he said at the time.
With a little more time to consider, Kaymer says it wasn't just how number one status affected him, but that it affected everyone to whom he was close.
"The whole thing in the beginning was very strange because no-one in my inner circle [had experienced it]: my manager had never had a player who was number one in the world; all of a sudden my family and me had more attention in Germany; and, the people I work with found it a little bit difficult to begin with. Now we know what's going to happen," he says, revealing just how high being number one again sits in his list of priorities.
"I will set new goals for the new year: to play well again in the World Golf Championship events and in the Majors. And for sure the goal is to get back to number one in the world, now I know how it feels to be number one; how to approach it and how to handle that position. Obviously it was fun and I learned a lot and I'd love to be back on top."
Fearless Defender
Getting back to the top might depend on whether the current incumbent, Luke Donald, continues with his run of stunning consistency in 2012. All Kaymer can do is get back to playing at the level with which he bookmarked his 2011 season.
Of course he starts in his happiest of happy places, Abu Dhabi, where his domination could be described as Tiger-esque. Living up to such a fantastic record would eventually weigh on most players, but like Woods, Kaymer seems to react differently: wins follow wins.
If you group together his three Abu Dhabi wins as one packet, three more of his career victories came in three successive appearances in 2010, when he sandwiched a victorious Ryder Cup appearance in between winning his Major and claiming the KLM Open and the Dunhill Links, while his two wins in 2009 came in back-to-back weeks. That's eight of his 10 stroke-play wins since earning his European Tour card neatly bundled in bursts of unbridled confidence.
When you consider all of that, it's no wonder that once again facing all the attention that comes with defending his title at the Abu Dhabi HSBC Golf Championship doesn't bother him in the slightest.
"I don't think it's more pressure at all. If you've won a title there shouldn't be more pressure at all. It should give you even more confidence to do it again because you know you've been successful at that golf course already, so it shouldn't add any more pressure. I don't feel that at all. I really like defending titles because if you've got all that good experience from the previous year I think it gives you the belief that you can win again. I can approach the tournament in Abu Dhabi with a very, very positive mindset.
"It could happen that I don't win this year – I could not even finish top 10 there this year – but the combination that I come from a long break and am motivated to play again, that you go to a golf course where you've been successful and a golf course that you know very well and that you feel very good about… The last four years worked out quite well for me, but I don't know what's going to happen in 2012. The predictions are quite good!"
This year he will have to overcome the best field he's ever faced in Abu Dhabi, and what organizers say will be the best ever assembled in the Middle East, as well as his own hero.
"It's great for Abu Dhabi that Tiger Woods is coming and more international players are coming from America. Last year Phil Mickelson played and it proves how good that tournament is and how much fun it is to be in Abu Dhabi and play the HSBC tournament. It's not making it easier to win there, but I'm not going there to pick out an easy win. It's nice to have the challenge and see if I can win again.
"Tiger Woods, in the last couple of years maybe he didn't play great golf, but he's played unbelievable golf since 1996, since he first came to the Masters. He'll always be one of the big players at any tournament he goes to. He'll always be great for us players as well, to have him there," says Kaymer, who was almost in awe when he learned after his Abu Dhabi triumph in 2011 that he had passed Woods in the rankings.
"It was something very special; he'd been number one in the world for around eight years and there was no-one really close, ever! Then all of a sudden you overtake the best player who ever played the game," Kaymer marvels.
"It felt a little unreal, but it also told me that I was able to do things that I maybe thought I wasn't able to do in the beginning."
Martin Kaymer in Abu Dhabi
2011: 1st 264 -24
2010: 1st 267 -21
2009: 2nd 268 -20
2008: 1st 273 -15
2007: MC 144 EVEN
The 10 Major and WGC winners
Tiger Woods (USA)
b. December 30, 1975 (1975-12-30) (age 35)  
14 Majors and 16 World Golf Championships (plus 2000 World Cup)
Phil Mickelson (USA)
b. June 16, 1970 (1970-06-16) (age 41) 
4 Majors and 2 World Golf Championships
Ernie Els (South Africa)
b. 17 October 1969 (1969-10-17) (age 42) 
3 Majors and 2 World Golf Championships (plus 2001 World Cup)
Vijay Singh (Fiji)
b. 22 February 1963 (1963-02-22) (age 48) 
3 Majors and 1 World Golf Championship (2008 WGC-Bridgestone Invitational)
Geoff Ogilvy (Australia)
b. 11 June 1977 (1977-06-11) (age 34) 
1 Major (2006 US Open) and 3 World Golf Championships
Darren Clarke (N. Ireland)
b. 14 August 1968 (1968-08-14) (age 43) 
1 Major (2011 Open Championship) and 2 World Golf Championships
Martin Kaymer (Germany)
b. 28 December 1984 (1984-12-28) (age 26)
1 Major (2010 PGA Championship) and 1 World Golf Championship (2011 WGC-HSBC Champions)
Stewart Cink (USA)
b. May 21, 1973 (1973-05-21) (age 38) 
1 Major (2009 Open Championship) and 1 World Golf Championship (2004 WGC-NEC Invitational)
David Toms (USA)
b. January 4, 1967 (1967-01-04) (age 44) 
1 Major (2001 PGA Championship) and 1 World Golf Championship (2005 WGC-Accenture Match Play Championship)
Mike Weir (Canada)
b. May 12, 1970 (1970-05-12) (age 41) 
1 Major (2003 Masters Tournament) and 1 World Golf Championship (2000 WGC-American Express Championship)
Martin Kaymer Profile:
Personal
Nationality: German
Born:  28th December, 1984 Dusseldorf, Germany
Height/Weight: 6ft 1/2 in/11st 9lb (184cm/74kg)
Lives:  Mettmann, Dusseldorf, Germany and Scottsdale, Arizona, United States
Other interests:  Football, basketball and go-karting
Career
Professional wins:
2011:
WGC-HSBC Champions, Sheshan International Golf Club, Shanghai, China
Abu Dhabi HSBC Golf Championship, Abu Dhabi Golf Club, Abu Dhabi, UAE
2010:
Alfred Dunhill Links Championship, Old Course St. Andrews, Carnoustie and Kingsbarns, Fife & Angus, Scotland
Ryder Cup, Celtic Manor Resort, Newport, Wales
KLM Open, Hilversumsche Golf Club, Hilversum, Netherlands
US PGA Championship, Whistling Straits, Kohler, Wisconsin, USA
Abu Dhabi Golf Championship, Abu Dhabi Golf Club, Abu Dhabi, UAE
2009:
Barclays Scottish Open, Loch Lomond Golf Club, Glasgow, Scotland
Open de France, Le Golf National, Paris, France
2008:
BMW International Open, Golfclub München Eichenried, Munich, Germany
Abu Dhabi Golf Championship, Abu Dhabi Golf Club, Abu Dhabi, UAE
European Challenge Tour
2006: Open de Volcans; Vodafone Challenge
EPD Tour
2006: Hockenberg Classic; Winterbrock Classic; ; Coburg Brose Open; Habsberg Classic; Friedberg Classic
2005: Central German Classic (Am)
Other Professional Landmarks:
November 2011 Became only the 10th player to win both a Major and a WGC title with his victory in the WGC-HSBC Champions
February 2011 Moved to career-high 1st in Official World Golf Ranking after reaching final of WGC-Accenture Match Play Championship final
January 2011 Moved to career-high 2nd in Official World Golf Ranking after Abu Dhabi HSBC Golf Championship victory
December 2010 Joint winner of Race to Dubai European Tour Golfer of the Year with Graeme McDowell
November 2010 Winner, European Tour Race to Dubai
August to October 2010 Recorded four wins in four consecutive appearances starting with his first Major and including the Ryder Cup.
January 2010 Moved to career -high 6th in Official World Golf Ranking after Abu Dhabi Golf Championship victory. First time in top 10 of OWGR.
July 2009 Won back-to-back in successive weeks at the French and Scottish Opens.
January 2009 Moved to career -high 34th in Official World Golf Ranking after Abu Dhabi Golf Championship victory. First time in top 50 of OWGR.  At the time, the only player under 25 years of age in the top 50.
November 2007 Became first German to win Sir Henry Cotton Rookie of the Year
October 2006 Earned European Tour card by finishing fourth in the 2006 Challenge Tour Rankings, despite playing only eight events towards the end of the season
photo credit: Zimbio.com 
Voice your opinion on Twitter @Golf4Beginners and friend us on Facebook