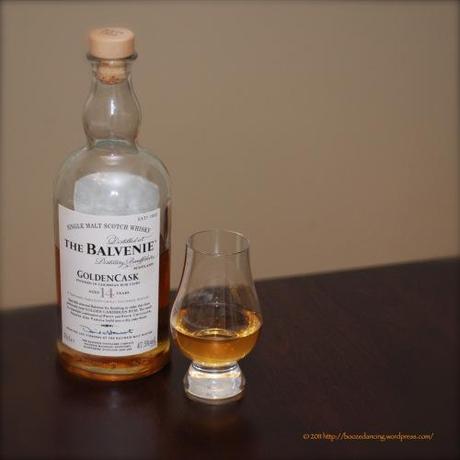 The Wookie posted a rather spooky photo of The Balvenie's GoldenCask 14 Single Malt Scotch Whisky yesterday. In his post, he mentioned that he would eventually follow up his photo with an actual review of this whisky. Ater sending The Wookie a quick note about his photo yesterday afternoon, we had the following text message exchange:
The Wookie: Need to follow with a review.
G-LO: Yeah ya do.
The Wookie: You should do. My taste buds are all messed up since I had some dental work last week.
G-LO: Surely! I can handle that.
The Wookie: That's what she said.
Since I am always willing to help out a fellow Booze Dancer, I graciously agreed to his suggestion. At around 7PM last night, The Wookie walked the bottle over in exchange for my Looney Tunes Golden Collection DVDs (he's working on some HalloWeinerFest related material).
As you already know, The Balvenie's Golden Cask is only available in Duty Free shops around the world. Here is what the distiller has to say about this whisky:
In the crafting of GoldenCask, Balvenie is carefully aged for many years in traditional oak whisky casks and then transferred into barrels that had previously held golden Caribbean rum for a final period of maturation. Characterised by fruity sweetness and subtle spice, The Balvenie GoldenCask is non chill-filtered and bottled at a strength of 47.5% ABV.
Let's explore this whisky…
Appearance: Golden, pale orange color. Thick, syrupy legs form on the inside of the glass after giving it a swirl.
Aroma: Light brown sugar. Bananas Foster. Vanilla. Dried fruit. Light scent of pipe tobacco. Hints of cinnamon and nutmeg. Adding water enhances the fruitiness.
Taste: Slick and slippery mouthfeel. Sweet rum flavors that tingle the tip of your tongue in the beginning. Moderate cinnamon spiciness that warms the center of your tongue towards mid-palate. As you approach the finish, light smokiness lurks in the background. Ends with a warm, sweet, and moderately spicy medium finish. Very pleasant, rum infused aftertaste. Adding water rounds out the flavors and tones down the cinnamon spiciness a bit.
The Balvenie's GoldenCask 14 is an absolutely delicious whisky! It's rich, flavorful, and extremely well balanced. The GoldenCask 14 has just the right amount of sweetness and spice, and there's even a hint of smoke to keep things interesting. If you happen to be cruising through a Duty Free shop, I highly recommend that you look for this whisky (per The Wookie, it was very reasonably priced).
I can easily imagine having this whisky with a luscious and creamy dessert like a Creme Brulee (I had a dram of The Balvenie's Caribbean Cask with this dessert at last year's Extravaganza, and it was an absolutely decadent combination), or just having it on its own with a fine cigar. I tried the GoldenCask 14 with a bit of Hershey's Milk Chocolate during this tasting, and the results were fantastic (think hot chocolate with a dash of cinnamon and a splash of rum).
Thanks again to The Wookie for lending me this fabulous Single Malt!