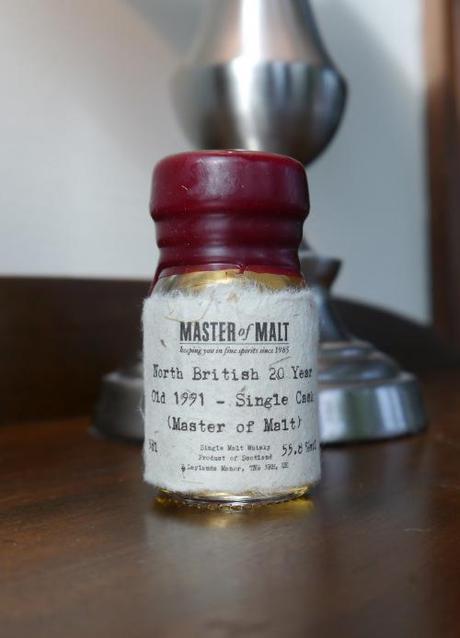 Photo courtesy of http://www.maltimposter.com/
A while ago, our friends at Master of Malt sent some samples for our reviewing. From among the pack, I chose a bottle from a distillery that I had never tried. North British is one of seven grain distilleries in Scotland. The distillery is jointly owned by Diageo and the Edrington Group. From the Master of Malt, the North British 20 is described as:
Intensely sweet, and still bourbon-like. There's just a soupcon of something else that confirms that this actually isn't bourbon, and is in fact a grain whisky! It's hard to describe what that something else is though. You've got all the classic US whiskey flavours in there, with a big corn oil note, and plenty of butter. Actually, there's something akin to buttered carrots done with just a pinch of ground cumin – that same kind of oily semi-sweetness and spice.


Huge and intensely spiced. Something vaguely malty on the finish too (which is odd!). Maybe even a hint of hops. Very sweet, all the way through though..
On this particular night, G-LO dropped by, so I split the sample and he offered his opinions as well.
LimpD
G-Lo
Appearance: Straw Pale Gold
Aroma: Grassy. Toffee. A bit medicinal with water. A hint of peppermint Herbal. Peppermint. Eucalyptus. Pineapple. Apricots.
Taste: Strong with a slight burn followed by a sweet, syrupy honey flavor. Really smooth. With water it is slightly more earthy, more minty Very smooth given the high ABV. Oily mouth feel. Not overly intense. Slight warming on your tongue and slightly herbal throughout. Soft pleasant aftertaste.
ABV: 55.8%
Thanks again to Master of Malt for sending the sample.
For more information about Master of Malt, click on the links below:
Website: www.masterofmalt.com
Twitter: www.twitter.com/#!/masterofmalt
Facebook: www.facebook.com/masterofmalt