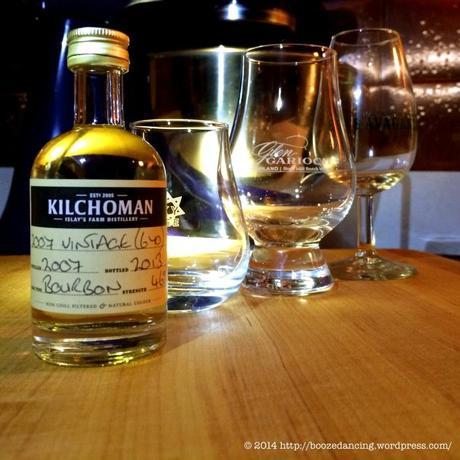 For those of you that are unfamiliar with the Kilchoman Distillery, here are a few brief facts:
The Kilchoman Distillery was built in 2005, making it the first new distillery on Islay in over 124 years.
They are one of the smallest Scottish distilleries and their annual output is approximately 120K liters of alcohol.
In addition to using traditional floor maltings, Kilchoman also grows its own barley rather than purchasing it from outside growers.
Prior to trying their 2007 Vintage expression, we have also tried the Machir Bay as well as a single cask bottling courtesy of the Jewish Whisky Company. If you've read our previous Kilchoman reviews, then you already know that we're big fans fans of this distillery. Here's hoping that our previous Kilchoman experiences don't cloud our judgement!
But before we get to our review, here is a bit of information about this Kilchoman expression which was taken directly from their website:
The 2007 Vintage is the latest release in the Vintages range. We have previously released the 2006 Vintage which was a vatting of five year old bourbon barrels. The 2007 Vintage is a vatting of six year old fresh bourbon barrels and is the oldest single malt we have released to date. 
And now for our impressions of Kilchoman's latest expression…
Appearance: Pale golden color.
Aroma

Limpd: Smoke but more like from a smokehouse than just peat. I get a lot of Hickory Farms up front and then more subtle notes of honeysuckle and mint.
G-LO: Lots of smoky, peaty goodness at the start. Once you get past that, there's vanilla, sea salt, powdered sugar, licorice, rosemary, and a hint of peppermint.

Taste

Limpd: A little thin at first, but then your tongue is enveloped with a balance of peat, salt and a velvety sweetness (more sugar than vanilla) leading up to a very mild, short finish.
G-LO: Very light mouthfeel. Starts off slow with all of those licorice and peat smoke notes front and center. Gets a touch spicy at mid palate with some wintergreen and white pepper type heat. Smoky, minty finish which is surprisingly mellow. Licorice and smoke lingers in the aftertaste.

ABV: 46%
The Verdict
Limpd: I shy away from Islay (with the exception of Bruichladdich and Bunnahabhain) as I find that the smoke is almost too overpowering. Over time, G-LO has dragged me (somewhat kicking and screaming) to Islay and while still not in my wheelhouse, I have developed and appreciation for what Ardbeg and  Laphroaig have to offer.  My first experience with Kilchoman was courtesy of Whiskycast and I liked the Machir Bay so much, I went and bought my own bottle. This second experience leaves me, once again, wanting more. This was a very well-balanced whisky and at only 46% is very mild mannered. As the relative new kid on the Islay block, Kilchoman has impressed me again.
G-LO: A kinder, gentle Islay is how I would describe Kilchoman's latest expression. It reminds me of the Compass Box Peat Monster, which is a very good thing. Gentle smokiness and subtle sweetness add up to an easy drinking whisky that should please both beginner and hardcore peatheads. Kilchoman is definitely a distillery to watch.
_______________________________________________
Many thanks to the good people at Impex Beverages for providing us with this very generous sample!