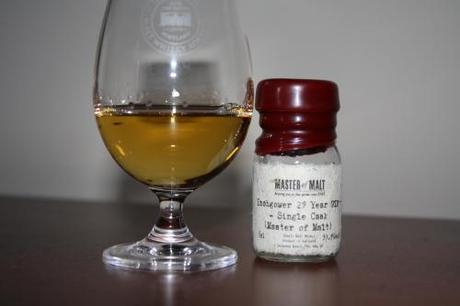 Awhile ago, the folks at Master of Malt sent a few samples our way and I selected the Inchgower 29 Single Cask as we divided the spoils. I chose the Inchgower because I had not tried anything from that distillery. It also didn't hurt that it was well-aged and a single cask. Inchgower is located on the outskirts of Buckie, Moray and is considered a Lower Speyside Malt. The distillery now part of the Diageo empire, had long been operated by Arthur Bell & Sons Ltd and remains the major contributor to Bell's blended whisky. Master of Malt obtained an Inchgower that was distilled in June, 1982 and then aged in a single refill hogshead until bottled by Master of Malt in November, 2011.
Here are the tasting notes for the Inchgower 29 from Master of Malt:
Nose: Very malty and sweet with hints of blueberry conserve, rhubarb crumble and custard. A touch of fizzy cola bottle sweets, sherbet lemon and cream soda. What a nose!
Palate: A sweet, creamy delivery much akin to a spoonful of runny honey, which warms the palate with more than a hint of nutmeg and stem ginger. It develops with dried apricot and toffee brittle, and a little pine needle tanginess builds late palate.
Finish: Long and creamy with Chantilly cream and punchy spices. A touch of potpourri on the tail.
I found the Inchgower 29 to have the following characteristics…
Appearance: Golden honey with a lot of legs.
Aroma: Alcohol, mint, menthol and smoke.
Taste: Sweet, syrupy, with a hint of mint, a powerful alcohol burn and then a creamy, buttery finish.
ABV: 53.9%
For a first experience, this was very nice. I would recommend a little water to cut the effects of the cask strength. With water, the astringent quality of the alcohol recedes into the background and the creamy, buttery, butterscotch flavors move more to the forefront as the finish softens. Once again, thanks to Master of Malt for another great expression.