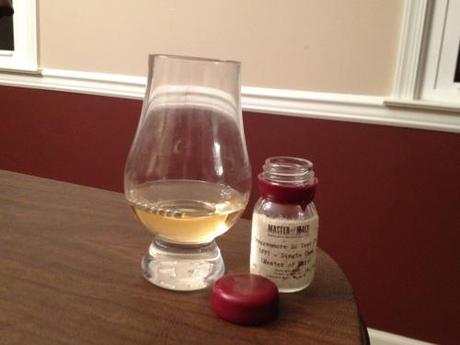 Way back in August 2011, our friends at the Master of Malt sent G-LO a nice sample pack as told by this post: http://boozedancing.wordpress.com/2011/09/08/whisky-review-dailuaine-27-year-old-1983-%E2%80%93-single-cask-master-of-malt/. As you can see, I'm really behind in getting to this review.
Here are my impressions of this whisky…
Appearance: The samples from Master of Malt always come in a nice 3cl bottle with the cap sealed in wax. The color is very light yellow or straw. A swirl around the glass leaves the glass evenly coated without hardly any legs at all.
Aroma: The aroma is fairly light for a whisky that is over 100 proof. It is not unusual for me sip on bourbons that are over 110 proof so for me, the alcohol was not overwhelming. If you are more accustomed to lower proof whisky, this might not be for you.
Taste: On the tongue it hits right up front. Even with the high alcohol content the flavor of the whisky comes through. The finish is quite long and extends deep into the back of the throat and finishes with a bit of smoke that is not normally found in the Speyside whiskys I normally drink. Adding a bit of water really opens up this whisky. The harshness of the first sip was replaced by a very smooth and easy to sip whisky that might be a bit too easy! What initially was an almost harsh rush of alcohol was replaced by a very smooth, almost sweet taste that was very warming on a chilly March evening. Anything over 100 proof that goes down this smoothly might get you into trouble if you're not careful!
ABV: 54.2%
Overall, I found the Cragganmore to be a very enjoyable whisky. Head on over to our friends at Master of Malt and order yours today!