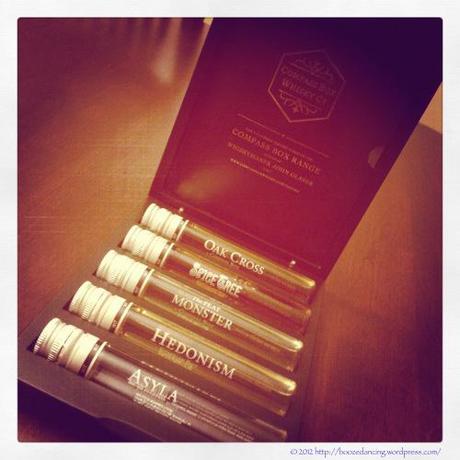 While browsing Compass Box's online whisky shop, I noticed the sampler set that you see in the above photo. This set includes five of their core expressions, presented in a black lacquered, clamshell box, and also comes with a tasting notes brochure. Although this sampler set was love at first sight, I was unwilling to part with the online price of $60+. But then about about two weeks ago, while shopping for a house warming present at Wine Works in Marlton, NJ, I noticed that they were selling this set for $40. All I can say is, "SOLD!".
$40 for 250ML may seem expensive, but when you consider the cost of sampling these whiskies at a bar, this is an absolute bargain. Here is what a dram of these whiskies would cost at The Cooperage in Center City Philadelphia:
Asyla: $14
Oak Cross: $14
Peat Monster: $20
Spice Tree: $20
Hedonism: $20
TOTAL COST: $88
See what I mean? BARGAIN! How could I possibly walk away from such a deal???
Let's get on with the first review from this sampler set, the Compass Box Asyla.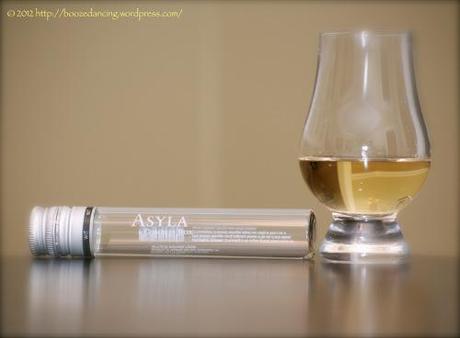 Here is what Compass Box has to say about their Asyla expression:
The ultimate "everyday," "before dinner" or "Sunday afternoon" Scotch whisky. With just a splash of chilled water, this blend of soft, sweet grain whiskies and elegant, refined malt whiskies epitomises "deliciousness" in the world of Scotch whisky.
And here are my impressions of this whisky…
Appearance: Pale golden yellow.
Aroma: Very light and fragrant. Green apple. Cut grass. Peppermint. Light corn syrup. A hint of menthol. It's like aromatherapy in a glass with all of those soothing scents going on.
Taste: Thin and watery mouthfeel. Coats your tongue with soft and somewhat peppery flavors. The black pepper intensifies at mid-palate as it starts to warm your mouth, but it never overwhelms. Somewhat short finish with more of that mild pepperiness, followed immediately by lighter herbal notes. Very clean and refreshing aftertaste.
ABV: 40%
The Asyla is a much lighter bodied whisky than I normally drink. Although I usually drink my whisky neat and at room temperature, I can completely see myself enjoying this whisky the Compass Box way, i.e. they recommend having this whisky as an "an aperitif served in a white wine or similar glass with chilled water to taste".  Their Asyla is exceptionally smooth, well balanced, and very easy drinking. This would be a great warm weather dram, and it would be a perfect whisky for the infamous Limpd Whisky Water Libation ™. Overall, a very good whisky!
Advertisement