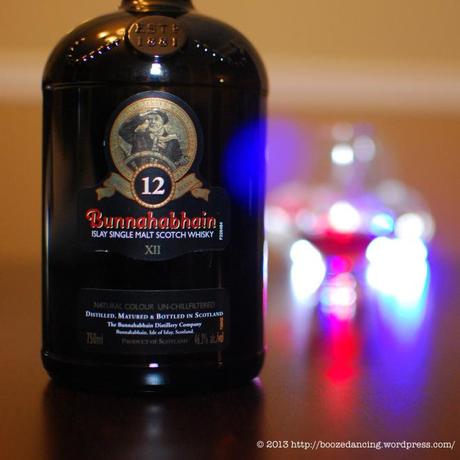 While Limpd is not the biggest fan of the classic Islay whiskies (the intensely smoky ones), he has found his way to Islay on numerous occasions thanks to the Bruichladdich and Bunnahabhain distilleries. I'm pretty sure that at one point he had a bottle of the Bunnahabhain 12 in the rotation, but I can't say that I spent all that much time with it. I know that I definitely liked it, so when it came time to pick up a new whisky, I decided to pick up a bottle of my very own.
Here is what Bunnahabhain has to sat about their 12 year old expression:
Bunnahabhain 12 year old Islay Single Malt Scotch Whisky has been re-introduced as an un-chillfiltered spirit, a move which has excited whisky lovers and experts from across the world. With the move to un-chillfiltered, the packaging has been revised to complement the new expression. Smoked oak glass has replaced the traditional emerald green of the 12 year old bottle, with dual labelling conveying an overall sense of speciality, subtlety, confidence and luxury, reinforcing the premium quality and heritage of the brand. A revised neck label has been developed displaying the product's age. 

The nose offers a fresh and aromatic experience with a subtle whiff of smoke floating through the air. The taste starts with a light fruit and nut appeal that leads to a spectacular malty sweetness, finishing into a beautifully rich full-bodied, lingering experience.
And now for my impressions of this whisky…
Appearance: The color of 100% Maple Syrup, i.e. dark amber.
Aroma: Very rich smelling with oodles of sea spray, brown sugar, allspice, caramel, and, cinnamon. And there's one more thing. This past week at work, someone has been toasting up some blueberry bread as a snack, and since my office sits about 12 feet from the toaster oven, I've had to smell it all week long (you'd think they would have offered me a slice!). That being said, there is a definite fruitiness coming through on this whisky, and since I can't get this blueberry smell out of my head, I'm going to say that there is a hint of fresh baked blueberry bread in there too.
Taste: Medium mouthfeel with just a bit of an oily texture. All of that sweetness in the nose is right there in the beginning with lots of brown sugar and vanilla. The baking spices kick in at mid-palate with prominent cinnamon, clove, and ginger spiced heat. It all comes together at the finish which is when you really get the Sherry influence on this whisky via lots of dried fruit and spice along with a slightly bitter aftertaste.
ABV: 46.3%
I first opened up this bottle of the Bunnahabhain 12 back in mid-January. While there are some whiskies that take a bit of time to get used to, this is definitely not one of them. I enjoyed this whisky immediately thanks to its smooth, rich flavors and high drinkability (in moderation of course!). Although I don't usually make repeat purchases, there are a few whiskies out there that I would (a) buy on more than one occasion, and (b) recommend to others or give to someone as a gift. The Bunnahabhain 12 is one of those whiskies. Great stuff and highly recommended.
______________________________________
For a brief history of the Bunnahabhain distillery and yet another review of their 12 YO expression, check out the Chemistry of the Cocktail blog.