As a lover of the Catlins coast and a fan of both Bohemian and Scottish flavoured weddings, I only had to see a single image of today's wedding by Dunedin based photographer Sinead Jenkins, to know it would be PERFECT for P&L. Jasper & Tarryn's big day is one of a kind, so I will leave you in the hands of talented photographer Sinead to tell you more about it...
"This wedding was a labour of love in every sense of the word. The ceremony and reception were held at Pounawea Accommodation Centre, run by Tarryn's beloved grandparents. They, along with family helpers, transformed an enormous area of overgrown brush into a beautiful tree-lined forest wedding setting. The reception was on the same grounds, in an old hall attached to the venue, that Tarryn had meticulously made over into her dream of a delightful gypsy paradise.

They had a vague theme for the wedding that was 'Whiskey and Wildflowers', referring to Jasper's Scottish heritage, and Tarryn's gypsy alter ego. There were dreamcatchers, teapots mixed with the family tartan, a sword to cut the cakes (all handmade by Tarryn's dedicated mother), bird's nests, greenery, wild flowers, and my favourite - tiny deer adorning the wedding cake."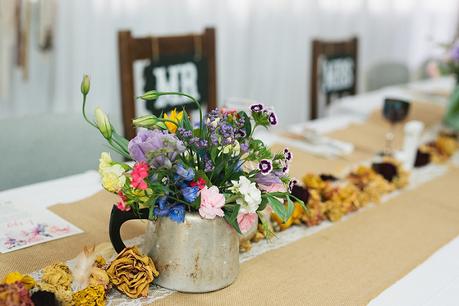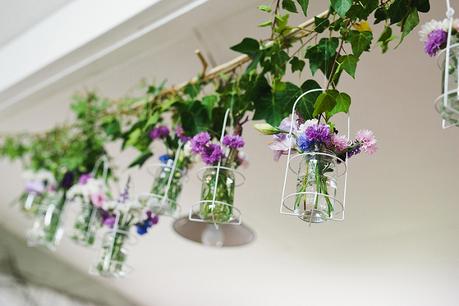 How did you meet?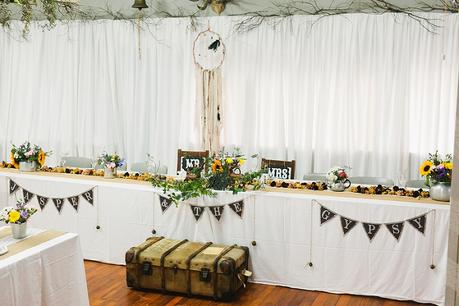 In three words describe your wedding style...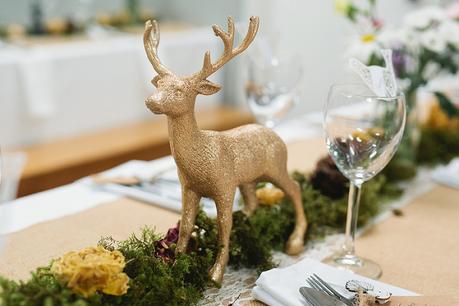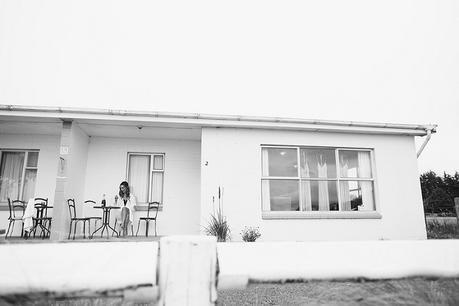 Did you have hens/stag nights?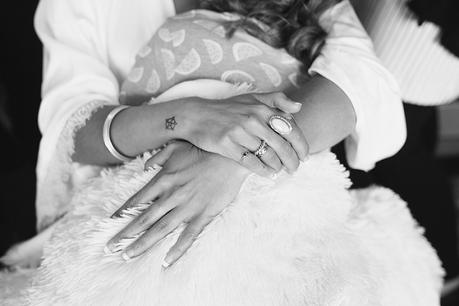 What were your save and splurge items for your wedding?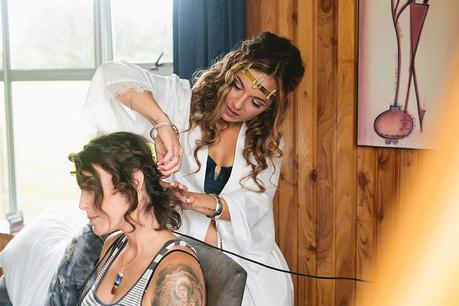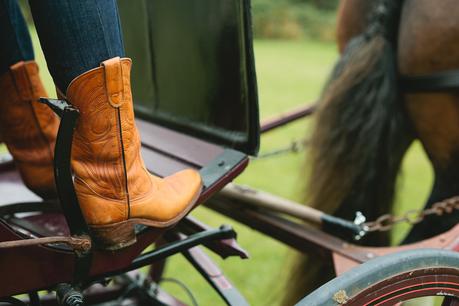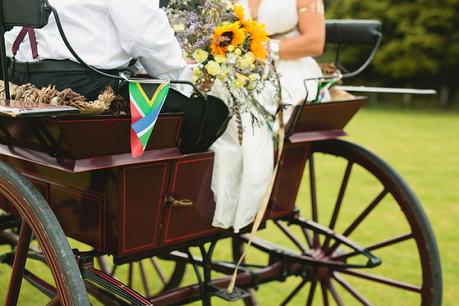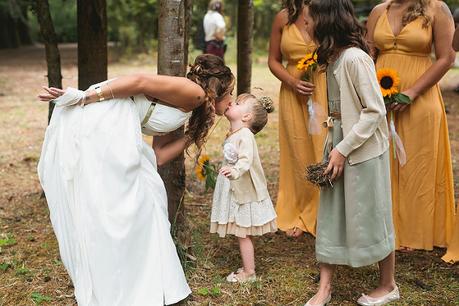 What music did you play for those special moments?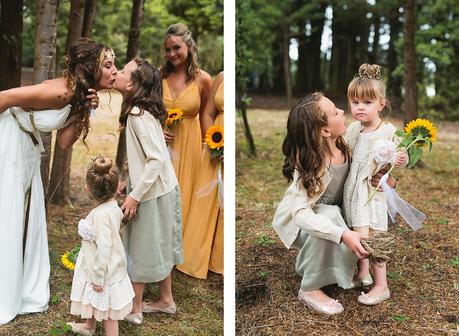 Did you DIY? If so, what did you do?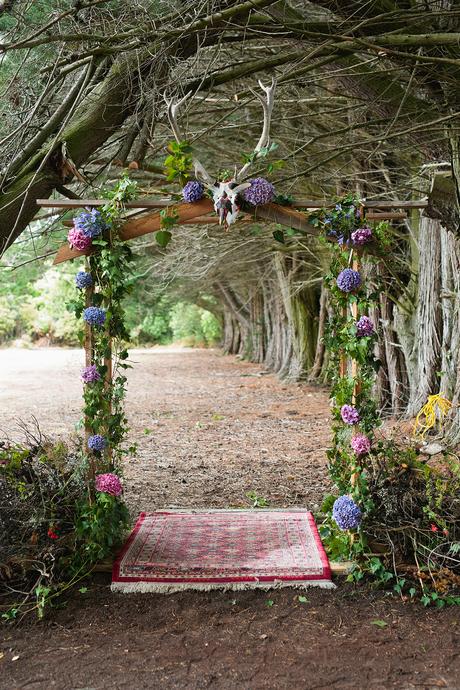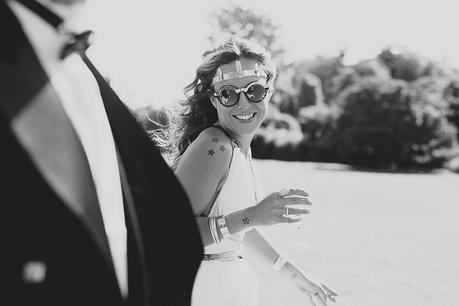 What was the most difficult part of planning your wedding? And the most fun?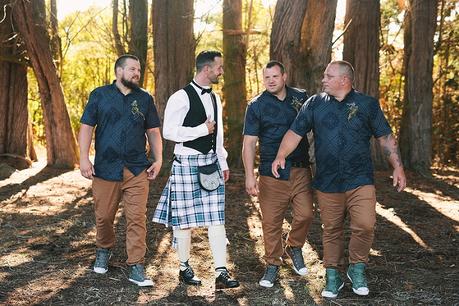 Do you have any money saving tips for engaged couples?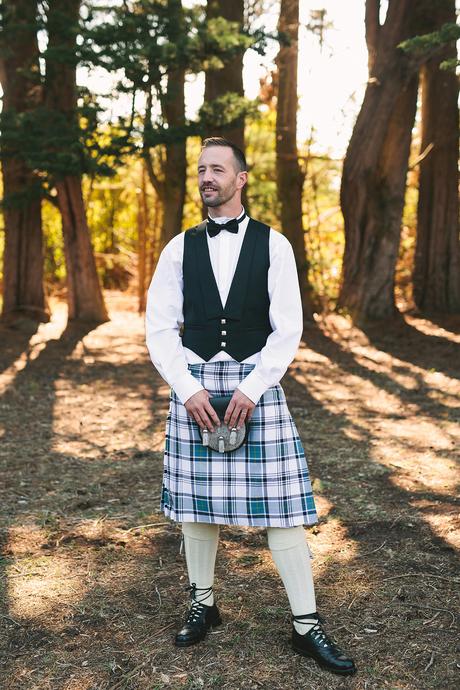 Where did you go for your honeymoon?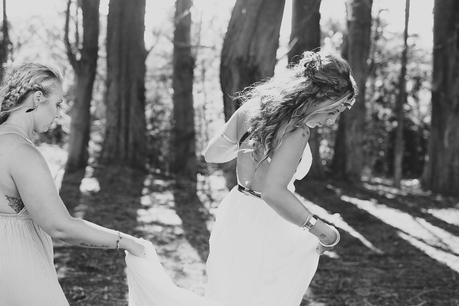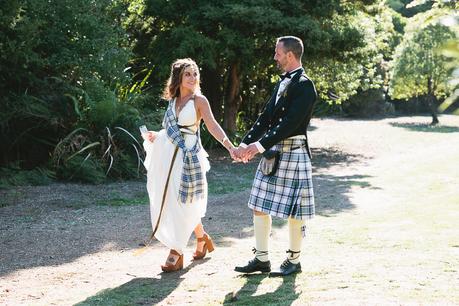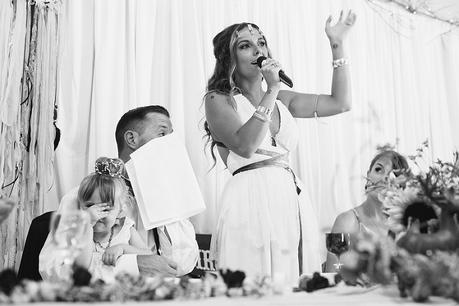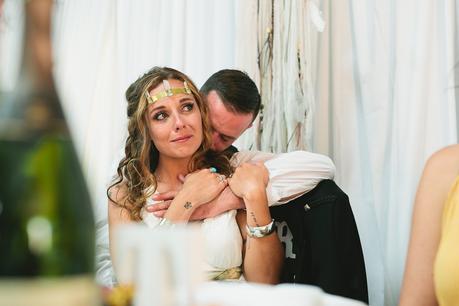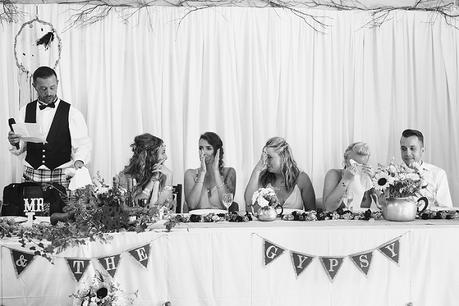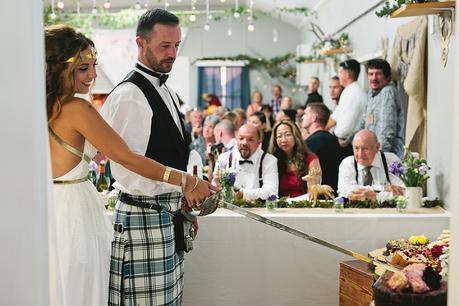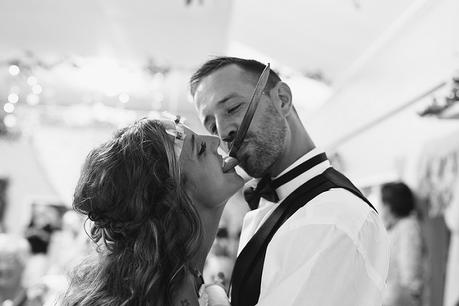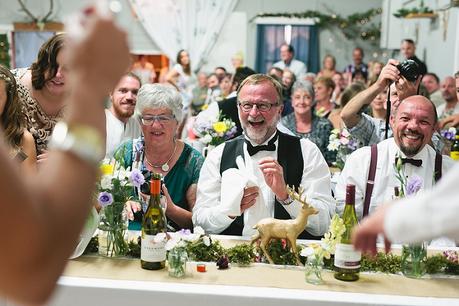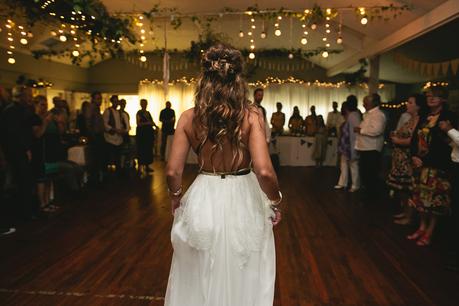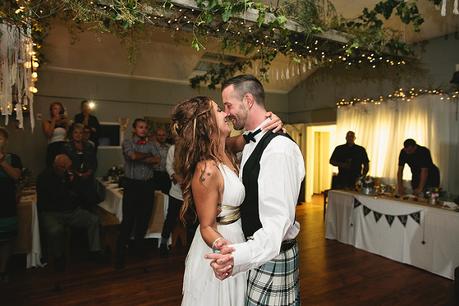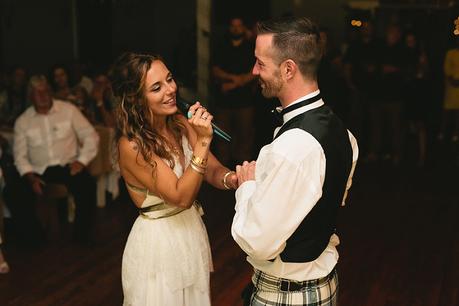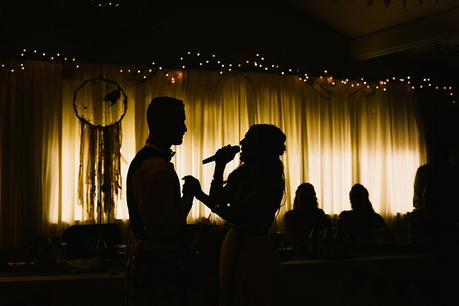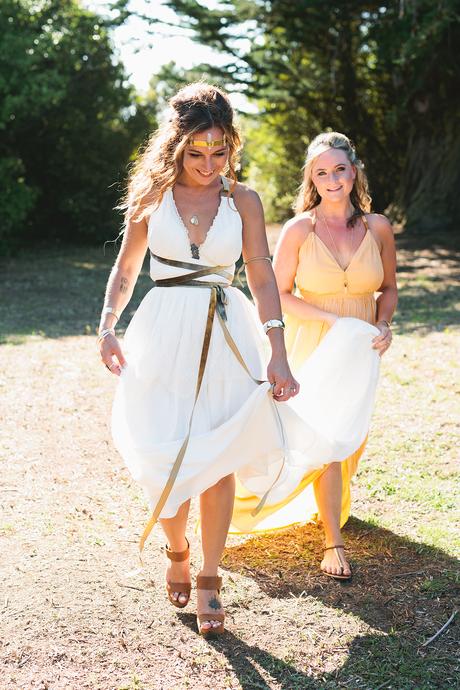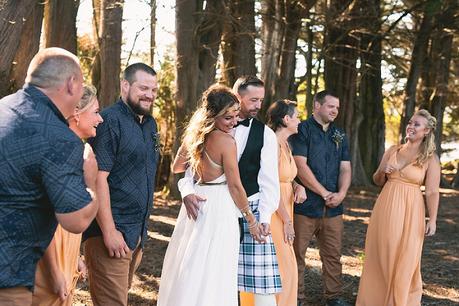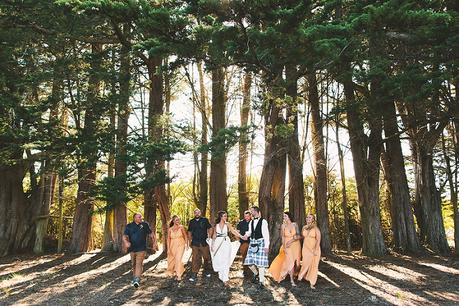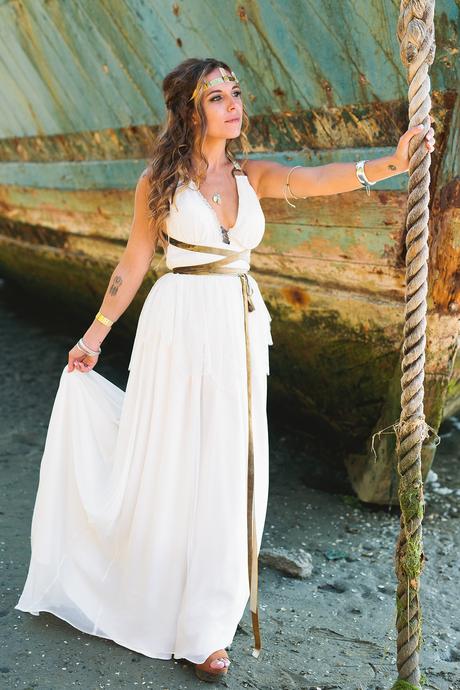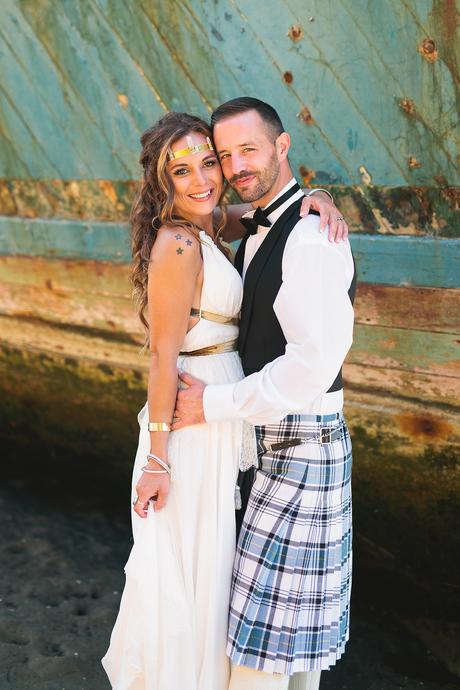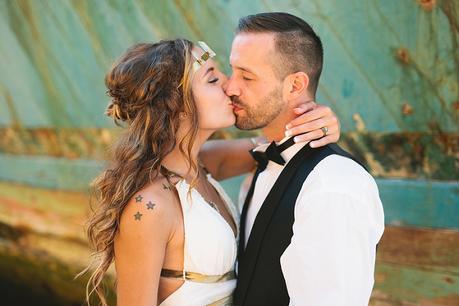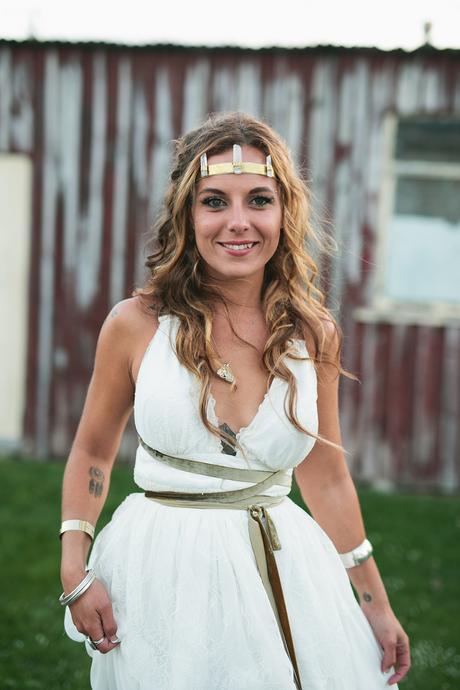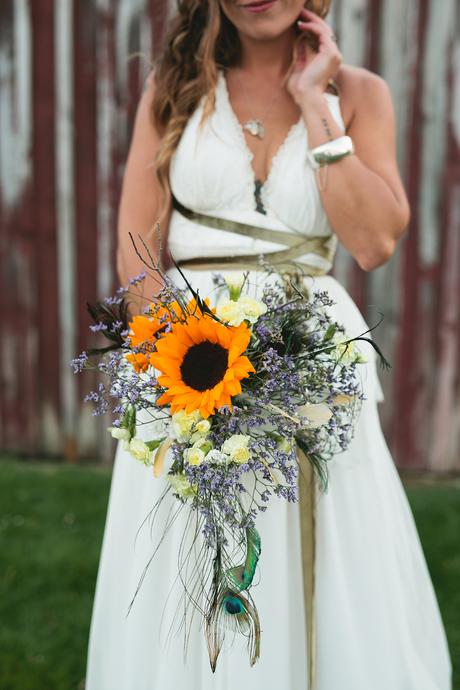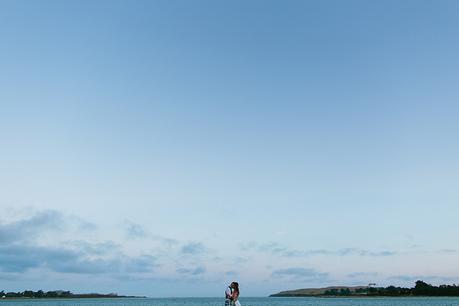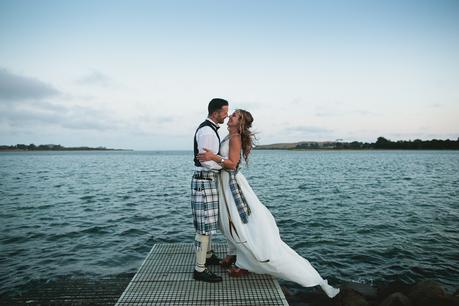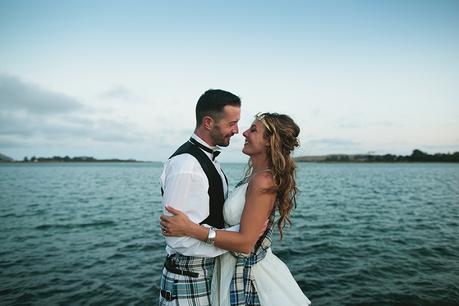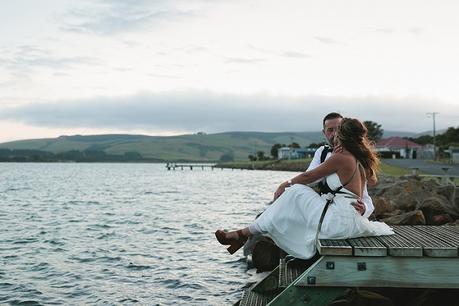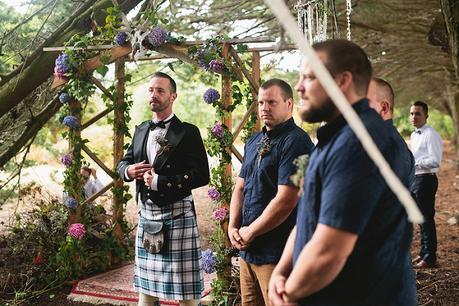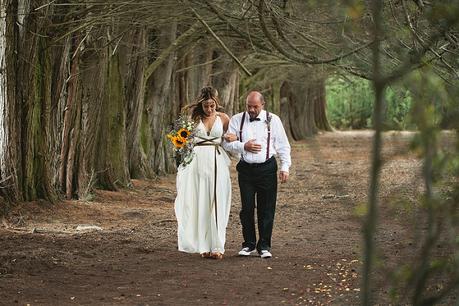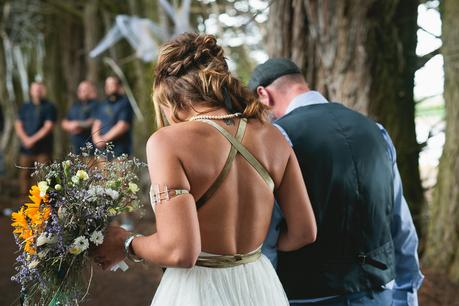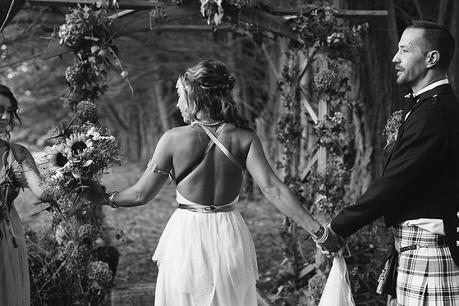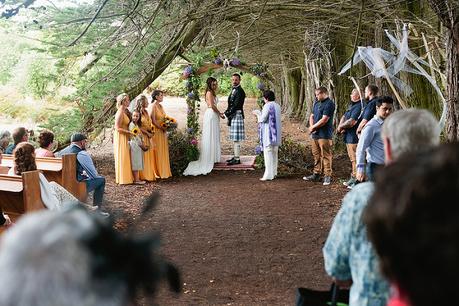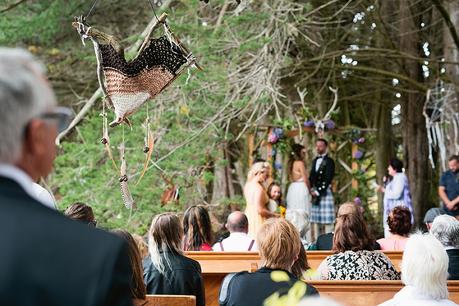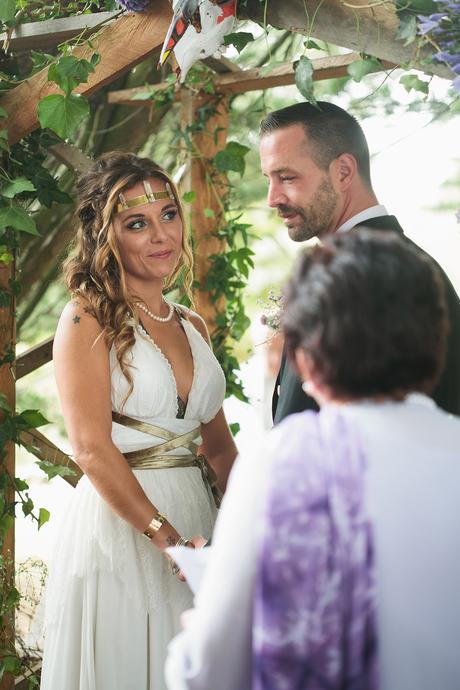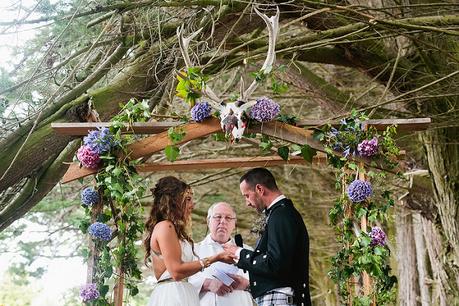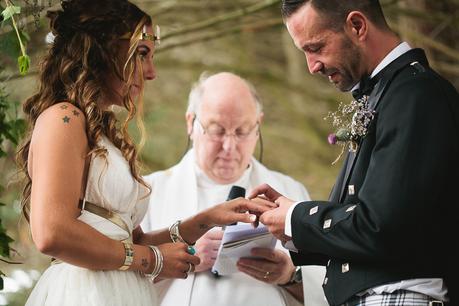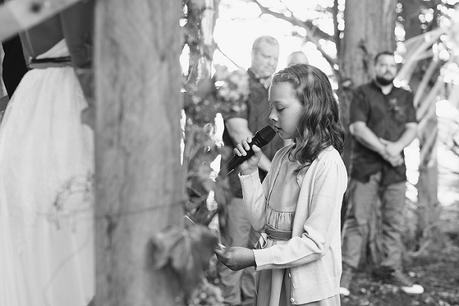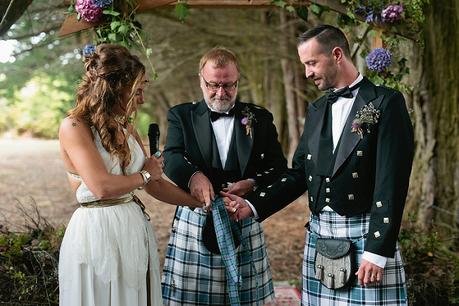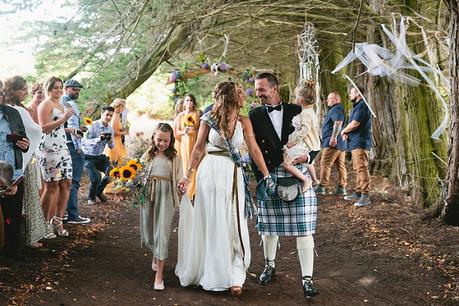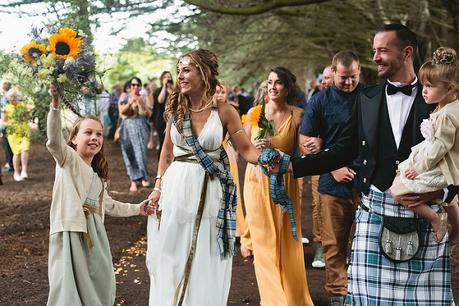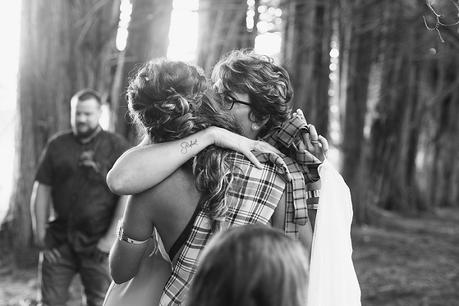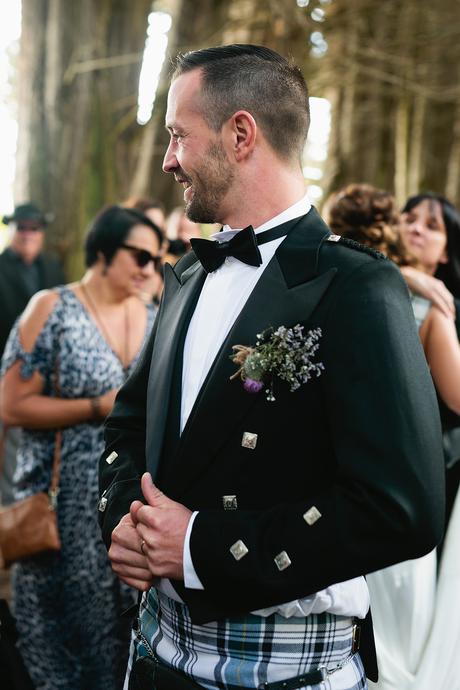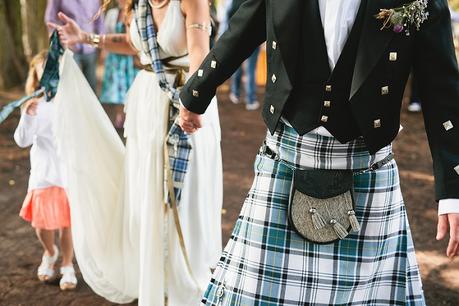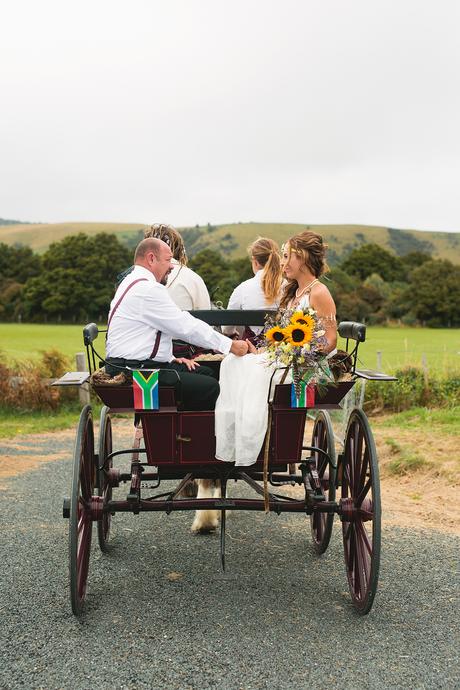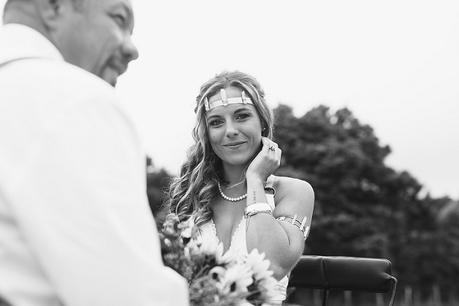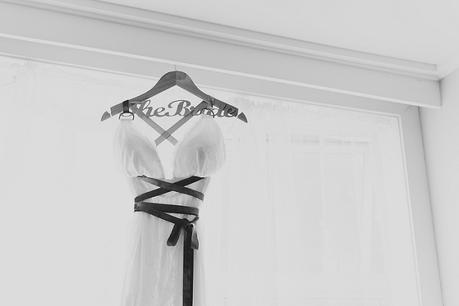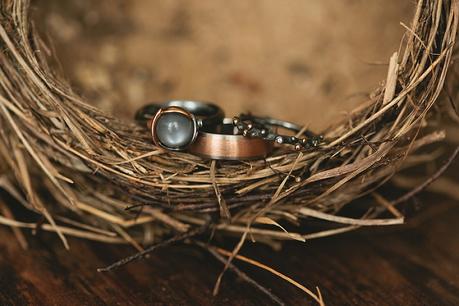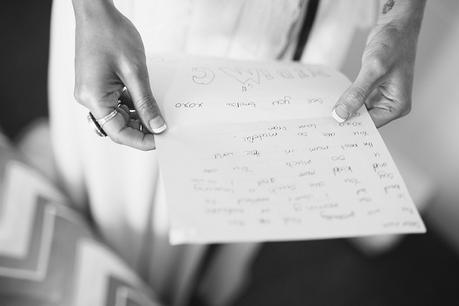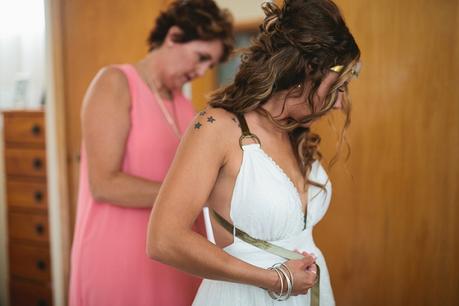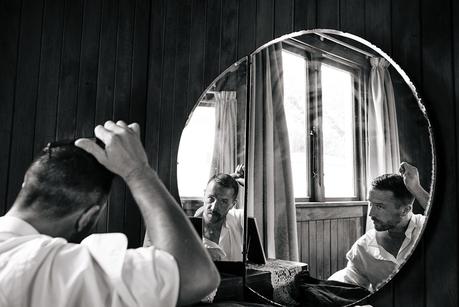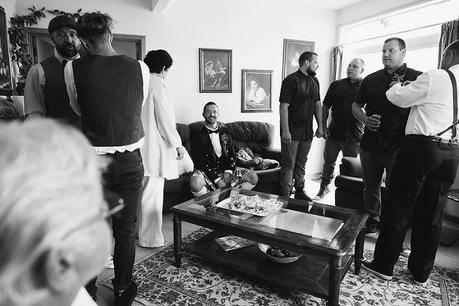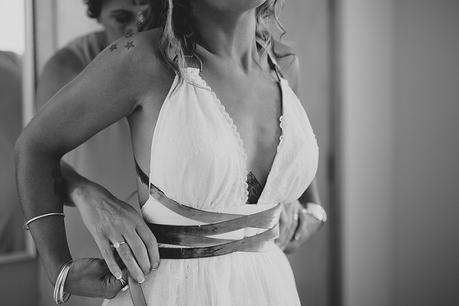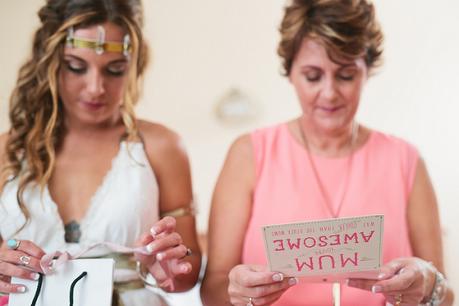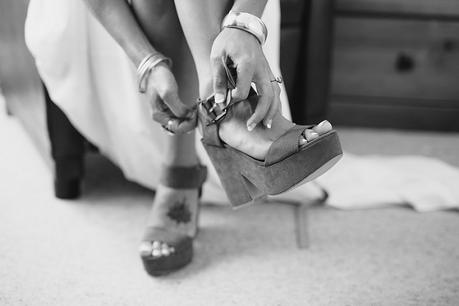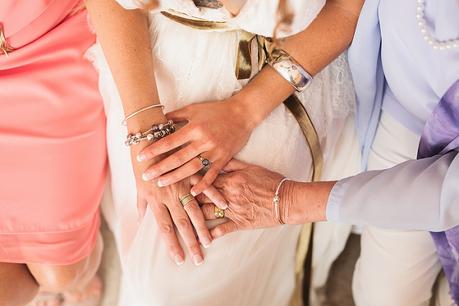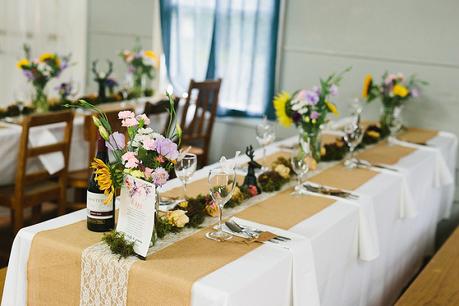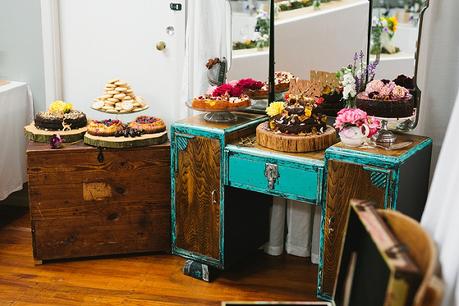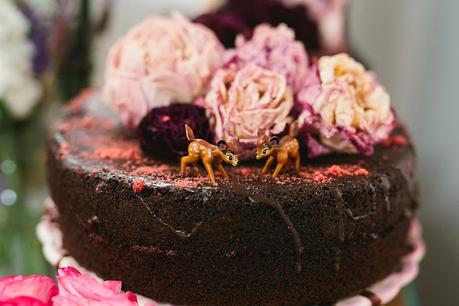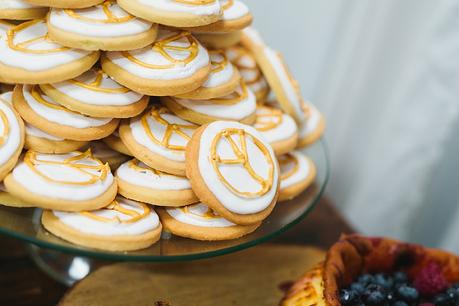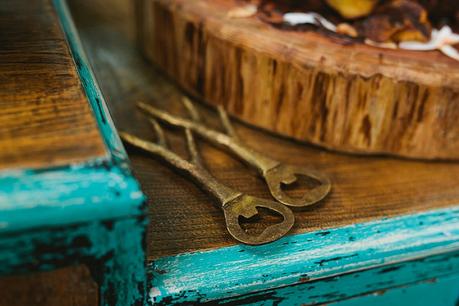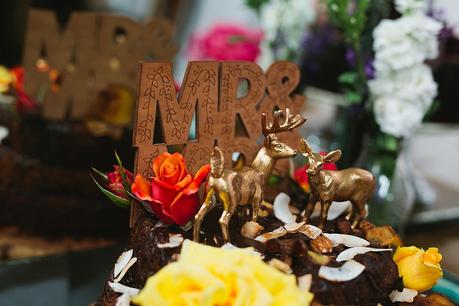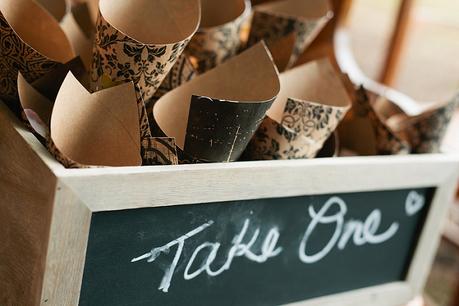 Who Jasper and the Gypsy (Jasper and Tarryn Hannay)
Where My secret forest in the Catlins, Southland
Guests 110
Budget $15,000 (or thereabouts- lots was done by us and I didn't use many vendors)
As a Tinder experiment! He calls me Tinderella but we chatted on Facebook and on the phone for a few weeks before meeting in person... I knew from the first time I saw him (in all his 6.2ft glory) that I was going to marry him!
Bohemian, Scottish, Rustic
Yes, my mum and bridesmaids planned my hens, it was a morning at the spa followed by a Moroccan themed shindig at my mums beautiful house, and Mum even organised Ashley Tonga as our entertainment... it was the best hens party! My husband got taken out by the boys, clay bird shooting, hitchhiking from Orewa to Silverdale in his outfit, then he jumped off the Sky Tower and then went to pubs etc where he did his challenges, they dressed him up in a granny version of a Hooters costume called "Droopers" complete with saggy rubber boobs. The things they got him to do were hilarious!
We did everything on a bit of a budget and enlisted the help and talents of family and friends so we didn't really have many splurge items. The biggest save was not paying for our venue as it was on the property my Grandparents run and are caretakers for.
I was taken into the forest by horse and carriage, and an awesome local couple that run a riding school down the road offered to bring their cart and beautiful Clydesdale called Angel to take me through the forest. They even dressed up in their own Tartan and put ribbons of tartan in Angel's mane too... It was the Gypsy entrance I always dreamed of! We just used cars from family and friends but didn't do much driving as it was all in walking distance in Pounawea.
I walked down the aisle to Ed Sheeran Tenerife Sea, we did a Scottish hand binding to a bagpipe song called Finlandia, Our eldest daughter Ava sang us Photograph in the forest (because I am a photographer so she thought it was fitting) We walked back down the aisle to My Girl by the Temptations and we walked with our girls, we each have a daughter so it was a nice symbolic song for us. Our first dance was Who You Love by John Mayer and Katy Perry, and to end the night I sang for my new husband Is This Love (originally by Bob Marley as I am his number one fan haha, but I did the bluesy/jazzy cover by Corinne Bailey Rae.
Where do I start... It was a LOT of DIY from invitations to every detail in our reception. A big family affair and lots of friends helped too, but I class them as family too 🙂
It was all fun, my mum and I did it together and my grandparents were very involved too - my Oupa is a carpenter so he built a lot of things for us, our altar being one of them. The most difficult part would be planning a wedding in another city. We live in Auckland and our wedding was in the South Island in the Catlins so I didn't get to meet with vendors easily nor did I get to have hair and makeup trials etc. And orchestrating 110 people was a mission especially helping out with accommodation, transport etc as the venue was a 2 hour drive into the wop wops from Dunedin airport.
Plan - PINTEREST!!!! and research and enlist the help of anyone who has any skills and wants to be involved, do as much as you can yourself. It is a good way to make your day truly 'YOU' with an injection of your own personality too as well as saving on costs.
Noosa, Queensland
CREDITS
Photographer The amazing Sinead Jenkins and also Ben Benvie
Planner/Stylist My mum Michelle Wells and myself
Flowers Bought at market and all done by my mum and my Nanna, My Nan- Jean Lawson made my bouquet and the button holes (with thistles we picked in the forest as this is the Scottish flower) and My mum and Nan and my Aunty Colleen did all the tables and arrangements tirelessly the day and night before. We also gathered Ivy from the walls of their cottage down the road which we twirled around old ladders suspended from the ceiling... It was very handy having a big old forest full of beautiful greenery and flowers that we gathered and placed everywhere we could find a spot!
Venue The last official function at Pounawea Accomodation Centre (it is under new ownership as of June) and the ceremony was in my "Green Cathedral" the Forest in Pounawea on my Grandparents' property, they spent 10 months tirelessly working on clearing the forest with help from some of the locals, my Grandad even lugged branches in the snow on his little quad bike!
Catering Kerry at Professional Caterers.
Stationery & Signage Bought from all over, mostly made and hand painted etc
Hair & Makeup My hair and makeup was done by Annalysse Mitchell, and my bridesmaids and flower girls' hair and makeup was done by my talented cousin Tyla, I also assisted with my bridesmaids hair 🙂
Cake My beautiful and talented mother made ALL our cakes!!!! The main cake was a pear, hazelnut and chocolate cake. She added dried flowers and little deer figurines that she collected from all over the place!
Celebrant We had a local Reverend - a friend of my Grandparents officiate our ceremony and do the legal parts, however my Nana and my Grandad from my fathers side did a lot of the ceremony and also my Father in Law did our Scottish blessing and hand binding.
Dress My dress was drawn up and designed by me, and made by a good family friend and the most amazing dressmaker Charmaine January, she made my daughters dress too. (she has made every special dress I have ever worn since I was 16.)
Accessories Accessories were from all over, mostly online, my head band (actually a hat band) and my arm band were from Child of Wild.
Bridesmaids Dresses Bought from Glassons and tweaked and changed by us with leather and beads etc, some alterations done by Charmaine too.
Grooms Suit & Accessories My husband wore genuine Scottish getup! His kilt and jacket were custom-made for his giant size will all the little accessories, sporran and all, were sent over from Scotland! Made with the Hannay clan Tartan. I also had a Hannay Clan Tartan sash which he pinned on me once we were officially married as a way to enfold me in the clan colours.
Rings My rings were from Timmermans, made by Danish designer Ole Lynggard and are from her nature range (they are a combination of silver with a patina, rose gold and yellow gold, I have small diamonds and a big grey Moonstone as I am not really a bling bling type of girl), Jasper's ring is from Walker and Hall - Titanium and Rose Gold.
Music My brother-in-law did our Music with play lists we had made on Spotify.