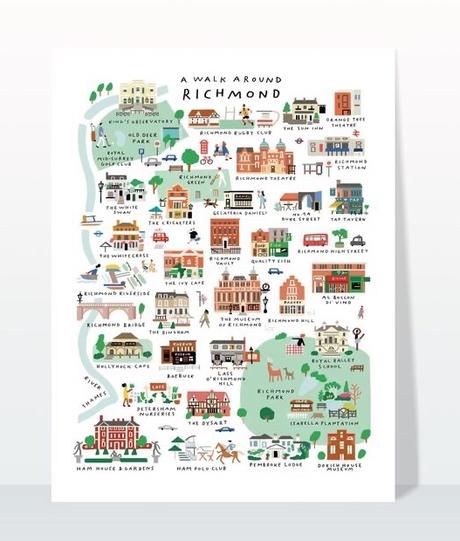 Just take some time to rest your eyes through the Green, and notice how pretty it is - oh deer that park, the royal ballet school, the Riverside and the boats, The Cricketers, the pet dogs...
Then maybe make your way to a bakery, an italian restaurant, a polo club, see some horses, Pembroke Lodge, a royal observatory, a museum, a garden centre, or a golf club.
If that's too much, don't worry - and don't let the etimology of its name put you off! Richmond also has got a rugby club, it's fish n chips shop, old phone cabins and an old bridge over the Thames river with ice cream vans in summer. So, I wonder, what's not to love? Richmond is somehow like a whole English experience condensed in a south London neighbourhood...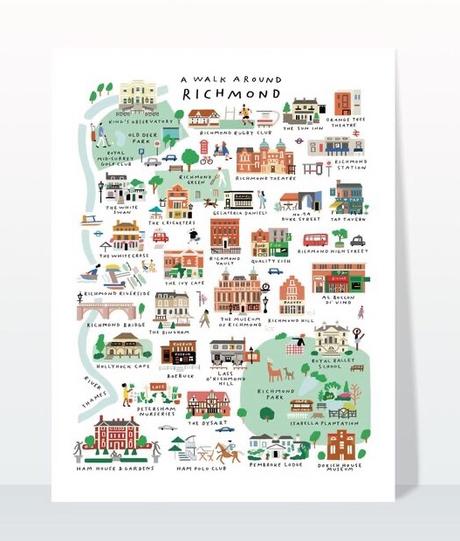 Map Illustration and hand lettering of Richmond's popular landmarks and places (2021) Walk Around Richmond glicee print (30x40cm without the frame) From Place in Print
PS. Good news! You can now check out the whole collection of South London neighbourhood area maps here