Radiator valves come in lots of different shapes, sizes and styles. Choosing the right ones might seem like a simple task, but there are a few things to check before you make a purchase.
Which radiator valves you need depends on three factors:
Where your pipework comes from.

Where the radiator inlets are located.

What style you're looking for.
Follow these three simple steps to make sure you get your radiator valves right first time.
3 Steps To The Right Radiator Valves
Check Your Pipework

1

The first thing you need to do is look at where the central heating pipes are coming from.

For example, do they come up from the floor or out from the wall? Do they run along the wall or come straight out?

This will be different for every home and there are a few unusual cases to keep an eye out for too!

Remember: If you're simply replacing an existing radiator without moving the position, the pipework won't change. So, checking the pipework is easy. Just look at where they are currently coming out of the wall or the floor.

But you might be getting a new radiator and installing it in a different part of the room to your existing one. If that's the case, you can choose where you want your pipework to come from. Or, ask your plumber where they would advise before you choose your valves.

Find The Radiator Inlets

So, you've checked your pipework and found your new favorite radiator. The next step is to look at where the inlets are located on that nice new radiator.

The inlets are where your valves will connect the radiator to the pipework. Therefore, it's important to look at where and how they will connect as this will determine which shape valve you need.

Most radiators have valve inlets at the bottom of the radiator on each side.

Some might have middle connection valve inlets. Unsurprisingly, you'll spot these in the middle of the radiator underneath.

Others may have inlets underneath at either side of the radiator. There are lots of options so make sure to check where yours are.

2

Find The Radiator Inlets

Choose Your Shape & Style

3

Now you've done the groundwork, you can use this knowledge to help you find the perfect valves for your radiator.

Radiator Valve Shapes

There are a few different types of radiator valve and they all do the same job. The name just describes the shape of the valve and how it connects the radiator to the pipework.

For example, angled radiator valves connect the pipework to the radiator at a 90-degree angle. Straight valves have no bends or curves and connect the pipework either horizontally or vertically. H-block valves are H-shaped to join the pipes and inlets that sit close together on middle connection radiators.
Radiator Valve Shape
Use the table to find out which shape radiator valve you need.
Radiator
Bottom Inlets
Side Inlets
Middle Inlets
Pipework Through Wall
Angled/Corner
Angled/Corner
H-Block
Pipework Through Floor
Straight
Angled/Corner
H-Block
Pipework Along Wall
Straight
Straight
Angled/Corner
Angled or Corner?
Angled and corner valves are essentially the same shape so they can be used interchangeably. The choice is more form than function. Some people prefer corner valves for their neat, streamlined look and space-saving design.
Radiator Valve Style
Now for the best part. Once you know which valves you need you can decide which valves you want.
Whether you want to complement your period décor with a classic antique style tap. Or, create a contemporary minimalist finish with simple chrome valves. The choice is over to you to pick a style that suits your home.
Previous
Next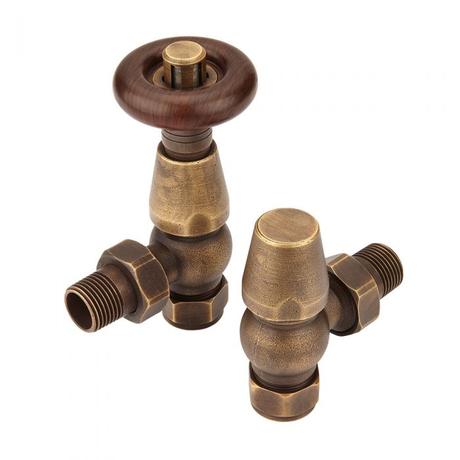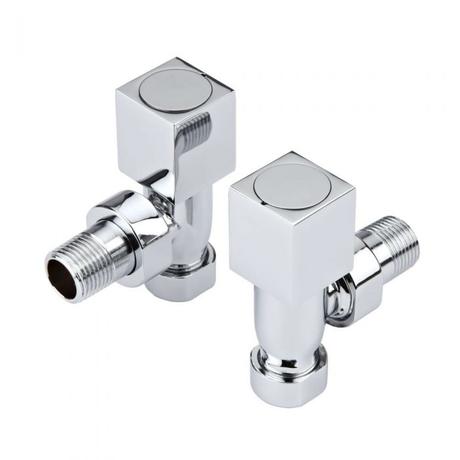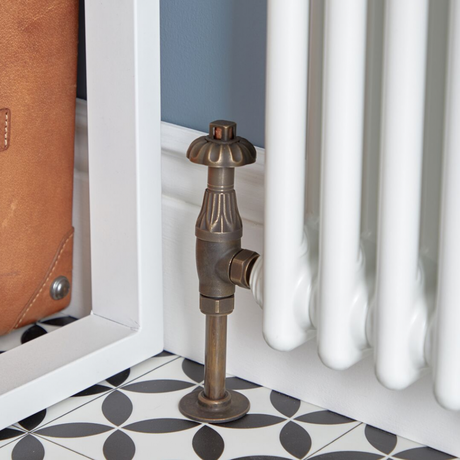 FAQs
Another thing to consider before buying is whether you want manual or thermostatic valves. You'll find that whatever shape you need you will have a choice of both manual or thermostatic. But, what's the difference?
What Are Manual Radiator Valves?
True to their name, manual radiator valves must be manually adjusted to control the temperature of the radiator.
Just like a tap, simply turn the valve by hand to allow the water (central heating) to pass into your radiator and increase the temperature.
Manual valves are really easy to use. You just have to remember to turn them off and monitor your heating bills.
What Are TRV Radiator Valves?
TRV radiator valves stand for Thermostatic Radiator Valves. These valves give you more control over the temperature in the room and help to reduce your energy consumption and heating bills.
TRVs work by sensing the air temperature around the radiator which allows them to close and stop the flow of water to prevent the room from getting too hot.
TRVs are available as angled or straight radiator valves. There are also other TRV varieties such as H-block and corner valves.
Can I Put Thermostatic Valves On All Radiators?
You should not use thermostatic radiator valves (TRVs) in the same room as the wall-mounted thermostat.
If both thermostats are in the same area they will compete to increase and decrease the radiators heat. This means that the room might not reach the ambient temperature that you want.
Some boilers require one radiator without a TRV to keep the system working correctly. Having at least one non-TRV will ensure a minimum flow of water through the boiler and prevent any damage.
It is also best to avoid using TRVs in the bathroom as the heat in that space can cause the capsule to expand and shut the TRV down.
What About Towel Rail Valves?
Heated towel rails work in the same way as radiators. So, to find out which valves you need for your towel radiator follow the same three steps we mentioned earlier.
Most heated towel rail inlets are located underneath the rail at the bottom on each side. But, make sure to double-check before you pick your valves.
Ready To Pick Your Valves?
Now you have the idea, all you need is the gear! Browse our extensive range of radiator valves with our three steps in mind and you'll find your ideal valves in no time.
For more info on the different types of valves and FAQs head over to our Radiator Valve Guide.