Do you mix patterns?  Does everything have to match?
It's not something a lot of people feel comfortable doing as you can easily feel that going wrong is so easy.  Yet there are a few patterns that you can easily mix with other patterns, these the the ones that mix with everything.
So if you're feeling a little daring or bored with your style and want to try some pattern mixing, here are my tips on the patterns that mix with anything.
Your Foolproof Guide to Mixing Prints and Patterns
Consider the Scale
When you are mixing prints, ideally you want to vary the scale from one print to another.  So a larger scale print with a smaller scale print, rather than two prints of the same scale.
Consider the Density
Another way of making prints work together more easily is to find prints with different densities.  So a dense print with a sparse one.
Consider the Colours
The colours in one pattern should mix with the colours in the other.  There needs to be at least one colour in common (ideally more) and the intensity of the colours should match in both prints (don't mix a bright coloured print with a muted colour print).
Consider an Accessory
If you're new to mixing prints, using an accessory is an easy way to mix two prints  – scarves and even a necklace (like I've done with this tiny check button on the necklace with this leopard print sweater.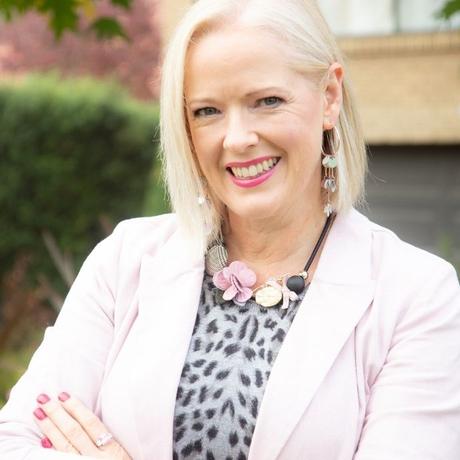 Which are the Patterns that Mix With Anything?
Stripes
These are one of the standouts for mixing with any other sort of pattern.  I remember an interior decorator once telling me that she treated stripes like they are a solid colour when designing her interiors.  And it works with putting outfits together as well.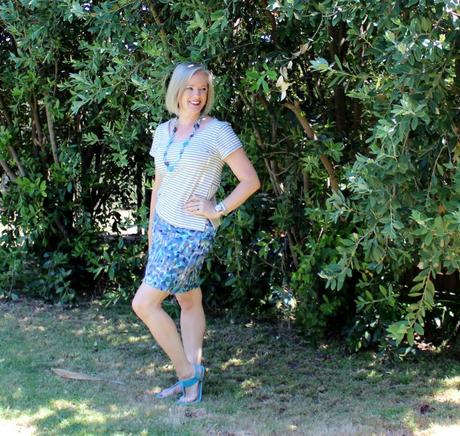 In fact, I've written a whole blog post on how to mix stripes with lots of other sorts of prints and you can read it here (plus it's got heaps of visual examples to inspire your outfits).
Checks
Similar to stripes, checks are another easy to mix pattern.  You will see in men's business-wear a check shirt mixed with a pinstripe suit. Just beware to mix checks and stripes of different scale rather than the same (if you are mixing checks and stripes together.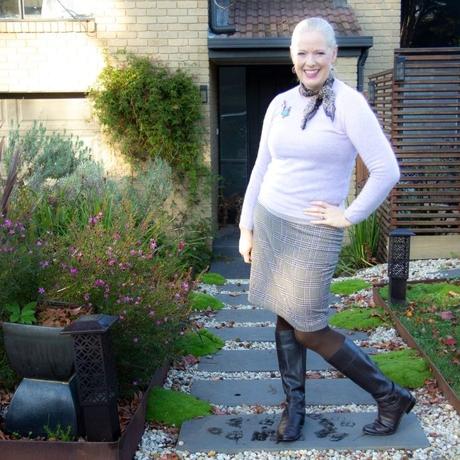 Checks can also easily be mixed with florals and animal prints and more abstract prints too.  A super simple way to mix prints is to put a solid colour in between them (as I've done with this check skirt and leopard scarf)
Here I've mixed my check pant with a star pattern denim jacket.
Why not add in a third print if you're feeling more daring?  It's not hard, try an accessory such as a patterned scarf like I've done here below.
Small Geometrics
Like a check, any small geometrics can easily be mixed with other prints.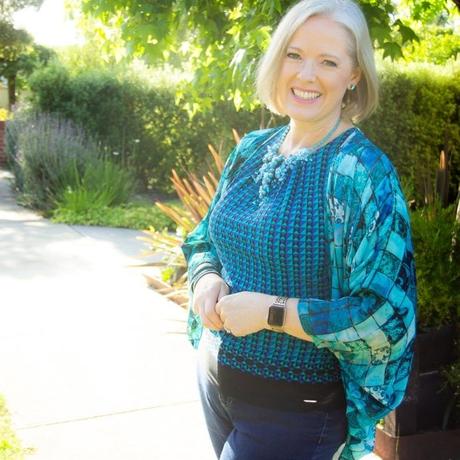 Remember the rule of scale and colour harmony and you can't go wrong!  Here the colours in these two tops are the same, but the scale of the geometric is small whilst the check and abstract is larger.
Houndstooth
Also known as dogtooth (depending on where you live in the world) is another easy print to mix as particularly when it's small in scale it's very easy to mix with other prints, as most others will be larger in scale and so not compete.  From a distance, unless it's a large houndstooth pattern it can look like a tweed (see below for those).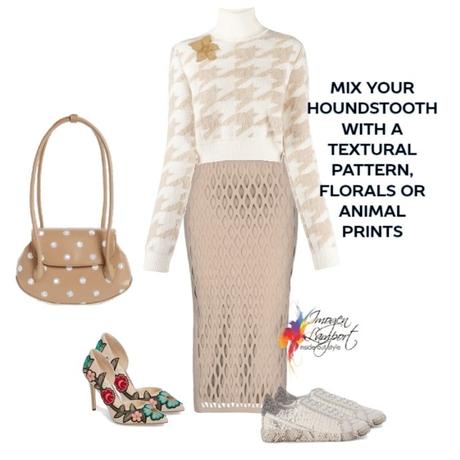 Animal Prints
Animal prints include zebra, leopard, cheetah, snake, giraffe etc, and come in a variety of colours and expression.  Jill Chivers always says she treats her signature leopard prints as a solid (and even mixes a variety of leopards together as well.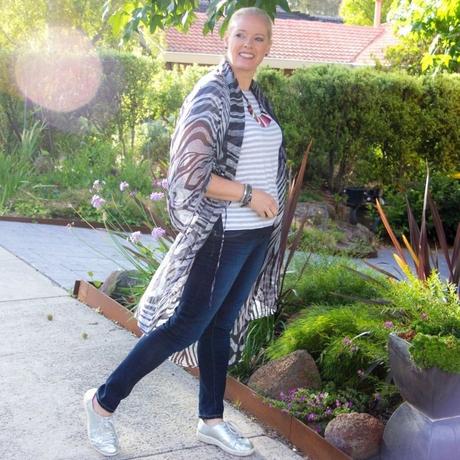 Here I've mixed a striped top with a zebra kimono.
You can also easily mix multiple different animal prints together too.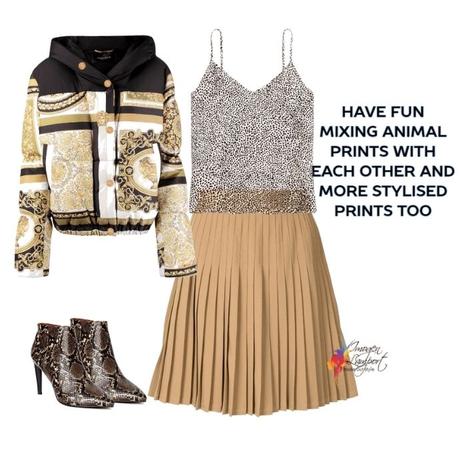 Here I've mixed cheetah and snake and ten thrown in a stylised print too!
Polkadots
These are another small geometric print that are easy to mix with other prints, particularly florals, stripes and checks or anything abstract.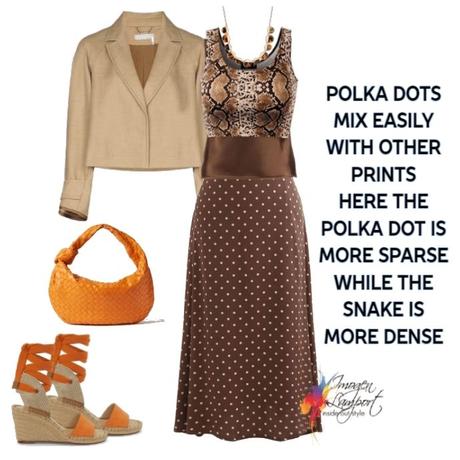 Tweeds
Tweeds are a subtle pattern and texture and so are super easy to mix with anything.  Here I've mixed a floral scarf with a tweed jacket.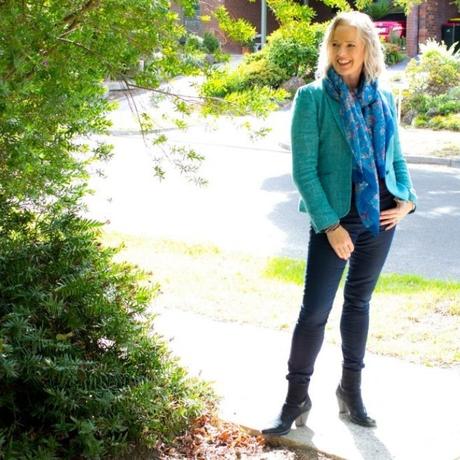 More Mixing Print Tips
11 Genius Ways to Mix Prints and Patterns Like a Pro
How to Mix Patterns in Your Outfit
The Secrets to Mixing Prints in a Wardrobe Capsule
3 Easy Rules on How to Mix Animal Prints and Floral Patterns
Patterns That Easily Mix Together and Why They Work
My Style: Mixing Patterns