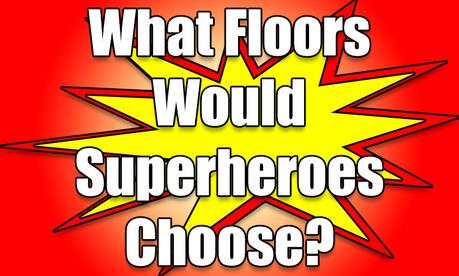 Captain America - 190143AGEDRL1
If you've seen The Avengers or the Captain America Films, you may have noticed that Captain America immediately establishes himself as the leader of every group in which he is involved. He protects his team, adapts to strengths and weaknesses and has a moral center.
But, lets not to forget the love he has for the years of where he began, in the 1940s.
We have easily decided on a Beautiful Rustic Aged Engineered Oak Wood Flooring that elaborates the love he had for the 1940s, the resistance (to moisture and humidity) and stability of the compressed timber finished with the top layer of solid wood vaneer portrays Captain America's strength and will power.
If you don't know who Thor is, he is the son of Odin and Fyorgyn, the earth goddess. He was the god of thunder and considered the strongest of the Norse gods. With this being said, we believe Thor matches our Richmond Brushed and Oiled White Oak Wood Flooring because the white oak perfectly complements Thor's Norse origins. Don't you agree?
Spider Man is a superhero characterized by his iconic red and blue webbed body suit. He was an ordinary teenager who attempts to balance his normal life with the responsibilities of a costumed superhero. The Spider Man's abilities include enhanced agility, super strengh and the ability to cling to different surfaces.
This leads us to the conclusion that Spider Man's perfect Wood Flooring has to be Engineered Natural Oak Lacquered Wood Flooring because at the end of the day he is a busy teenager, so you can imagine he only needs a floor that's quick and easy to clean!
Hulk – Thick 20mm Solid Wood Flooring - AK114UNFP1
Everyone has heard of Hulk and you certainly couldn't miss him! Hulk is the form taken by Bruce Banner whenever he gets stressed, enraged or seriously hurt. As the Hulk, Bruce becomes a 9 feet tall, green-skinned super powerful man-beast with a possession of nearly unlimited degree of strength, speed, durability and regenerative capabilities that increases whenever he is angry.
In regard to his impeccable strength we believe Hulk's perfect Flooring is a Thick 20mm Solid Wood Flooring!
Black Panther – African Teak Lacquered Wood Flooring - TR70ATR1
T'Challa is the king of the secretive and highly advanced African Nation of Wakanda also known as the powerful Warrior, the Black Panther. T'Challa values family above all else and welcomes his relatives to be close to him to lend support.
As the legendary protector of the Wakandan People, T'Challa (The Black Panther)'s perfect Flooring would be our Engineered African Teak Rustic Lacquered Wood Flooring to embrace his beautiful home!
Ant Man – Distressed Engineered Wood Flooring -  220154GOLD1
Scott Lang was a once poor criminal, before being discovered by Hank Pym who saw Scott's heroics and potential as a hero. Dr. Pym allowed Scott to use the Ant-Man equipment and identity. The Ant Man abilities included shrinking himself and other people/objects along with himself to the size of an ant and return to normal.
Which means if he ever needed to hide again, he must have a Distressed Engineered Wood Floor! This entitles him to shrink down and use the textured floor to hide!
Iron Man – Modern Engineered Wood Flooring - RCLICKGREY1
Tony, the one behind the armor is a genius engineer and wealthy owner of a technology company. Iron man possesses a wealth of powers through his powered suit that gives him the ability to fly, super strength and a number of leathal weapons!
On the other hand, Tony has a luxury life outside of the suit which means he needs a luxury and modern flooring to match! We believe he suits the Engineered Grey Oak Matt Lacquered Wood Flooring.
Deadpool - Solid Natural Oak Lacquered Wood Flooring -  EPL019
Wade Wilson is a former test subject of the Weapon X program, where he received his regenerative healing factor. Deadpool's powers and personality traits combined have made a wild, mentally unstable and unpredictable character.
Due to Deadpool's unpredictability we matched him with a Classic Parquet Oak Dark Laminate Flooring because it is easy to clean, low maintenance and dark to hide all the blood stains!
Hawkeye – Hand Scraped Engineered Wood Flooring -  HDFGOLHS1
Clint Baron, the master marksman and long-time friend of the Black Widow serves as the Avengers' amazing archer, also know as Hawkeye. Baron, who is also an expert acrobat, military-trained combatant and master assassin can stand toe-toe with some of the best fighters around despite only using his traditional weapons.
This has led us to believe that Hawkeye's perfect flooring has to be the Hand Scraped Engineered Wood Flooring!
Groot – Solid Wood Flooring - AK203SMOK1
Groot is a member of a rare species of sentient tree-man known as a Floral Colossus. He is sweet and loyal and he's hard to understand because, as his friend Rocket the Raccoon explains, 'his vocabulistics are limited to three words: I, am, Groot.' Groot travels the galaxy with his best friend and several other 'Guardians of the Galaxy'.
In conclusion, we believe Groot's perfect flooring is a Solid Wood Flooring due to his subtle ways he finds to express himself and because he could be a long lost relative to such flooring! Who knows?
If you enjoyed this Blog post and would like to see more, please let us know and send us a tweet with ideas of your own! We would love to hear your thoughts.
Twitter: @flooring365
Also, please take advantage of our 10% discount on all our clearance flooring now! Use 'SUMMERSALE' at the checkout when you order underlay at the same time!