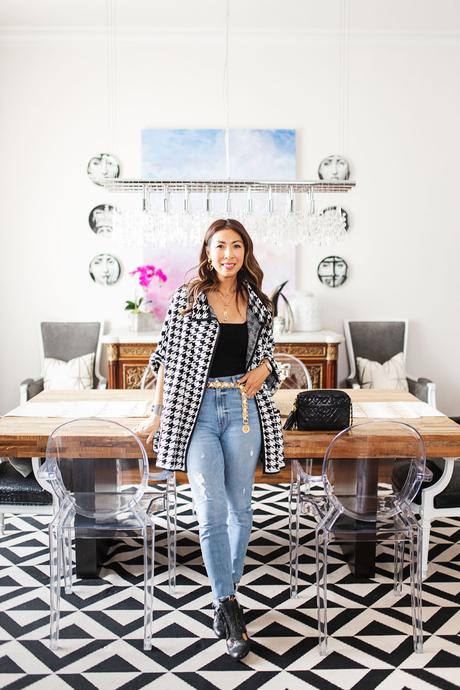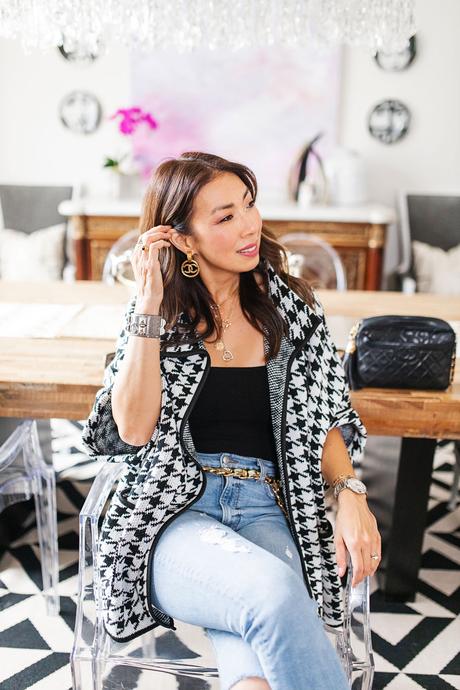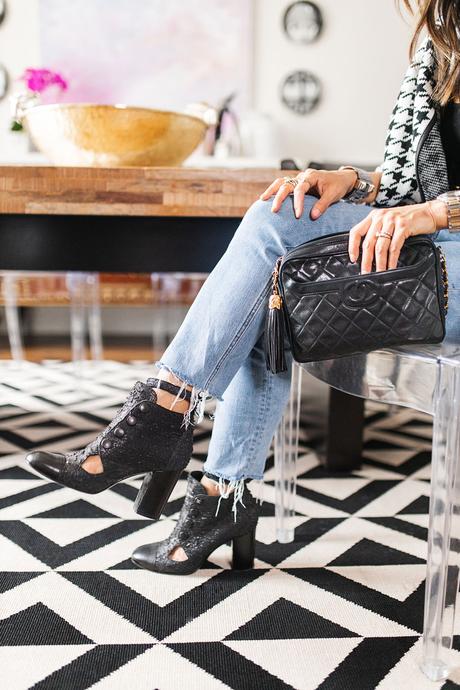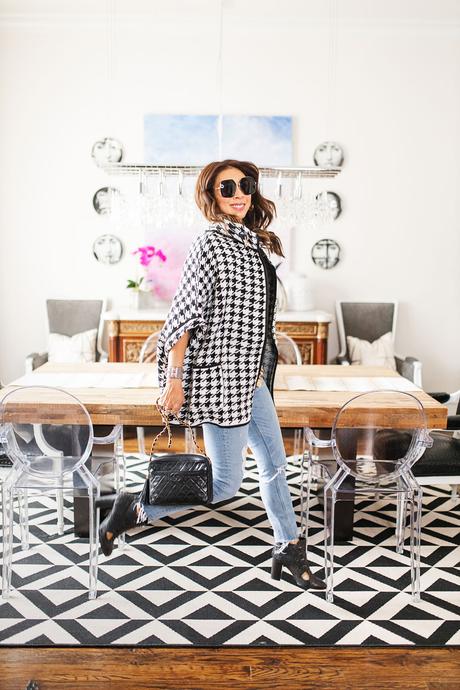 It's hard to believe that the first day of Fall was officially on Monday when temps are still in the 90s but that's Texas weather for you! I'm ALWAYS excited to talk about Fall Trends because it's my favorite season! When researching 2019 Fall Trends, some were new and some were old!
The great thing about trends is that is EXACTLY what they are, trends. They are not the fashion bible, and I take and leave what works for my body, lifestyle, and wallet! So without further ado, let's get to Fall Trends for 2019!

THE JEAN SCENE (90S JEANS) & CAPES
I combined these two since my outfit involves both!! The "Mom Jeans" or 90s jeans have been back for awhile, and I'm so glad! At first, I laughed at the Mom Jeans because I immediately thought of the Saturday Night Live skit! However... No more accidental butt cracks or muffin tops showing! LOL! Hooray for high waisted jeans which tend to accentuate your waist giving that hourglass figure that everyone loves!
Of note, paperbag pants/jeans are back in. Does anyone remember those Z Cavaricci's?!! Well, those type, even in acid wash, are back! I'm not sure if I can pull those off!
(SUSTAINABLE) STYLE Rx:Reformation is one of my favorite sustainable brands and carries a huge selection of 90s type jeans aka mom jeans that actually look great! FYI I usually trim mine and use this DIY for a raw hem!
Capes are not just for superheroes! They are fabulous over ANYTHING! I have been a cape fan FOREVER, and I'm so happy to see that they are back in style. What makes them unique is that you can wear anything under it i.e. puffy knit sweaters and can still look chic! They are a fabulous alternative to a trench coat or denim jacket to elevate your look!
Just wanted to share a quick blurb about my outfit! The foundation is basic with a black bodysuit, high rise jeans, and black booties! I accessorized with my favorite vintage Chanel pieces. The "trendy" portion is the cape which is a houndstooth print. You can actually treat it like a staple since capes and houndstooth are timeless. I tend to spend my money on quality accessories/jewelry and less on the trendy stuff, but you have to do what works for you!


SUIT YOURSELF (OVERSIZED PLAID BLAZERS)
I'm a little torn on this because the the trend is towards menswear inspired suits, which I LOVE. I will wear a matched set ANY DAY!! However, I'm NOT in love with OVERSIZED boxy blazer. I feel that those are overpowering my my shorter height.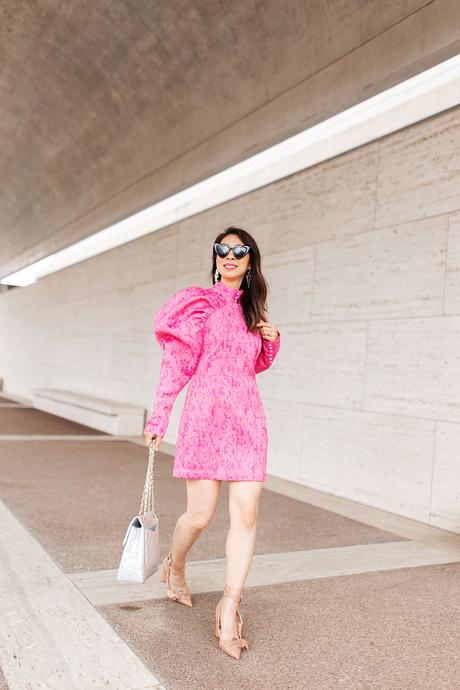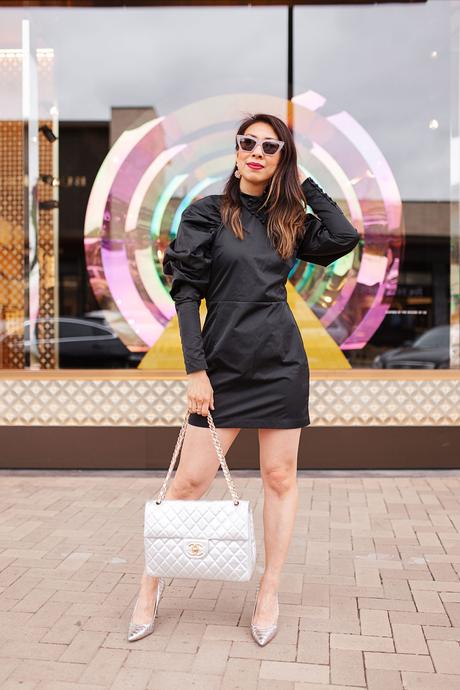 I have a beautiful plaid blazer from CABI (seen in this post) but it's not too oversized. I've worn it belted and LOVE it. The totally oversized blazers make me feel like I'm wearing Mr. S jacket and it just doesn't fit right especially on a shorter person like me! It's not to say that YOU shouldn't do it, but I haven't found a one that I LOVE. So, I'm LEAVING THIS TREND!
SCRUNCHIES
Normally, I'm all over the retro trends, but I can NOT in good faith ever wear a scrunchy again! LOL! I don't know why!! Maybe, I'm not cool enough! I see a lot of millenials and models wearing it. I'm all over the barette trend, but I'm LEAVING THIS TREND!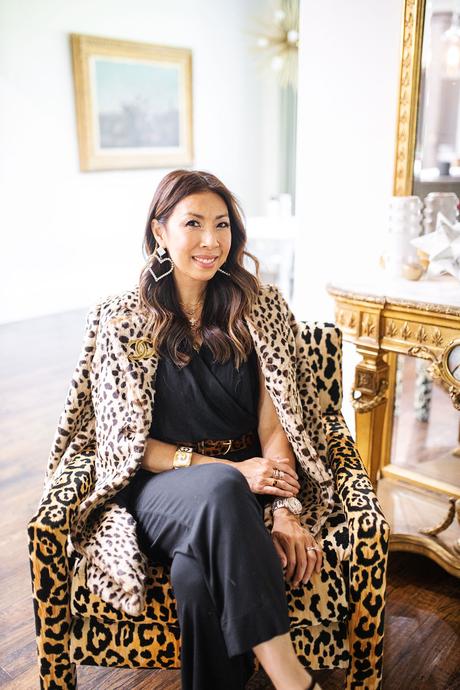 STRONG SHOULDERS
Okay, if you know me even a little bit, then you know I'M ALL OVER THIS TREND!! I love the 80s and 90s and the "More is More" vibe from that era! Plus, I have so many pieces actually from the 80s/90s or inspired from this time. I even bought this puff sleeve dress in pink AND black! Plus, I have a white puff sleeve dress!
GIVE ME ALL THE 80s party dresses! I'm pretty sure my obsession goes back to the first middle school dance. My mom made my dress and it had the biggest, puffiest pink taffeta sleeves ever! I thought I was the coolest. Looking back at the pictures, I know I was NOT, but I love clothes that give me that feeling! And these do it for me!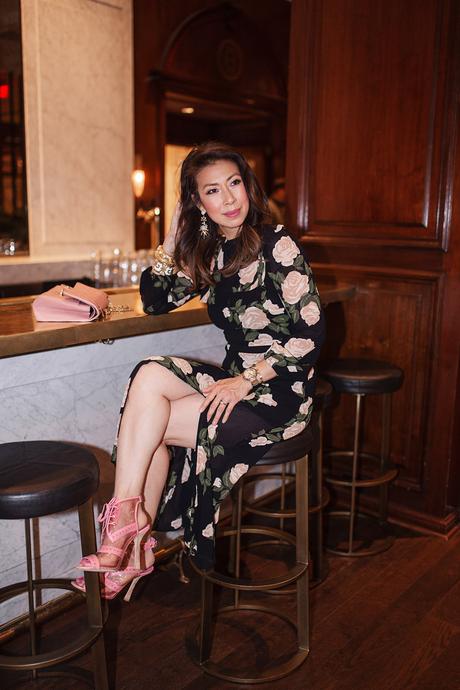 ANIMAL INSTINCT
Hello! You had me at animal print. Again, I've loved this trend FOREVER and so happy that it's back with a vengeance! Leopard, tiger, snake, cheetah - you name it and I love it! Apparently, it's trendy to wear two prints together! (You can see how I did it here but don't judge since it was EIGHT years ago!)
The thing about animal print is you have to think of it as neutral (0r solid)! It goes with everything like white, black, and brown but also primary colors. If animal print is too much for you, then start with accessories like belts, clutches, earrings, or shoes!

MOODY FLORALS
Florals has always been a favorite of mine, especially larger prints. Florals on a dark background takes it to a whole other level! FABULOUS-NESS!!! It reminds me of a vintage painting that I have in my home. The wonderful thing about moody florals is that you can technically wear it year round depending on the material of the piece!
I have a gorgeous REFORMATION dress that I wear in warmer months with sandals and throw a faux fur jacket and booties on during the colder months.

SLOUCHY BOOTS
I WANT to love this trend, and I do love it on other people. Since I'm a shorter gal, slouchy boots are not really for me! I've tried it ( see here) but when the boot hits at mid-calf, it actually shortens me! So I'm LEAVING IT!
NOSTALGIC FOR NEON
I have some neon accessories from years ago that I purchased to try the trend. I have to say, I don't really LOVE them. Now that it's back, I can safely say I'm LEAVING it!! Although I did a J Crew ad with a girl head-to-toe in neon pink, and it looked really chic! Hmmm...
*****
I'd love to know which Fall Trends you are most excited about! I would say mine is animal print and puff sleeves, but I think you already knew that! ;)
For my sale loving friends, SHOPBOP is having their major SALE where you can get up to 25% off using code STOCKUP19 which even includes full priced items! I have some items above, but this is also a time when I repurchase worn out basics like black jeans and turtlenecks and try a few trendy items (like those listed above)!
Here are some things in my cart:
♥︎ ♥︎ STAY GLAM, DO GOOD ♥︎ ♥︎
Also SHOPBOP is celebrating their 20 year Anniversary and have a special collection for this occasion! To be honest, I love all of these designers but really wansn't crazy about any of the pieces even the Isabel Marant. She can normally do no wrong in my eyes!

Happy Wednesday Y'all! Hope y'all are having a fabulous week! I cannot believe how far behind I am from taking a week off of work when my youngest was sick! Anyhow, that has taught me a valuable lesson about staying ahead which I am trying to do right now!

Also, I've been listening the the audio book, Everything is Figureoutable by Marie Forleo! She is so awesome, and I love that she cusses because it makes me feel less bad for cussing myself!! LOL! Although, I am working on alternatives to use around the children like "Mother Trucker" and "God Bless it!".
Thank you so much for stopping by and supporting SOS!
JOIN THE #GLAMFAM // SIGN UP FOR THE NEWSLETTER BY CLICKING HERE.
CHECK OUT MY INSTAGRAM SHOP HERE TO SHOP ALL OF MY INSTAGRAM LOOKS!